Voodoo Circle | More Than One Way Home
by Justin Gaines
– News Editor / Senior Journalist —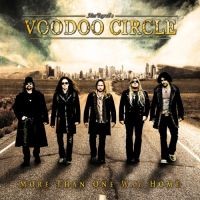 German melodic hard rock/metal band Voodoo Circle is back with their third album, titled More Than One Way Home. Voodoo Circle is, of course, the side project of former Silent Force (and current Primal Fear) guitarist Alex Beyrodt, who is joined by vocalist David Readman (Pink Cream 69), bassist Mat Sinner (Primal Fear, Sinner), drummer Markus Kullmann (Dezperadoz) and keyboardist Jimmy Kresic (Kiske/Somerville).
If you picked up one (or both) of the two previous Voodoo Circle albums, you probably have a good idea what to expect from More Than One Way Home. Well, you at least may think you do. Sure, the trademarks of Voodoo Circle's sound are still in place here. This is a blues-influenced, very melodic album that straddles the line between hard rock and heavy metal, and it features Alex Beyrodt's dazzling guitar work and David Readman's electrifying vocals. The twist with this album is that More Than One Way Home is essentially a Whitesnake album. Not just that it sounds a lot like Whitesnake. This album sounds so much like a lost Whitesnake album it's downright eerie.
To put it in the right context, More Than One Way Home could be a long lost Whitesnake album recorded between 1987 and Slip of the Tongue. It's got that total blues rock base, but it's ultra melodic and polished, and even the song titles and lyrics are pure Whitesnake worship. "Tears in the Rain" is a dead ringer for "Cryin' in the Rain," and "Heart of Babylon," "The Saint and the Sinner" and "Victim of Love" are all shout-outs to classic 'Snake tunes. Beyrodt performs brilliantly here, serving up irresistible melodies and wicked, soulful solos, and his bandmates match him with flawless rhythms and dynamic keyboards (that often replicate the old Hammond sound). It's Readman though who really seals the deal. If you were wondering why he sounded so subdued on Pink Cream 69's latest (Ceremonial), it may be because he gave 110% to this album. There are times when he brings the kind of power and energy we know best from PC69 albums like Electrified and Sonic Dynamite, but for the most part he's in full-on David Coverdale mode. From his low, soulful croon to a full-throated scream, he does so well that somewhere in Norway Jorn Lande is listening to this and thinking, "Damn, this guy sounds like Coverdale!"
More Than One Way Home is easily the best thing Voodoo Circle has released so far, and it slides straight to the top of this year's Top Ten list (sure it's early, but still). Sure, it's not the most original sounding album, but when it's presented this brilliantly that's a very minor complaint. If you're into hard-hitting melodic metal that's both bluesy and soulful, this is a must-have album. And if you're a Whitesnake fan, prepare for sheer bliss!
Genre: Melodic Hard Rock, Melodic Metal
Band:
Alex Beyrodt (g)
David Readman (v)
Mat Sinner (b)
Markus Kullmann (d)
Jimmy Kresic (k)
Track Listing:
1. Graveyard City
2. Tears in the Rain
3. Heart of Babylon
4. Cry For Love
5. Alissa
6. The Ghost in Your Heart
7. Bane of My Existence
8. More Than One Way Home
9. The Killer in You
10. The Saint and the Sinner
11. Victim of Love
12. Open Your Eyes
Label: AFM
Website: www.voodoocircle.de
Hardrock Haven rating: 9/10