by Marc C.
– Columnist —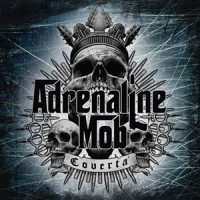 At a time when it seems like every band and their mother is releasing an album of covers, tributes and the like it becomes harder and harder to distinguish one from the other. However, Adrenaline Mob has found a way to separate themselves and that's no easy task.
Where Coverta truly stands out is the fact that not only does Adrenaline Mob nail every song, doing more than justice to the original versions, they then take them a step further by making each their own and in some cases re-inventing them and not in a bad way at that.
It only takes 10 seconds into track one "High Wire" by Badlands (which was an all-star line up itself) before the head boppin' begins as Mike Portnoy lays down the old school groove so many drummers of today have forgotten and most never learned how to do. Russell Allen is an absolute vocal monster throughout the entire track as he only starts scraping the surface of the vocal gymnastics he'll be performing on the remaining seven tracks.
Track two "Stand Up and Shout" has Ronnie James Dio smiling down from heaven above. Guitarist Mike Orlando shreds the living hell out of a classic so many have tried and failed miserably at and yet does so with grace and respect to the original all the while making it his own. The band is on fire already and they're only two songs in.
Track three "Break on Through" by The Doors not only is totally revamped its sound and feel is actually updated and rips more than The Doors ever imagined it could. Bassist John Moyer holds down thump true to the original version while sheer chaos reigns supreme as the rest of the band takes things to a whole new level.
Track four "Romeo Delight" by Van Halen is the absolute stand out and is hands down the best version ever played aside from the original. Mike Orlando deserves a high five, fist and chest bump for pulling off Eddie Van
Halen as well as he has. The emotion and adrenaline (no pun intended) is at an all-time high and any aspiring band looking to cover this song should take a lesson from the band as to how this song should and needs to be played.
Track five "Baracuda" by Heart stands second only to the Alice In Chains version and even then A.I.C. had help from Nancy Wilson and country music star and closet metal head Gretchen Wilson, who for all intents and purposes is Ann Wilson's vocal doppelganger. Russell Allen on this track alone proves beyond any shadow of a doubt that he's much more of an accomplished singer than anyone may have imagined.
Track six reaches way back in time with "Kill The King" by Rainbow and 1976 never sounded so good! Aside from being one of the best early "metal" songs ever created it's no surprise the band didn't stray far from the original. Sometimes it's hard to reinvent perfection and "Kill the King" was as close as one could get for the times.
Track seven "The Lemon Song" by Led Zeppelin is slightly updated and justice is more than done to a track not often if ever covered. While not containing the same vibe and edge as the others it stands fine on its own and there's nothing wrong with that.
Track eight and aptly titled "The Mob Rules" by a Ronnie James Dio fronted Black Sabbath (the third track on the album originally sung by RJD) and included on Adrenaline Mob's debut album never gets old. Once again Russell Allen reminds us just how much of an outstanding vocalist he is as covering one of if not the best singers the genre has ever known is no easy feat yet he pulls it off in an impressive fashion again.
Adrenaline Mob simply knocks every song out of the park and there are just not enough adjectives to describe how good this album (EP if you want to get technical) is. Buy it, play it loud and play it often!
Genre: Old school rock with some classic vibes thrown in for good measure.
Band:
Vocals – Russell Allen (Symphony X)
Guitar – Mike Orlando (Sonic Stomp)
Drums – Mike Portnoy (Dream Theater)
Bass – John Moyer (Disturbed)
Track Listing:
1. High Wire
2. Stand Up and Shout
3. Break on Through
4. Romeo Delight
5. Barracuda
6. Kill the King
7. The Lemon Song
8. The Mob Rules
Label: Elm City Music / EMI Music Distribution / Icarus
Websites: adrenalinemob.com / www.facebook.com/adrenalinemob / https://twitter.com/AdrenalineMob
Hardrock Haven rating: 10/10