by Derric Miller
– Managing Editor —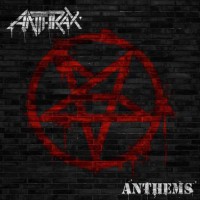 Out of the "Big 4," there's only one band with a singer who can truly be defined as a "gifted vocalist." There's only one frontman out of the four who sings with melody, who owns a range akin to a Power Metal singer, and basically one singer of the group who can "wow" you with his singing talent. This doesn't mean Mustaine isn't incredible with his snarky and gritty vocals, or that Hetfield isn't a legendary Thrash Metal throat, or that Araya didn't lay down the scariest vocals perhaps of all time on "Angel of Death." It just means Joey Belladonna can do everything they can do … and more. And you'll hear it all on the new Anthrax covers album, Anthems.
Right out of the gate, the disease-monikered brethren cover one of the most difficult bands on earth to emulate, Rush, with the track "Anthem." Belladonna manhandles the unearthly vocals with vicious aplomb, but you also have to somehow play the rhythms Near Peart created, and Charlie Benante shows chops perhaps you didn't know he had. To sing the notes Geddy Lee hits is one thing, but his bass playing is also at the expert level, and bassist Frank Bello nails all of the nuances. Why they climbed the highest mountain to start things off is a good question to ask, but listening to "Anthem" is proof that Anthrax isn't just a talented Thrash Metal band — their talent spans genres and decades.
Sonically, the most fun cover is Boston's "Smokin'." Maybe because it's just an honorary party song, or maybe because Belladonna brings a grittier edge to the flawless vocals of Brad Delp, giving new life to a lost one. Whatever it is, this is the one cover you can keep going back to.
The AC/DC cover isn't anything special, but it's a proper homage. Such is the same with "Jailbreak" by Thin Lizzy. It's there, it'll drive hipsters away, but it leaves you thinking "So that happened." You have to really be a "covers'" fan to listen to these particular songs again and again.
The Journey cover is probably the third strongest cover, and thankfully they didn't pick "Don't Stop Believing." That would never happen with Scott Ian in the band, but it would have been interesting hearing Belladonna croon the hit.
Anthems also includes the album version and remix of their own "Crawl." It's curious why on an eight-song EP Anthrax decided to only have six covers and two versions of their own composition.
If you are a diehard Anthrax fan who goes on message boards and argues with other metal-heads about who the best of the "Big 4" are, this gives you more than enough ammo to sling their way. None of the other bands could cover Boston or Rush and have it sound anywhere near this similar to the original. Cover albums are cool the first couple times through, and this one stays cool longer than most.
Genre: Thrash Metal
Track listing:
1. Anthem (Rush cover)
2. TNT (AC/DC cover)
3. Smokin' (Boston cover)
4. Keep on Runnin' (Journey cover)
5. Big Eyes (Cheap Trick)
6. Jailbreak (Thin Lizzy cover)
7. Crawl (album version)
8. Crawl (remix)
Online: www.anthrax.com
Label: MRI/Megaforce
Hardrock Haven rating: 7.8/10