by Joe Mis
– Senior Columnist —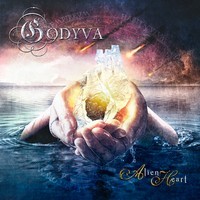 Alien Heart is the new release from the Italian "Intimate Gothic Metal" act Godyva. Not many people will understand the "intimate Gothic" description – perhaps "progressive Gothic" is a better term. Whatever else you choose to call it, Godyva's latest release must be called "fantastic." The band's music runs the gamut from intense to mellow, metal to soft rock, and romantic to gritty – and all of it is handled well thanks to the amazingly versatile voice of lead singer Lady Godyva.
Godyva dates back to 2000 when vocalist Lady Godyva joined up with a number of talented musicians in Bari, Italy. The band hit the studio in 2002 to record their Advent EP, and then tracked their first full length release In Good and Evil in 2006. They followed up with 2008's Planetarium, and now in 2013 Alien Heart. The band went through a number of minor personnel changes during its decade-plus existence, but has become a truly veteran act. Founding members Lady Godyva (vocals), Enyo (drums), and Nick Barah (bass) are now joined by keyboard player Botys Beezart and guitarist G.G. Gohm – and they are a formidable five piece.
Their music is a unique blend of Gothic metal and progressive metal with touches of new age and electronica. Styles range from ballad to full-on gothic metal, all engineered with power-metal precision and clarity. Their lyrics are much more upbeat and positive than most Gothic metal acts, and their songwriting skills are excellent, with all the bells and whistles expected of a modern metal act. Though varied in style, each track is tied to the other by the wonderful voice of Lady Godyva. Her range is broad and she seems fully comfortable whether singing a soft ballad or cranking it to near operatic power. The rest of the band is extremely talented as well, and they handle the multiple styles without any issues. Big guitar hooks, solid grooves from bass and drum and soaring keyboards all have their place, and all are used well. Think Lacuna Coil meets Linken Park…
The overall intensity and brooding tone of the opener "Apocalypse Fire" set the stage for the balance of the album. Solid keyboards lead into powerful bass, drums, and guitars, and a sweeping vocal line carries the up-tempo rocker along nicely. "No Return" is much more keyboard heavy and almost has a symphonic metal feel to it. The high energy opening leads to a more traditional gothic metal track with strong layered vocals over thick guitar riffs. Bass and drums are the driving force of "Alien Heart," and the nice vocal duets throughout will remind the listener of Lacuna Coil's work. This track also features an excellent lead guitar break and a very well done piano passage. "My Earliest Memories" is a lower key rocker that mixes intense guitar riffs with soft keyboards, and allows Lady Godyva to explore the softer end of her delivery. One of the real highlights of the album is the band's cover (and translation into English) of Italian pop-rocker Matia Bazar's "Ti Sento" into the rollicking "I Feel You." Lady Godyva pushes to near operatic at moments, but the band manages to keep a real pop feel throughout the track despite making it significantly heavier.
"In Your Eyes" opens the second half of the album, a simple and beautiful ballad – instrumentally, vocally and lyrically. "Everything Is Over" has a bit of a funk / blues bass groove, but becomes more of Linken Park influenced prog metal track with a bit of "rap-metal" in the chorus. "I Stay Here" opens with a soft piano solo before becoming a totally bass driven soft rocker with strong vocal performances and a toe-tapping beat, while "Brainstorm" is an intense guitar track blending power and goth elements together. "Brainstorm" features the most expressive and powerful vocal performance on the release. "This Light" is a power ballad featuring a hooky rhythm line and a sing-along chorus. The band reprises the opening track as a soft symphonic / orchestral metal piece in "Apocalypse Fire II (Grand Finale)".
If you are looking for a lively and dynamic album, look no further than Godyva's latest release. Solid melodies, good songwriting, and top-notch technical performances make this a truly excellent release. There should be something in here to appeal to fans of almost every rock genre – it is much more than goth! Very highly recommended!
Genre: Intimate Gothic Metal
Band:
Lady Godyva (vocals)
Botys Beezart (keyboards)
G.G. Gohm (guitars)
Nick Barah (bass)
Enyo (drums)
Track Listing:
1. Apocalypse Fire
2. No Return
3. Alien Heart
4. My Earliest Memories
5. I Feel You (Ti Sento)
6. In Your Eyes
7. Everything Is Over
8. I Stay Here
9. Brainstorm
10. This Light
11. Apocalypse Fire II (Grand Finale)
Label: Scarlet Records
Website: http://www.godyva.it/
Hardrock Haven rating: 9.5/10