Ratt | Original Album Series [Box Set]
by Alissa Ordabai
– Senior Columnist —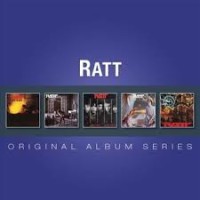 A collection of Ratt's first five albums not only sums up the spirit of the Eighties, but also reminds us how much originality and sheer musical brilliance never received proper recognition from the industry. Ratt may have been multi-million selling MTV favorites some 25 years ago, but even at their peak they remained in the shadow of plainer, simpler bands.
The reason? Where others on the glam metal scene banked on in-your-face brashness, Ratt stayed more subtle. While other lead singers projected on full scale, Ratt's Stephen Pearcy often chose deliberate detachment. And when bands such as Motley Crue were regularly hitting the headlines with stories of drug abuse and liaisons with famous women, Ratt's drug-related tragedies remained more private, just like their marriages. Instead the band showed the value of songwriting and musicianship over hype. Never labored or pushy, their songs stay with you effortlessly – not as obnoxious ear worms, but as uplifting and welcome companions.
From powerhouse scorchers such as "I'm Insane" to atmospheric incantations such as "Back for More" Ratt immediately give you everything traditionally expected of hard rock – the drive, the instant-grip riffs, the impeccable guitar leads. But behind the seeming simplicity of the formula, Ratt never come through as too eager to please and never fully declare themselves, even on their most strident songs. Instead you are always left wanting to hear the next song in the hope to unravel their secret, which makes this entire box set flow in what seems like minutes.
All five classic albums put together remind us that apart from gold-plated super-hits such as "Round and Round" and "Shame Shame Shame" each one of these records brims with lesser known gems. "Lay It Down" makes you imagine what Led Zeppelin would have sounded like have they survived into the Eighties, and "Giving Yourself Away" shows how laconic treatment of the subject of heartbreak makes a more striking impact than all the wailing in the world.
But despite their perfect influences and their reserved elegance, you can't mistake this band for anything else but the creation of the Eighties. To stay unique while relaying the essence of their time with such spot-on precision is no small feat for a glam metal band. Much of it lives on as Warren DeMartini's achievement, as well as the magic of his dual guitar interaction with Robbin Crosby. Virtuosity coincides with DeMartini's inner truth so precisely, there remains no place for gratuitous notes or for imaginary feeling, and each note sounds not only important, but absolutely vital.
Tags and categorizations aside, the collection on offer is a textbook example of how brilliant songwriting and A-grade musicianship still don't guarantee you good luck or fortune. What such excellence does ensure though is dignity for the artist – something that can be neither taken away, nor calculated in figures.
Genre: Glam Metal, Hard Rock
Line-up:
Stephen Pearcy – vocals
Warren DeMartini – guitar
Robbin Crosby – guitar
Juan Croucier – bass
Bobby Blotzer – drums
Track Listing:
Disk 1
1. Wanted Man
2. You're in Trouble
3. Round and Round
4. In Your Direction
5. She Wants Money
6. Lack of Communication
7. Back for More
8. The Morning After
9. I'm Insane
10. Scene of the Crime
Disk 2
1. You're in Love
2. Never Use Love
3. Lay It Down
4. Give It All
5. Closer to My Heart
6. Between the Eyes
7. What You Give is What You Get
8. Got Me on the Line
9. You Should Know by Now
10. Dangerous But Worth the Risk
Disk 3
1. Dance
2. One Good Lover
3. Drive Me Crazy
4. Slip of the Lip
5. Body Talk
6. Looking for Love
7. 7th Avenue
8. It Doesn't Matter
9. Take a Chance
10. Enough is Enough
Disk 4
1. City to City
2. I Want a Woman
3. Way Cool Jr.
4. Don't Bite the Hand That Feeds You
5. I Want to Love You Tonight
6. Chain Reaction
7. No Surprise
8. Bottom Line
9. What's It Gonna Be
10. What I'm After
Disk 5
1. Intro to Shame
2. Shame Shame Shame
3. Lovin' You's a Dirty Job
4. Scratch That Itch
5. One Step Away
6. Hard Time
7. Heads I Win, Tails You Lose
8. All or Nothing
9. Can't Wait on Love
10. Giving Yourself Away
11. Top Secret
Label: Rhino Records
Online: www.therattpack.com
Hardrock Haven rating: 9/10