Rob Lane | Straight to Video
by Derric Miller
– Managing Editor —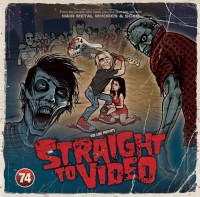 There are some movie soundtracks and song that will stick with you forever, and the second you hear them, it takes you back to when you watched the movie. Although Fastway with Trick or Treat was the rare time when the soundtrack annihilated the movie it umbilically embraced, most movie songs that resonate do so because of the quality of the film it resided in — movies and songs you loved. Taking this idea one step further, Rob Lane (Teenage Casket Company, sometimes touring bassist with the Bulletboys and The Black Mollys) decided to make a covers album of his favorite movie songs.
"Long before I became obsessed with all things Hair Metal & Cock Rock, pretty much my entire music collection consisted of just Movie Soundtracks," said Laney. "Littered in those tapes were tunes, which to this day, are still some of my favorite songs ever! With STRAIGHT TO VIDEO, I get to put my own spin on them with the help of some good friends!"
Those good friends include artists like Jaret Reddick of Bowling for Soup, Johnny Monaco of Enuff Z'Nuff, his former Teenage Casket Company band mate Jamie Delerict, and a slew of others. The upshot is a nostalgic look into the past that is part homage, part guilty pleasure, and part awesome.
"Rush Hour" is taken from the movie License to Drive, aka a "The Two Coreys" movie. This version is more electronically injected than the original but every bit as melodic at the same time, mostly because of the lush and honest vocals of Becky Edwards, who still manages to sing like an '80s pop star.
"Pretty in Pink" was recorded by the Psychedelic Furs in the movie … yes, you guessed it. The Psychedelic Furs were an eclectic pop band, and anyone recording their music is going to have to make sense of it. Richie Hudson nails the vocals, singing with both an antiseptic and emotive delivery simultaneously, a requirement to sound anywhere near as authentic as the original vocals. It's one of those timeless, cool classic movie songs and Laney and crew breathe new life into it.
Of course, Jaret Reddick is the biggest name on the release so folks might want to just skip to "Misery" from the get go. "Misery" comes from Clerks 2, originally recorded by Soul Asylum. There's such a dichotomy in comparing Reddick's smooth and mainstream vocal style to Dave Pirner's snarky and sometimes breathy vocals. Reddick actually takes it in a bit of a different direction, slightly, because it sounds like he's consciously singing with MORE melody than the original; this could also be that he's just a more melodic singer than Pirner. Regardless, if for some reason you forgot about this song, you'll listen to this version over and over, and then go back to Soul Asylum and wonder why you ever stopped listening to them.
"Miss Amanda Jones" is the reach on the release. Taken from Some Kind of Wonderful and performed by the March Violets in 1987, the updated version isn't bad, but it's a cover of a song that probably doesn't stand the test of time to most listeners and if it does, then you'll have to relive Mary Stuart Masterson as a blond tomboy. That's the payoff.
Laney takes over the vocal duties (as well as bass and guitar) on the energetic, fun, and just most rambunctious cover on the release on "Anything, Anything (I'll Give You)." Dramarama recorded it for 1988's A Nightmare on Elm Street 4: The Dream Master. The movie may be remembered as a cheese-filled critical failure at the box office, but song itself would fit on dozens of movies from that era. Why wasn't it on the Reality Bites soundtrack instead? The draw of this song is you probably forgot how great it was originally, and Laney does everything in his power to recreate the chaotic emotional mess the lyrics convey. Even vocally, Laney slams you with bonafide punk, semi-unhinged rants during the chorus that is just believable. Songs about destructive, co-dependent relationships make for addictive music, and this one is the best remake on the release.
An obvious labor (or labour if you are English) of love from Laney, the quality of the covers is impeccable. You can feel and hear the respect for these tracks throughout every note, every song. Yes, some are better than others, but the music expertly takes you decades back (except for the "Misery" 2006 cover) to younger, hopeful, "what's next for me?" days. If there was ever a reason not to heed Don Henley's advice of "don't look back, you can never look back," Laney just gave it to you.
Genre: Movie Soundtracks
Track List:
1. Rush Hour
2. Pretty In Pink
3. Misery
4. Miss Amanda Jones
5. Anything, Anything (I'll Give You)
Rush Hour (Originally performed by Jane Wiedlin)
Taken from the 1988 film 'License To Drive'
Lead Vocals – Becky Edwards
Backing Vocals – Jamie Delerict
Guitars – Daz Lawson
Guitar Solo – Johnny Monaco
Keyboards – Richie Wermerling
Bass – Rob Lane
Drums – Michael Richards
Pretty In Pink (Originally performed by The Psychedelic Furs)
Taken from the 1986 film 'Pretty In Pink'
Lead Vocals – Richie Hudson
Backing Vocals – Keef Gibbs
Guitars – Craig Reynolds
Bass – Rob Lane
Drums – Michael Richards
Misery (Originally performed by Soul Asylum)
Taken from the 2006 film 'Clerks 2'
Lead Vocals – Jaret Reddick
Guitars – Simon Clements / Rob Lane
Guitar Solo – Tory Stoffregen
Acoustic Guitar & Backing Vocals – Tom Wardle
Bass – Rob Lane
Drums – Michael Richards
Miss Amanda Jones (Originally performed by March Violets)
Taken from the 1987 film 'Some Kind Of Wonderful'
Lead Vocals – Candice Lorraine
Guitars – Daz Lawson / Rob Lane
Bass – Rob Lane
Drums – Michael Richards
Anything, Anything (I'll Give You) (Originally performed by Dramarama)
Taken from the 1988 film 'A Nightmare On Elm Street 4: The Dream Master
Lead Vocals / Guitars / Bass – Rob Lane
Backing Vocals – KC Duggan / Joe Brown
Outro Solo – Joe Brown
Drums – Michael Richards
Label: Trashpit Records
Online: www.straighttovideo.co.uk
Hardrock Haven rating: 8/10