Helker | Somewhere in the Circle
by Jenn Carbaugh
– Columnist —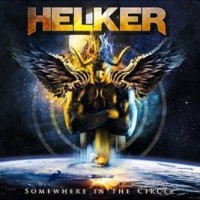 Helker has been considered Argentina's best heavy metal band and has signed with AFM records. The tremendous vocals, which can be thought of as somewhat comparable to Bruce Dickinson of Iron Maiden, are done by Diego Valdez. They have an eager sense of melodies that give the listener some motivation to keep the volume up.
The album has great variation in terms of mood and show casing talent. Initially formed in Buenos Aires, guitar player Mariano Rios and bassist Christian Baraka and the current members create the perfect harmonies for overtly catchy tracks. This gifted band also consists of the current line-up featuring guitar player Leo Ariston, drummer Herman Coronel, and vocalist Diego Valdez.
The range of the vocals and the ultimate display of riffs make a major appearance within this album. It is easy to understand why this band is considered one of the best emerging from South America. They have released two highly respected albums, and Somewhere in the Circle certainly does not disappoint or drudge their reputation.
Songs such as "Just Be Yourself" and "No Chance to be Reborn" offer a good heavy tone with amazing guitar shredding that compliment Valdez's voice. There are elements of the album where his voice even resembles that of the metal legend Ronnie James Dio. Then, there are songs such as "Still Alive," which make such a musical presence.
This album has immense qualities to each song. "Flying" is a good example of a metal ballad done right. Overall, this album proves as another success in the notch of the heavy metal belt for Helker. Each song on Somewhere in the Circle provides heavy threaded beats with exceptional vocals. This band has a brilliant combination of talents, and this record is not one to overlook.
Genre: Power Metal
Band:
Mariano Rios – guitar
Christian Abarca – bass
Leo Aristu – guitar
Hernán Coronel – drums
Diego Valdez – vocals
Track Listing:
01. Modern Roman Circus
02. Just Be Yourself
03. No Chance To Be Reborn
04. Begging For Forgiveness
05. Wake Up
06. At The End Of The Journey
07. Ghosts From The Past
08. Still Alive
09. Flying
10. Inside Of Me
11. Dreams (bonus track)
12. Wake Up (video)
13. Flying (video)
Label: AFM Records
Website: www.helker.net
Hardrock Haven rating: 8/10