by Joe Mis
– Senior Columnist —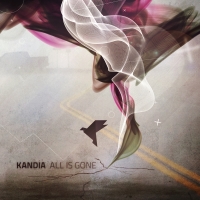 All Is Gone might be the title of Kandia's second full length album, but musically "all is here." The band's sophomore release is nothing short of dazzling. Continuing to build on the successful formula of strong vocals and solid songwriting, Kandia's husband and wife team of Nya and Andre Cruz, along with producer and co-writer Daniel Cardoso, have stepped up the game and released a stunningly good CD. A mix of traditional metal with progressive and Gothic elements, Kandia's music will satisfy fans just about every genre.
Formed in late 2007, Kandia is much more than another female-fronted metal act. They create a unique sound by melding influences of acts such as Tool, Porcupine Tree, Pink Floyd and Metallica – and blend it all into their own sound. Conceived originally as a duo, they released their EP entitled Light in late 2008 and followed up with 2010's Inward Beauty / Outward Reflection – both produced by Daniel Cardoso. Considering the success of both the EP and album, Andre and Nya continued their winning relationship with Cardoso and the three re-entered the studio to work on All Is Gone. The veteran formula continues to work, resulting in a razor sharp release in terms of both musical presentation and production value. Supported by an enthusiastic fan base, Kandia recently completed a successful crowd-funding effort to support the release of All Is Gone and its first single, "Scars".
A bit more aggressive in tone, All Is Gone picks up where Inward Beauty / Outward Reflection leaves off. The intensity levels have all been turned up to 11, and the engineering supports it well. Nya's vocals continue to astound – she comes across as sweet and innocent one moment, but then releases what can only be described as a full-on roar. She sings with passion and fire, and pushes her range to the max. Andre and Daniel not only support her vocals, but manage to drive them forward, increasing the power of the song with a mix of edgy guitars, slick keyboards, and solid drums and bass. There is definitely a firm synergy here, and the technical abilities of all involved are without question.
"Caution" is a simple electronic instrumental opening leading into the massive guitar riffs of "New Breed." This is a track of great contrast – Nya's vocal line is smooth and slow while the guitars, bass, and drums are moving at a blistering pace underneath. "Karma" continues the musical intensity and the theme of social commentary. Nya turns up the vocals and unleashes the roar, and the band added a few sound bites of Al Pacino from the movie "The Devil's Advocate". The music becomes a bit more flowing on "Scars," a great "never give up" anthem and the first single from the album. Nya displays her entire vocal range – from soft and delicate to the big growl – while remaining well in control. "All Is Gone" is and energetic rocker that features a great progressive style keyboard intro and a smooth, almost liquid vocal line.
"Our Final Day" keeps Nya in the lower end of her vocal range during the verses, and becomes a Lacuna Coil progressive rocker with a fine rhythm line and awesome guitar-bass-drum hooks. The progressive "Deviant" opens with a symphonic Linken Park style keyboard passage and becomes one of the most powerful and varied tracks on the album as the band pulls out all the stops. "Noise" is a soft keyboard bridge that segues into the very different, bouncy pop-metal "Everything You Say." "Blow" is a superb high energy track with a brutally intense guitar line and powerful roaring vocals, while "Done With You" flips back and forth between soft, almost whispered vocals and huge grinding guitars. The album ends on a soft and surprising note with the haunting, tear jerker ballad "Bother." Nya and the band prove here that they are all complete performers.
If there is anything disappointing about All Is Gone it has to be the lack of guitar breaks and solos – almost unheard of for a metal release. Most of the tracks follow the standard format of verse – chorus – verse – chorus, with well done bridges between. There are a number of places where the band applied some "techno" feeling vocal skips and such, but these are not really necessary since the music is so powerful and energetic.
Kandia's music is powerful, melodic, emotional and very introspective, and their star is definitely still in ascension. Fans of Gothic or progressive metal have a fine act to follow, and anyone who likes strong and powerful vocals will find a lot to appreciate. Very highly recommended!
Genre: Melodic Metal
Band:
Nya Cruz (vocals)
Andre Cruz (all instruments)
Daniel Cardoso (all instruments)
Kandia is joined by Bernardo Lima (bass) and Daniel Silva (drums) on tour.
Track Listing:
1. Caution
2. New Breed
3. Karma
4. Scars
5. All Is Gone
6. Our Final Day
7. Deviant
8. Noise
9. Everything You Say
10. Blow
11. Done With You
12. Bother
Label: BMG, Chrysalis
Website: http://www.kandiamusic.com
Hardrock Haven rating: 9/10