Ursin DeRoche Musician & Guitar Instructor
by Chris A.
– Senior Photojournalist —
American guitarist, Ursin DeRoche, is endorsed by MusicMan guitars INTEX cable Ernie Ball strings and Eventide effects. Currently guitarist in the bands Jet Set Babylon and Daredevil Autopilot, DeRoche talks to Hardrock Haven about his career as a musician and teacher …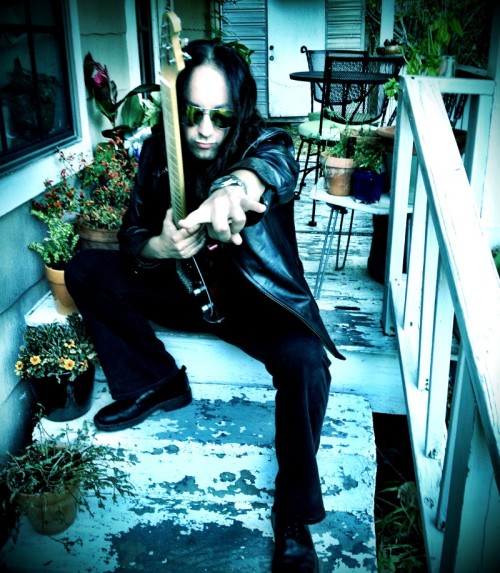 Hardrock Haven: Would it be an understatement to say that you are absolutely in love with playing and teaching the guitar?
Ursin DeRoche: Yeah, absolutely. I was never one of those guys who couldn't figure out what he wanted to do with his life. I was always music and guitar 24/7 even at a young age. I always knew what I wanted to be and so I've always been very intense about it and have always worked very hard perfecting my craft and trying to be successful at it. I've had my ups and downs like everyone else. It's tough but, that's showbiz! You gotta roll with the punches.
Hardrock Haven: Your mom signed you up for lessons when you were 11, did you want to go or were you forced?
Ursin DeRoche: No, not at all. I don't come from a very musical family but we always had music on in the house growing up. Mom was really into disco, Motown, Elvis, and rock. Dad was into a lot of outlaw country and stuff like that. And I always had toy drums and toy guitars to beat and bang on. We weren't very wealthy by any means. In fact, I grew up quite poor. But mom used her tax return money one year to buy me a real electric guitar and amp, nothing fancy. She signed me up for classes at school. I was 11 years old and in the 7th grade. I just went for it you know? I wasn't forced, but I also wasn't busting out of my skin with excitement either. It was just something I knew I needed to do and I always knew I had to do it. I didn't choose to do it, it chose me and I followed it.
Hardrock Haven: Tell me how you learned to play the guitar as a kid?
Ursin DeRoche: Well, I always had teachers. Some good, some not so good, but I always tried to learn as much as I could. Dr. Kevin Andry was the first. But he was more of a French horn player and not a guitarist. He was a pretty terrible guy as well so he's tough to forget. I don't think he enjoyed being a teacher. But, he taught me a lot of the basics of music. How to read music. Things like that. So, I thank him although his teaching methods left something to be desired. It was a group class of 11 and 12 year old kids. I definitely wasn't the best. I was really struggling and just starting out but I kept going. When I was 13 I hooked up with Bill Kimbrell. Bill was a jazz fusion guy and he had gone to GIT out in L.A. and was teaching in a local music store. He had a huge impact on me in my teens. He was real hip to Holdsworth and Bill Frisell and stuff like that. He taught me a lot about the basic mechanics of guitar playing. I wasn't really learning songs or licks or anything like that. I was learning music and the mechanics of guitar playing. Theory, reading, scales that sort of thing. I may have learned a song or a lick here or there but I don't remember doing a lot of that. Sure, I banged away on "Iron Man" or "Smoke On The Water" just like everyone else but that wasn't my main focus. When I was 17, I went off to music school at Southeastern Louisiana University in Hammond, Louisiana where I took some jazz lessons. But I ended up dropping out. Music school was fun but, I was too young and immature at the time for it.
Hardrock Haven: In your mid 20's you took a pretty big risk, a leap of faith, and decided to try to make a living playing and teaching the guitar. You've made it happen but tell my audience the truth … making a living in the music business is very difficult, isn't it?
Ursin DeRoche: It was in my 20's that I sent a video to Pebber Brown out in L.A. Pebber is probably one of the most heavyweight guitar teachers on the planet. He taught Buckethead and a lot of other guys who are working in the industry. I figured he could help me get better. Because I'm always working. Always trying to get better. Pebber saw something in me, God knows what he saw! I was really raw. He took me under his wing and tutored me for several years. We still remain very good friends to this day and talk often. He put me through hell. Marine Corp Boot Camp guitar training type stuff. He turned me into the player I am today. But, to answer your question, it's very difficult Chris. It's definitely one of those things that you have to love with your entire being because, it can really beat you down. You fail more than you succeed both in learning the instrument and in trying to make a living at it. It's just failure on all sides. So, you have to be strong willed, intense, and ready to slug it out. It's more mental than physical. The industry has changed so much over the years. There is still a lot of the "old guard" who just won't give it up. I mean, this is a business that basically raped African Americans out of money for years in the early days of the recording industry. Raped a lot of people. I don't feel sorry for them. From a guitar perspective, Shrapnel Records is a prime example. That's one of the most pirated catalogs in all of music. And the guy that owns it, Mike Varney, he's angry you know? He's angry because he's not making as much money as he did, although he is set financially regardless. Plus, he doesn't get to be the taste maker he once was. With the internet, people don't need him to find the next Yngwie or Paul Gilbert or Buckethead. You can go and find them for yourself. And this pisses him off. Too bad. His brother Mark actually gave me a great quote for my press-kit … "You're nothing special." I still use that by the way. Thanks Mark! He was such an asshole about it that he went into grotesque detail about why I wasn't very special. When I posted his comments on my Facebook, he threatened to sue me for defamation of character. So, that's the music business right now. The old guard trying to hang on. Nobody cares anymore. They have themselves to blame. They didn't keep up with the times. So, yeah, I just kept The Varney brothers relevant by talking about them. But, they're old news. It's a new time with new players and new ways of reaching fans. I embrace the internet. You have to move forward.
Hardrock Haven: But with that being said, today you run your own business, you are your own boss, you're making a living and you're doing what you dig. You're living the American dream and you're not just the neighborhood guitar teacher are you man? How many guitar instructors have endorsement deals?
Ursin DeRoche: I'm not sure. I know I'm one of 4 or 5 guys who are endorsed by MusicMan and have never released an album. I'm thankful and I'm humbled. I'm also endorsed by Ernie Ball strings and INTEX guitar cable. I don't bounce around. These are companies I've been with my entire career. INTEX is actually building me my own signature coiled guitar cable, The Serpent. Should be out this year. You know, coiled cable sucks. Always breaks. Not this one. A lot of R&D is going into this. I don't put my name on crap. Also I have had a long relationship with Pedalworx. George Blekas is building my signature overdrive. We've been on this project for about 3 years now. Dialing it in just right. And I use Lee Jackson amps. Although Lee doesn't build amps anymore, I buy up all his old ones used and he rebuilds them for me. So, I thank him. He's really a genius. I'm so very humbled to be associated with these companies. Plus, I've had the chance to teach some pretty amazing people such as Liv Tyler and I've been able to hang out with most of the guys I admired growing up like Steve Vai, Joe Satriani, George Lynch, Al di Meola, Warren DeMartini, Dweezil Zappa … just real legends that I looked up to. Literally! I remember the first time I met Steve Vai, it was in '96 I believe. I was drunk, as usual back then, and I said, "Steve, you looked taller when you were in Whitesnake." He said, "Dude! I'm 6'2″!" Good times.
Hardrock Haven: The number of guitar players in bands, big bands I know who still teach is pretty impressive. Chris Broderick from Megadeth, Alex Skolnick from Testament, Nick Catanese from BLS, all teach. What's the allure of teaching others to play guitar?
Ursin DeRoche: It's a really great way to keep your chops up! When you have to teach someone a piece of information, you retain it better. You have to examine things about your playing that you may have not thought about in a long time, if ever. Also, it's very rewarding to share music with others. That's what it's all about really. It's an art form and it's very communal. It doesn't have to be but it often is. Plus, it's a good living and it's fun. Better than digging ditches.
Hardrock Haven: From a technology and information perspective, with all of the resources available via the Internet, has there ever been a better time to try to learn the guitar?
Ursin DeRoche: I embrace the information and the technology but I think it has led to a real homogenized thing. I hear a lot of guys that are great players, but they all sound the same. Same tone. Same licks. They start with Yngwie and move forward. They don't go back to Robert Johnson or Segovia or even further back into ancient music. Indian music. It's the 80's. That's where they start. But those guys went back and studied the old masters and young kids today need to do the same. But I don't hear a lot of Hendrix or Page or Jeff Beck. I hear guys playing the right notes at the right time with the right tone. But they aren't taking any chances. We have to get back to taking chances and being more organic.
Hardrock Haven: As a guitar instructor you've had the opportunity to share your knowledge with a lot of folks. Is it ever too late to learn to play and what's your advice for someone who may be interested in learning to play?
Ursin DeRoche: Don't do it! Nah, it's never too late. Depends on your goals. If your goal is to play like Steve Vai and you're 50 years old, it might be too late!
Hardrock Haven: You're in NOLA which has a reputation for gritty, sludgy metal bands like Down, great jazz and crooners like Harry Connick Jr. Tell me about Jet Set Babylon and Daredevil Autopilot and the overall music scene in New Orleans.
Ursin DeRoche: Actually, I live in Baton Rouge which is about an hour outside of New Orleans. I love the south and I love Baton Rouge. This is home to me. I'm listed as one of the cities notable residents and I've been covered in all the local magazines. I'm so very honored and humbled by that. It overwhelms me sometimes. I'm fairly underground I guess you would say and what I do is often outside the box so, to be appreciated and respected locally the way I have been is just a massive honor. There is still work to be done here. The arts council and the people that put on live music events, they still have a real backwards mentality. But it's slowly breaking. We're more progressive artistically now than ever before but we still have a long way to go. But, of course I've spent a lot of time in New Orleans and played there. I opened up for Lillian Axe in New Orleans last year at their CD release party for "XI: The Days Before Tomorrow." That was a great show. Packed house. Such a fun time. That was with Jet Set Babylon. Should be video of that on YouTube. Everyone has a camera know! Yeah, that was a cool band. I had a lot of fun with those guys. Lots of crazy rock n roll type stuff which eventually imploded the band. I've never been asked about it so I've chosen not to comment although I do get emails all the time about the band. Basically, we just couldn't get along. Lots of fighting and arguing. I called each guy in the band and told them I was leaving. They got pissed off. That's basically it. But I love them and I hope we can one day do something again because I think the potential was there. There was a lot of heart in that band. Right now I'm rehearsing Daredevil Autopilot and recording under my name. A single should be out this summer. There are a lot of great bands down here. Lots of very talented musicians. I think it's an untapped market. I'd like to see more national exposure for the area and I feel it's here and it's coming. Slowly. These guys in Mara, they are just killer. They are probably my favorite local band right now. And also Twin Killers. They are amazing. We have some great things happening. I think the blues scene overshadows a lot of the great rock stuff we have here. Hopefully that will change soon.
Hardrock Haven: Ursin, for folks who may be interested in lessons from you what's the best method for them to get in touch with you?
Ursin DeRoche: Find me on Facebook and also Twitter @ursinderoche. Also my Youtube channel is ursinderoche. I want to be the king of social media so hit me up! I'm nearing my limit on Facebook so I set up a fan page and you should be able to find me on there by searching my name.
Hardrock Haven: And for Jet Set Babylon/Daredevil Autopilot, where can people check out your tunes or see the band live?
Ursin DeRoche: I'm hoping for a Jet Set Babylon reunion show! Fingers crossed. Daredevil Autopilot is still in the writing/rehearsal stages but I'm in the studio working on a track and the single should be out this summer under my name with live dates to follow here in Louisiana and all along the gulf coast.
Hardrock Haven: Thank you for visiting Chris A. Photography, I appreciate that you visit and I hope you enjoy the stuff you see there.
Ursin DeRoche: Thanks for your time Chris.