Amberian Dawn | Re-Evolution
by Joe Mis
– Senior Columnist —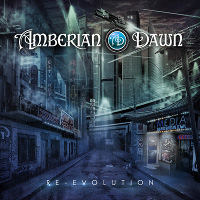 Symphonic metal and Scandinavia go together like chocolate and peanut butter, thus the newest release from Finland's Amberian Dawn should not come as a surprise. As one would expect from a band releasing their fifth studio album, the music on the aptly titled Re-Evolution is precise, technical, and highly polished despite this being the first outing with a new lead vocalist. Re-Evolution, in fact, is an almost "best of" collection, but each track has been rerecorded with new vocalist Capri, and presented with new musical arrangements.
For those not familiar with Amberain Dawn, the group was formed back in 2006 out of the ashes of Vituocity by current member and primary songwriter Tuomas Seppälä. He recruited soprano Heidi Parviainen to front the band and Amberian Dawn swelled the ranks of the growing genre of female-fronted metal. The band has released 4 studio albums: River of Tuoni (2008), The Clouds of Northland Thunder (2009), End of Eden (2010), and Circus Black (2012). They have also toured worldwide with a number of well known symphonic metal acts, and have released much of their material for the Rock Band video game franchise. In 2012 the band decided to part ways with original vocalist Heidi, and announced their new classically trained lead vocalist Capri in late December 2012. In late spring 2013, they will release Re-Evolution to formally introduce Capri to the world.
"Valkyries" opens in kick-ass fashion, showing Capri to be both classically trained and a true rocker. Great vocals and a bit of over-the-top symphonic elements coupled with a great guitar solo set the tone for the balance of the album. A darker tone infuses "Incubus," a track driven by manic drumming and strong bass and rhythm guitar. The upbeat progressive-tinged rocker "Kokko – Eagle of Fire" is easily the strongest track on the album, allowing every member of the band a chance take center stage, and much like the works of Amorphis, it brings an element of Finnish mythology to life. Capri's fine vocals take the prize on the technical but passionate "Lily Of The Moon," and the very classically influenced "Come Now Follow." The latter track would be equally at home on one of Yngwie Malmsteen's older albums. "Crimson Flower" is a bit overdone, but the keyboards really shine.
"Circus Black" lives up to its title – a rollicking, shifting tempo track that rolls many progressive and symphonic elements together. It also is a bit overproduced and a little too "slick," but it does demonstrate the vast technical abilities of all involved, from performers to producers. "Lost Soul" is a more "basic" rock track with a simpler sound, and it allows the purity Capri's voice to be heard over the layers of music. Nice duet vocals are the highlight of the up tempo "Cold Kiss," while the classical guitars push "River of Tuoni." Full on symphonic metal returns for the closing track, the eerie and murky "Charnel's Ball." While a very good track with amazing bass guitar, it seems a bit low key for a closing song.
The album itself has been nicely recorded and mixed with a crisp and clear sound, allowing Capri's natural vocal talents to flow. Solid lyrics and excellent song structure tell epic tales of myth and magic, and the band never seems to get lost in the Gothic, heavy trappings that usually accompany such material. Despite the vast technical abilities of the musicians, Amberian Dawn also avoids falling into the "let's just play fast, technical, and precise" trap. They are mature and refined enough to step back and let the music grow simply and develop on its own without pushing. Amberian Dawn's music is fresh, catchy, and always melodic without becoming "pop" – a nice combo.
Despite the lack of new material, Re-Evolution can easily stand on its own as an official "release" since a new singer and a rearrangement of the music gives everything a fresh sound. Fans of Amberian Dawn will not be disappointed, and those not familiar with the band have an ideal introductory release highlighting the band's catalog and its brand new singer.
Genre: Symphonic Metal
Band:
Capri (vocals)
Tuomas Seppälä (keyboards, guitar)
Emil Pohjalainen (guitar)
Kimmo Korhonen (guitar)
Joonas Pykälä-aho (drums)
Guest musicians: Heikki Saari (drums), Jukka Koskinen (bass), Kasperi Heikkinen (guitar), Jens Johansson (keyboards), Timo Kotipelto (vocals), Peter James Goodman (vocals)
Track Listing:
1. Valkyries
2. Incubus
3. Kokko- Eagle of Fire
4. Lily of the Moon
5. Come Now Follow
6. Crimson Flower
7. Circus Black
8. Lost Soul
9. Cold Kiss
10. River of Tuoni
11. Charnel's Ball
Label: KHY Suomen Musiikki
Website: www.amberiandawn.com
Hardrock Haven rating: 7.5/10