Dawn of Ashes Kristof Bathory
by Anabel Dflux
– Photojournalist —
Kristof Bathory talks about their latest album Anathema, the band's symbolism, and what fans should expect from Dawn of Ashes in the future.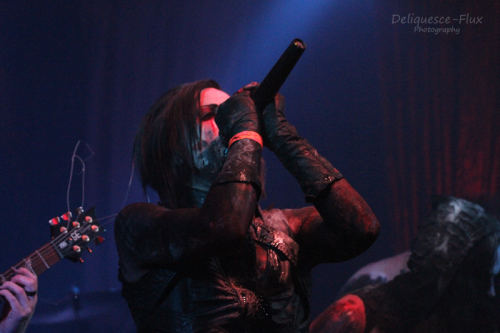 Hardrock Haven: Congratulations on your newest album, Anathema. How are the fans responding to it?
Kristof Bathory: So far all of the feedback has been very positive. Anathema has been the best album that Dawn of Ashes has released, yet, according to both fans & reviewers. I couldn't agree more with the feedback that I have been receiving and am quite pleased with everything so far.
Hardrock Haven: Bar Sinister was your kick-off show date for the upcoming tour! What are you most looking forward to about being on the road again?
Kristof Bathory: Touring for Dawn of Ashes is way past due; we haven't done a full tour since 2010, which was the biggest tour that we did with the Norwegian Black metal group Dimmu Borgir. I myself am just looking forward to performing new material & exposing the new album to the fans. Touring & performing live has always been a very crucial part about being in DOA.
Hardrock Haven: The term 'anathema' is commonly referenced to being exiled, what is the symbolism behind the album?
Kristof Bathory: Metaphorically, I drew on its meaning as used in the old witch trials where religious leaders would burn individuals at the stake simply for not adhering to the socially compelled terms of 'God'. I applied this to how the Dawn of Ashes fan base, and myself, are exiled for not following modern society's standards of 'being human.'
Hardrock Haven: Why play the genre that you play, what is the story behind it?
Kristof Bathory: Originally, I wanted DOA to have a mixed sound of both Industrial and Black Metal, but was challenged with finding legitimate members; working with amateur musicians was exhausting and so I made it my solo project. Then I was introduced to 'EBM' music and decided that Dawn of Ashes would be a dark 'electronic'/Industrial act, inspired by Horror, heathenism, and all of my dark feelings and hatreds, injected with the energy of Metal and Rock. Over time, I grew tired of that specific sound and decided that it was time for DOA to evolve into what I had originally imagined in the beginning. The transformation into more of a metal act was a risky process, and I did make the mistake of turning DOA in a straight Metal act, losing a lot of the Industrial elements initially. Over the past few years I wanted to bring back the Industrial elements but with a new 'Shock Rock' twist, so 'Anathema' became a hybrid of Metal, Industrial, and Shock Rock.
Hardrock Haven: Your image is very horror oriented and intriguingly grotesque, how does the band name relate to your stage persona?
Kristof Bathory: The name "Dawn of Ashes" means the beginning of the end, the birth of death and failure. The terminology behind the name doesn't have the most positive message, so everything that DOA portrays has no source of positivity or kindness. Shock, fear, hatred, blasphemy, & everything else that humanity tries to shun away is what I try to poke at with the music & imagery. Taking shock to a new level & provoking humans to be offended by what I do is so crucial in DOA. Once Dawn of Ashes offends a mass amount of the media, we then win at what we are doing. The plague has already been released.
Hardrock Haven: How are you enjoying Metropolis Records?
Kristof Bathory: I personally think record labels are only a good tool for certain aspects, so being on a new label doesn't really faze me anymore. It's great to expose a new album, but the way labels work now, it's only really good for distribution. All of the hard work comes from me and my live act so I guess that answers your question.
Hardrock Haven: Kristof Bathory, any connection or inspiration drawn from the countess Elizabeth Bathory?
Kristof Bathory: Indeed, I find countess Bathory interesting & was always fond of her obsession with using human blood to perverse beauty upon herself. However, I will not go into anything further regarding my name because it is just my name.
Hardrock Haven: Alongside your musical commitments, what do you do during the daytime?
Kristof Bathory: I am usually extremely busy with the business side of Dawn of Ashes throughout the day, but I also do remixing & mixing for other artists, so I barely have any time for myself. I try to connect with my fan base as much as I can which becomes a bit overwhelming. I also think dealing with my inner demons throughout the day is a big enough job, so, in conclusion, my life is always busy.
Hardrock Haven: Are you working on more music?
Kristof Bathory: I am currently working on my 2nd Dark Ambient/music score album which has been a very slow process because of all of the work I have been doing for Dawn of Ashes. I really just want "Anathema" to be exposed for a while before I consider doing any new music for DOA. Maybe I will do a remix album but who knows.
Hardrock Haven: What is next for Dawn of Ashes for the rest of the year?
Kristof Bathory: I want to focus on touring consistently & the release of our new music video for "Poisoning the steps of Babel". Overall touring is what is crucial right now. We will see what more comes our way but fans can check out more info at our official website at http://dawnofashesofficial.com/.