Dead On | Dead On (Deluxe Edition)
by Justin Gaines
– Senior Columnist/News Editor —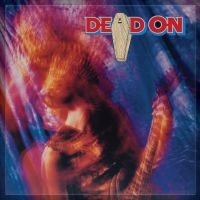 The '80s were just drawing to a close when Long Island-based power/thrashers Dead On unleashed their self-titled debut album. The thrash metal scene was in full sway at the time, and while Dead On brought plenty of speed to the table, they weren't willing to walk away from their NWOBHM and power metal influences. Blending power and thrash worked well for bands like Vicious Rumors, Helstar and Sanctuary, but Dead On never quite reached that level of success. They left behind one very impressive album though, which has just been given a deluxe reissue by Divebomb Records.
Listening to the Dead On debut all these years later you really have to wonder why they didn't make it, at least for a while. Their sound combined thrash's speed and intensity with power metal's melodic elements, a dark fantasy/occult lyrical focus worthy of King Diamond and a level of technicality worthy of the progressive metal genre. This is a band that fans of Sanctuary, Overkill, Forbidden and even Megadeth should have been all over. They were even on the Shocker soundtrack with Megadeth and later toured the U.S. with Sanctuary and Fates Warning. Maybe their label was too busy pushing Vanilla Ice and Wilson Philips to give Dead On any proper support. Whatever the reason, it's a real shame, because the intensity and sinister vibe of songs like "Salem Girls" and "Full Moon" and the sheer speed metal assault of "Beat a Dead Horse" and the title track would have gone over great with just about any metalhead in 1989.
Divebomb's 2013 reissue of Dead On is an expanded two-disc set. Disc one contains the full 1989 Dead On album, newly remastered by Jamie King and bonus video clips for "Full Moon" and "Different Breed." The second disc features the 1991 All Four You EP (featuring new singer Carl Frazzitta on vocals), a previously unreleased cover of The Vapors' "Turning Japanese" and the rare 1987 The Limit demo, all remastered, plus the video for "Lost at Sea." In true Divebomb fashion, the booklet is a real treat. It features restored original cover artwork, a band interview, lyrics and tons of vintage photos, show flyers, etc. This is a reissue that looks as good as it sounds.
If you're one of the lucky few who discovered Dead On back in the '80s, this reissue is a more than worthwhile upgrade. The remastered audio alone makes it a mandatory purchase, and the extras seal the deal. If you missed this band the first time around, but are a fan of the classic '80s power/thrash sound – think bands like Apocrypha, Sanctuary, Vicious Rumors and the like – or just high speed heavy metal in general, now is the perfect time to experience Dead On.
Genre: Heavy Metal, Power, Thrash Metal
Band:
John Lindner (b)
Michael Carona (g)
Tony Frazzitta (g)
Mike "Dunk" Caputo (d)
Mike Raptis (v, disc 1)
Carl Frazzitta (v, disc 2)
Track Listing:
Disc 1
1. Salem Girls
2. Beat a Dead Horse
3. The Widower
4. The Matador's Nightmare
5. Full Moon
6. Escape
7. Merry Ship
8. Different Breed
9. Dead On
Disc 2
1. One For You
2. Every Day on Earth
3. Lost at Sea
4. Do What You Want
5. Turning Japanese
6. Medusa
7. Third Reich
8. Comin' Back
9. No Clue
Label: Divebomb Records
Hardrock Haven rating: 8.75/10