Hedras Ramos | Atoms and Space
by Alissa Ordabai
– Senior Columnist —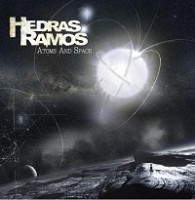 Attention Hedras Ramos is receiving this month as the guitarist on Sir Christopher Lee's freshly released album sparks an interest in Guatemalan player's solo work. It turns out that while awfully young, Ramos already has three solo CDs under his belt, several collaborative records, and an instructional release. And that he is just as accomplished a composer as he is a chopsman. Not many instrumental guitar albums manage to create their own virtual reality, but the record in hand is one of those gems that put you under their spell from the word go.
Released in 2011, Atoms and Space is Ramos's latest solo CD, and it shows how much more he can deliver apart from the balls-to-the-wall drive of traditional metal he flaunts on Lee's album. A record which sounds like no one else in instrumental rock, Atoms and Space is all about fresh, adventurous harmonies and soaring, picturesque melodies. Atmospheric neoclassical guitar, metal riffing, and warm, inspired jazz join together as building blocks of a fantastic, far-out world Rams shapes with off-hand confidence.
As with all expert composers, the intricate harmonic structures and melodic deflections don't come through as laboured on this album. And the breathing, vibrating rhythm section is crucial in contributing to the movement of these tracks. Avoiding the mechanistic monotony of the drum patterns favored these days even by the most prominent of instrumental guitar bigwigs, Ramos shows he isn't afraid of the drummer stealing his thunder. Standout "Weird Scientists" illustrates this energy perfectly, with Billy Ashbaugh on the drums intuitively floating the harmonic juxtapositions and the call-and-response game of the melodies.
Remarkably mature for his age, Ramos often abandons demonstrations to bring the proceedings down to the universal human level. This is where slower, more reflective numbers such as "Anastasya" come in to highlight the span of his emotional and stylistic terrain. At his best when mixing high-tech neoclassical chops with his heartfelt understanding of jazz, Ramos bathes the song-like melody in virtuosic showers of sparkling notes. Like torrential rain falling over a secluded private retreat, it connects the privacy of contemplation with the extraversion of his fabulous technique.
Introspection and emotional warmth, rock swagger, mystical visions, and futuristic experiments tie together into an instantly recognisable personality. It puts Ramos right next to the best players of the youngest generation of shredders to receive international renown. Like all of them, Ramos understands that shred on its own has never been enough to either intrigue the listener or to discover things about oneself. And this is why he combines high tech virtuosity borrowed by rock from classical music with the bravado and the cheek of spontaneous, people-oriented entertainment. This gives hope to the future of instrumental rock, not to mention how hugely inspiring it is to see self-made players geographically removed from the usual music biz hubs becoming not only first-rate chopsmen, but also brilliant composers.
Genre: Instrumental Guitar Rock
Personnel:
Hedras Ramos – guitars and keys
Hedras Ramos Sr. – bass
Billy Ashbaugh – drums
Jennifer Batten – guitar solo on "Sweet Mercy"
Andy James – guitar solo on "Stars and Comets"
Muris Varajic – guitar solo on "Hot Arabia"
Sergey Boykov – keyboard solo on "Weird Scientists"
All songs composed and arranged by Hedras Ramos
Track Listing:
1. Stellar Crash
2. Glorious War
3. Stars and Comets
4. Anastasya
5. Weird Scientists
6. Hands of God
7. Sweet Mercy
8. Dead Atom
9. Atoms of Distortion
10. Vanilla Clouds
11. Hot Arabia
12. Virtual Tangles
13. Insanity of the Atoms
Online: www.hedrasramos.com
Hardrock Haven rating: 9/10