Hey Vanity | Breathe, Bleed, Grow
by Joe Mis
– Senior Columnist —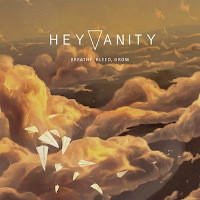 Hey Vanity is not something you yell at someone looking in a mirror. Rather it is a four-piece indie rock band that hails from Essex in the UK. This guitar-driven quartet has just released their debut EP entitled Breathe, Bleed, Grow, and a solid debut it is. A full length album is in the works, and if this EP is an indication – it will be a good one.
Elements of indie rock are rolled together with old school guitar rock and even a hint of punk, producing a sound that is distinctly British. The band's music displays the influences of Weezer, Thrice, and a little Deftones. The five tracks are distinct from one another, and are flush with solid guitar lines, decent hooks and sing-along choruses. Whatever you call it, Hey Vanity's music is straight up rock, with a simple and homespun feel. The engineering is simple and basic with little electronic tom-foolery, giving the listener a taste of the "live experience".
Heavy guitar riffs open the title track, "Breathe, Bleed, Grow." Solid vocals and well-written lyrics make this one a bit of an ear-worm – the chorus sinks into your brain and stays there. Energetic drums and bass compliment the excellent backup vocals, making this a truly memorable song. "Terry Tibbs" lives on the driving, bouncing bass and drum line, and a spirited vocal delivery only adds to it. "Same Old Game" continues the upbeat tempo, and has bit of a Paramore feel to it, and the guitars come more to the front.
"Wading Through Dreams" is the standout track on the EP. Great guitar hooks, a toe-tapping chorus, fine vocals, and strong lyrics all combine to demonstrate the massive potential of the boys from Essex. "One More Step" is a bit harder and grittier than the others, but delivered with equal skill and greater intensity. The band proves that is can do moody as well as any.
While there is nothing groundbreakingly different on Breathe, Bleed, Grow, Hey Vanity's debut is a solid effort and will have broad appeal. Musically solid and well-performed, Hey Vanity sounds more like a veteran act than a young band, and fans of straightforward rock will find themselves anticipating the release of the full length CD from these UK-based rockers.
Genre: Indie Rock
Band:
Marc Halls (lead vocals, guitar)
Will Phillipson (guitar backing vocals)
Ash Clarke (drums, backing vocals)
Dave Ruffle (bass)
Track Listing:
1. Breathe, Bleed, Grow
2. Terry Tibbs
3. Same Old Game
4. Wading Through Dreams
5. One More Step
Label: Small Town Records
Website: http://www.heyvanity.com, https://www.facebook.com/heyvanityuk
Hardrock Haven rating: 7.5/10