Santa Cruz | Screaming For Adrenaline
by Mark Allen
– Senior Columnist —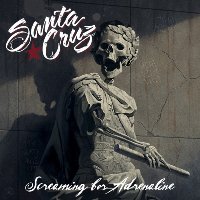 Fans of that Scandinavian neo-sleaze sound will think Christmas has come early when they hear the combustible licks and red-hot hooks of Santa Cruz, the Finnish band poised to make some serious noise in the retro-rock revival realm. If you like your hair-metal '80s-esque and melodically sleazy with that slithering, decadent Sunset Strip groove, Santa Cruz will rock your socks off, rock your world, or whatever cliché "rock your" metaphor you can come up with.
Screaming For Adrenaline is their full-length debut, after a couple of demos and a self-produced EP, and while some of the songs are recycled, they have all benefited from engineering upgrades courtesy of a production that is tight, taut, and professional without calling undue attention to itself like a hooker who slathered on the makeup with a paint roller. In other words, this is not the kind of album that conceals a slew of sub-par sins beneath a sugarcoating of studio gloss, but instead lets the music speak for itself.
The band members weren't even born when hair metal had its heyday—the oldest is only 21—but they hammer their instruments like seasoned pros and they have certainly spent time studying the masters. You can hear elements of Motley Crue, Ratt, Guns 'N Roses, Skid Row, etc. in their sound, yet they studiously avoid cranking out just another carbon copy. While seeking inspiration from the pop-metal professionals of yesteryear, they take steps to ensure they are more than just soulless clones. More up and coming bands should take note, because paying homage to the past while forging your own present day identity is the proper way to approach the neo-sleaze genre. It is not enough to merely say you sound like so-and-so; you must sound like so-and-so…but with your own unique stamp. This is one of the things that separate Santa Cruz from the rest of the new-blood pack.
Disliking this album is harder than hating your own mom. Sure, you could probably nitpick and point to a hook or two that could be a smidgen sharper here and there, but that'd be like bitching about somebody giving you $90 instead of a $100. The reality is, Santa Cruz is just a slamming good time with pyrotechnic guitars, oodles of attitude, good bass tones, and drums powerful enough to sell the whole package. And hey, who doesn't want the whole package, right?
Every song is singularly focused on getting your blood pumping and your pulse racing. They are sleazy and aggressive and loud and catchy and a whole bunch of other synonyms designed to denote major coolness. Old-school head-bangers simply will not be able to resist tracks like "Anthem For the Young N Restless" with its big, hook-drenched chorus and tasty gang backing vocals delivered at just the right time for maximum impact. More gang vocals appear in "Sweet Sensation," as does a blistering guitar solo that will leave the cilia inside your ears scorched and smoking so badly that you may need a Q-Tip to clean out the ashes. Even better, check out "Aiming High," a retro-rock anthem that could not reek any more of the '80s if it donned slashed jeans and snakeskin boots and juggled two Rubik's Cubes while watching Doogie Howser on TV.
At one point Santa Cruz snarls, "Nothing's gonna stop me … 'cause I don't give a f*ck" and then later shouts, "We came, we saw, we conquered!" This brash and bold attitude, coupled with an album chock full of glam-metal anthems, should be more than enough to carry them into the upper echelon of the sleaze-metal revival that has taken the melodic hard rock world by storm. Simply put, Santa Cruz is a welcome shot of sonic adrenaline.
Genre: Hair Metal, Glam Metal, Sleaze Rock
Band:
Archie (vocals, guitar)
Johnny (guitar, backing vocals)
Middy (bass, backing vocals)
Taz (drums, backing vocals)
Track Listing
1. Screaming For Adrenaline
2. Anthem for the Young N Restless
3. Relentless Renegades
4. Sweet Sensation
5. Nothing Compares to You
6. High on You
7. Let's Get the Party Started
8. Alive
9. Lovin' You (Is Just for Playing)
10. Aiming High
11. Let Me (Lay My Love on You)
Label: Spinefarm Records
Webpage: www.facebook.com/santacruzband
Hardrock Haven rating: 8.8/10