Timo Tolkki's Avalon | The Land of New Hope
by Ron Higgins
– Columnist —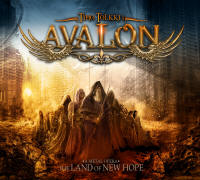 Although rock operas and concept albums seem to be all the rage right now, if there was ever an artist who was meant to release a symphonic power metal rock opera, Timo Tolkki would be it. But if you're going to embark on such a noble adventure and you're the founding member of one of the greatest power metal bands of all time, then you better come out swinging for the fences. So does he hit the proverbial home run with this release? The rock and roll umpires are still arguing the call so let's go to the tape.
In 2012, Frontiers Records President Serafino Perugino contacted Tolkki to follow-up on a previous discussion they had about Timo creating a metal opera resurrecting the classic Stratovarius sound with even grander symphonic elements. He quickly assembled a veritable Who's Who of legendary hard rock musicians and created another impressive release to add to his ever-growing library of classic albums. Members of Helloween, Impellitteri, Sonata Arctica, Symphony X, Rhapsody of Fire and Black Country Communion are just a few of the impressive bands represented on this fine release.
As with all concept albums, Tolkki has imagined a story and uses the musical landscape to bring it to life. The story is as follows: It's A.D. 2055 and most big cities of planet earth are either flooded with tsunamis or destroyed by earthquakes and fire. The whole infrastructure and communication system has broken down. The destruction is total. A small group of survivors leaves for a quest to find a sacred place known as "The Land of New Hope". It is an old fairytale that has been told since decades but very few have actually ever believed of its existence. They travel far on a journey that is full of dangers and come across a seer who guides them further. She explains to them that "The Land of New Hope" does exist but it is guarded by a Keeper and only those who are pure in heart can pass him. They wander further towards their ultimate destiny …
So now that we know the background and the story, what does it actually sound like? Well, it's exactly what you would expect and what many people have been waiting for. It's loud, it's big, and it's damn good. The guitar work is fabulous, the melodies are impressive, the production is superb, and the vocals are second to none. If you're a fan of Stratovarius and you've been longing for the return of the Elements masterpieces, then you're going to be very happy with Timo's latest project.
The album kicks off in glorious fashion with "Avalanche Anthem." It's an orchestrated, double-bass-heavy, keyboard soaked slice of auditory awesomeness that appropriately encapsulates the work as a whole. A good adjective for this song and the album itself is – epic. The guitar work is huge with incredible vocals coming in after about a minute which are quickly followed by the main singer on this release, the beautiful Elize Ryd of Amaranthe. It's immensely enjoyable and prepares the listener for nearly a solid hour of symphonic power metal pleasure.
Given that it's a concept album it's a bit difficult to pull out specific tracks to highlight, especially when you have a record that is this solid throughout. But there are a few songs that manage to rise to the top of the cream of this magnificent concoction. One of them is the second song, "A World Without Us," which also happens to be the album's second single. It has great harmonies, a memorable chorus and blistering guitar-work while also featuring slower piano moments. It's certainly understandable why this was chosen as one of the singles, especially with vocal duties coming from not one, not two, but three amazing singers, including Ms. Ryd along with Russell Allen and Rob Rock. It's actually better than the first single, "Enshrined in My Memory", which is the album's third track and first video. This song is catchy but only features one female vocalist and has an odd electronic sound running in the background giving it a strange Duran Duran type quality.
Other standout songs include a middle track "We Will Find a Way," and the three final tracks "To The Edge of the Earth", "I'll Sing You Home" and "The Land of New Hope." It's rare when an album's best songs wind up at the end of the album but always a pleasant surprise when it does. There's certainly no filler here.
In particular, the final song, the title track, is spectacular and qualifies as one of the best songs on offer, if not the best track on release here. It clocks in at a little over 9 minutes and features the unmistakable vocal style of the legendary Michael Kiske. It could easily be the lead single if not for its prog-inspired length. However, if you only get the chance to listen to one track from this fine release, make it this one.
So is Timo Tolkki's Avalon release The Land of New Hope a home run? Undeniably. It may not be a perfect launch all the way out of the stadium but it's definitely out of the park and out of this world! When it goes on sale in the next few weeks (May 17 in EU and May 21 in NA), buy it immediately and enjoy an hour of symphonic power metal bliss.
The Cast:
• Guitars & Bass: Timo Tolkki
• Vocals: Michael Kiske (UNISONIC/HELLOWEEN), Elize Ryd (AMARANTHE), Rob Rock (IMPELLITTERI), Russell Allen (SYMPHONY X), Sharon Den Adel (WITHIN TEMPTATION), Tony Kakko (SONATA ARCTICA).
• Keyboards: Jens Johansson (STRATOVARIUS), Derek Sherinian (BLACK COUNTRY COMMUNION), Mikko Härkin (SONATA ARCTICA)
• Drums: Alex Holzwarth (RHAPSODY of FIRE)
• Orchestrations: Sami Boman
• Opera Vocals: MagdalenaLee
Track Listing:
1. Avalanche Anthem
2. A World Without Us
3. Enshrined in My Memory
4. In the Name of the Rose
5. We Will Find a Way
6. Shine
7. The Magic of the Night
8. To the Edge of the Earth
9. I'll Sing You Home
10. The Land of New Hope
Label: Frontiers Records
Website(s):
http://tolkki.org/
https://www.facebook.com/timotolkkiofficial
https://twitter.com/tolkkiofficial
http://www.youtube.com/artist/timo-tolkki
Hardrock Haven Rating: 9.5/10