Artizan | Ancestral Energy
by Justin Gaines
– Senior Columnist/News Editor —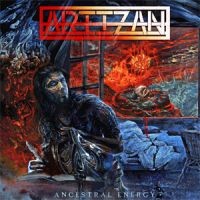 Ancestral Energy is the second full-length album from Artizan, one of the more exciting bands to emerge from the American power metal scene in recent years. The Florida-based band once again enlisted the services of Jim Morris at the legendary Morrisound Studios to produce and engineer the album, which also features a guest appearance from former Iced Earth (and current Ashes of Ares) singer Matt Barlow.
Much like Artizan's debut (2011's Curse of the Artizan), Ancestral Energy has the perfect mix of traditional, power and at times progressive heavy metal. It's hard hitting, and with plenty of power, but also has some infectious melodies and a fair amount of technicality. Maiden, Priest and Dio are the obvious touchstones, but you can hear traces of Queensryche, and older Savatage in Artizan's sound.
At just 40 minutes, Ancestral Energy is fairly brief, but the tradeoff is that it's also an album without any filler. It opens on a very strong note with the up-tempo, anthemic "I Am the Storm," which is a great showcase for both the melodic lead guitar work as well as Tom Braden's unique vocals. "The Raven Queen" and "You Can't Take the Metal" are metal thrashing mad, and "Deep Ocean Dreams" is probably a better song than either Queensryche camp is going to come up with this year. Artizan saved the best for last though, closing the album with the epic 10-minute closing track. "Ancestral Energy" has a slow, steady build to a frantic conclusion that finds Braden trading screams with Matt Barlow in a song reminiscent of those classic Iced Earth epics.
Artizan demonstrated a lot of promise as a new band with Curse of the Artizan, and they've delivered on that promise again with Ancestral Energy. This is a very strong album that will appeal to a wide array of metal fans. Whether you're into classic bands like Iron Maiden and Queensryche, newer traditional metal bands like Widow and White Wizzard, or power metal bands like Iced Earth and Firewind, Ancestral Energy is an album that's going to satisfy.
Genre: Power Metal, Progressive Metal
Band:
Jon Jennings (b)
Shamus McConney (g)
Tom Braden (v)
Ty Tammeus (d)
Track Listing:
1. I Am the Storm
2. The Raven Queen
3. The Guardian
4. The Death of Me
5. Deep Ocean Dreams
6. You Can't Take the Metal
7. Ancestral Energy
Label: Pure Steel
Website: www.artizanmetal.com
Hardrock Haven rating: 8.75/10