by Matt Karpe
– Columnist —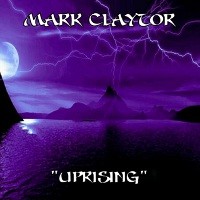 The first impression you get upon hearing Mark Claytor is "Wow, that guy can sure play a guitar," and that impression becomes confirmation after hearing Uprising.
Thirteen instrumental songs stretched over forty minutes show the skill Claytor has when his fingers touch a six string. There is good variation on show, with hard rock, classic rock, funk, blues and the occasional piece of sleaze, all performed with intricacy and great technicality.
"Madness" is a short intro with some hypnotizing moments as Mark's fingers work overtime.
"Distant and Deadly" has some good hard rocking riffs, and also features fellow instrumentalist's Chris Bickley and Michael Geren, with Geren also returning to play bass on "Eminent Collision" later on.
"Turning Point" is quite bluesy and contains a fine solo, and "Plum Crazy" is dominated by a funky hook.
"Black Magic Blues" is the standout track. Just under five minutes of sheer quality that is full of blues and swagger; there are small similarities to Hendrix classic "Crosstown Traffic" with the guitar effects that Claytor is able to produce. The bass and drumming in the background accompanies the guitar shredding well, making this a joy to listen to as you hear the best of Mark Claytor.
"It Is What It Is" is a slow paced funk-fest, and the remainder of the album plays out with more raunchy rocking riffs and superb solos.
Mark Claytor is a fantastic guitarist, and he proves it on Uprising. Each track is multi layered, but done so in such a way that the combination of instruments manages to avoid stepping on each other's toes, giving you a clear listen of all textures that are involved. The subtlety and technicality is also to be admired, and influences of already mentioned Hendrix, as well as Satriani, Vai and even Zakk Wylde are instantly recognizable.
With artists like this, it's a shame that the wider audience might just see Mark Claytor slip under their radars.
Some might say this album would sound better with some vocal displays, and maybe it is true in certain instances, but for a lover of guitar artistry, Uprising is fine the way it is, and Mark Claytor's guitar is all you need to hear.
Genre: Instrumental Rock
Track Listing:
1. Madness
2. Distant and Deadly
3. GrooveStar Gravity
4. Uprising
5. Turning Point
6. Plum Crazy
7. Begin Again
8. Black Magic Blues
9. It Is What It Is
10. GeoGraphic
11. Eminent Collision
12. Vengeance
13. Away From The Sun
Label: Sumthinfierce
Website: www.mcsologuitar.com
Hardrock Haven Rating: 7/10