Todd Kerns | Borrowing Trouble
by Deb Rao
– Senior Columnist —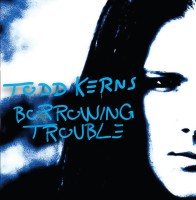 The wait is finally over. Nine years in the making, Las Vegas singer songwriter Todd Kerns has released a solo album entitled Borrowing Trouble. Dedicated in the memory of Greg Verdusco, Borrowing Trouble is a very up close and personal acoustic album. Todd Kerns best known as bass player for Slash and front man for Sin City Sinners, and he showcases his softer side on Borrowing Trouble.
Opening track and single "Nothing Personal" sparks an upbeat rock song that could have easily appeared on one of Slash's albums. The song has a great up-tempo beat with a Hollywood vibe in which the cast of characters in this song all vie for fame and fortune. It is a dark song in which the lyrics engulf a tone that embraces all of Hollywood's temptations. A very catchy song to kick off the album. Next up the "Devil In Me" has a compelling guitar lick that carries throughout the entire song. Todd really delivers on this with driving beat and devilish lyrics.
Todd Kerns shows that softer side on the beautiful ballads "It's Always Been You", and "So Close So Far." Shades of Elton John's vocal style speak volumes on this CD.
Side two starts off with the dark song "Hideous." This song touches on the awkwardness of high school. "Come Back To Bed" has a John Mayer vibe with nice chord progressions. Todd pays tribute to his Canadian roots on the heartfelt "You Can Always Go Home."
Borrowing Trouble is an acoustic musical journey in which Todd Kerns paints a beautiful muriel of emotion, pain, and triumph. The CD is full of catchy tunes that are stripped down with strong vocals and very compelling lyrics that make you stop and listen.
Genre: Rock, Acoustic
Band:
Todd Kerns on Vocals and Acoustic Guitar
Guest Musicians:
Rob Cournoyer
Doc Ellis
Zachary Throne
Cian Coey
Track Listing:
l. Nothing Personal
2. The Devil In Me
3.The Maker
4. This Changes Everything
5. It's Always Been You
6. Hey Summer
Side Two
1. Hideous
2. So Close So Far
3. So Scandalous
4. Magdalena
5. Come Back To Bed
6. You Can Always Go Home
Label: CaiRip Records
Website: http://www.toddkerns.com/
Hardrock Haven Rating: 9/10