Children of Bodom | Halo of Blood
by Jenn Carbaugh
– Columnist —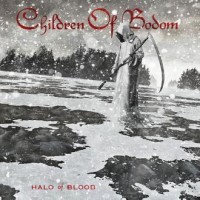 The Finnish five-piece, Children of Bodom, continues to surpass other Scandinavia metal bands. The evolution of these brutal musicians can be traced back to their debut release of Something Wild in 1997. They can still be thought of as something wild because of the impact they maintain in the music industry. Being on tour with bands like Behemoth, Rob Zombie, and Amon Amarth is a win for metal fans everywhere as well as for Children of Bodom.
The sound of Children of Bodom has somewhat shifted over the years. They are putting out more and more melodic death anthems. There is no complaining with the new album, Halo of Blood, because it wreaks musical havoc in the best way possible.
The album opens up with a full-speed, heavy but amusing song that makes the initial listening promising. The riffs and vocals are definitely something that Alexi Laiho continues to churn out. The drums are also quite commendable in building the intensity of the first few tracks. "Screams of Silence" is another great track that really displays the guitar range and soloing ability that this band has always been able to illustrate.
The typical but still outstanding musical abilities of this band are still there, but there are some unfamiliar Children of Bodom sounds that this album introduces. "Dead Man's Hand on You" has a beginning that opens with soft sounds and Laiho using a low spoken part. It gives more than shivers. It adds diversity and really plays on Laiho's gritty voice.
The voice of Laiho does carry a lot of weight on this album, but there is so much more to offer than just a mix of sharp and coarse vocals. The music itself provides duality. There are steady, anthem songs like "All Twisted." However, there are also powerhouse songs that give the album a malicious and intense sound like "Damaged Beyond Repair."
Children of Bodom is relentless with their tempo, and Laiho dominates vocals and guitar. This album has everything a new or old fan of Bodom would appreciate. It is definitely a recommended album. This band will continue to intertwine brutal vocals with indescribable musicianship in every category.
Genre: Melodic Death Metal
Band:
Alexi Laiho – vocals, guitar
Roope Latvala – guitar
Janne Wirman – keyboards
Henkka Seppälä – bass
Jaska Raatikainen – drums
Track Listing:
01. Waste of Skin
02. Halo of Blood
03. Scream for Silence
04. Transference
05. Bodom Blue Moon (The Second Coming)
06. The Days are Numbered
07. Dead Man's Hand on You
08. Damaged Beyond Repair
09. All Twisted
10. One Bottle and a Keep Deep
Label: Nuclear Blast
Website: http://www.cobhc.com/
Hardrock Haven Rating: 9/10