Havok | Unnatural Selection
by Matt Karpe
– Columnist —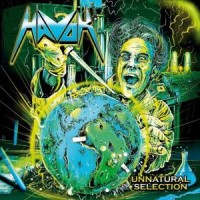 Colorado thrash metallers Havok release their third album Unnatural Selection, paying homage to Slayer and at times Pantera on ten tracks of fury.
David Sanchez spits venom like there's no tomorrow, whilst he also lets rip on guitar along with lead axe man Reece Scruggs. Pete Webber destroys his drum kit as newest member Michael Leon is a revelation on bass.
Opener "I Am The State" sets the tone, with a frantic drum assault, shredding guitar riffage and a thudding bass line. Sanchez screams and shouts like classic Tom Araya on a decent track.
"Give Me Liberty…Or Give Me Death" contains politically themed lyrics and features some bullying gang vocals. Sanchez shows some diversity in his vocals trading melody and monster howls.
"Is It True" features a mesmerising guitar solo from Scruggs- one of many on the album and Leon contributes a funky bass hook which is more prominent in the second half of the song.
"Waste Of Life" is Pantera-esque in every way. A slow and grinding intro with chugging guitars and a decent drumbeat, overshadowed by plenty of melodic singing, but at just over six minutes long, the song feels too dragged out.
It's a shame when the best song on Unnatural Selection wasn't even written by Havok. An excellent rendition of Sabbath's "Children Of The Grave" is musically, played to perfection. The classic well renowned guitar riffs are spot on, and the drumming superb. Sanchez puts his own vocal style to good use to make this cover song a little bit more original.
The title track rounds off the album with more frantic fury, another ode to Slayer in terms of aggressive drumming and brutal guitar "slaying."
Havok haven't produced anything groundbreaking here. Although the technicality in the instrumentation is good, it's a typical thrash album in a genre that is trying to be revived, yet no one seems to be willing to take the mantle.
The guitar solos are a highlight, as is everything played by Michael Leon who can mix it with the best on four strings. Pete Webber's drumming does enough to keep pace and David Sanchez's vocals are diverse and strong.
However, a few too many songs are dragged out, and the lack of variety and pace to the album is a big stumbling block as, after a while, most of the songs seem to blend into one.
Nonetheless, Havok have plenty of time and plenty more years to record more music that may just set the thrash metal world alight again.
Genre: Thrash metal
Band:
David Sanchez- Vocals/Guitar
Reece Scruggs: Lead Guitar
Michael Leon: Bass
Pete Webber: Drums
Track Listing:
1. I Am The State
2. Give Me Liberty…Or Give Me Death
3. Is It True
4. Under The Gun
5. Waste Of Life
6. Living Nightmare
7. Chasing The Edge
8. Worse Than War
9. Children Of The Grave
10. Unnatural Selection
Label: Candlelight Records
Webpage: www.HAVOKband.com
Hardrock Haven Rating: 5/10