by Matt Karpe
– Columnist —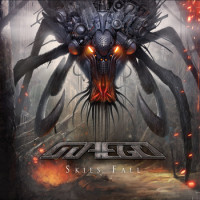 Turkish musician Oganalp Canatan's power and prog metal CV includes his bands Dreamtone & Iris Mavraki's Neverland, but this time he goes it alone, with a little help from some heavy metal friends, under the name Maegi.
Skies Fall contains 10 tracks of melodic metal, with progressive, power and occasionally folk elements, with Canatan on vocals and full production for the majority.
"Skies Fall" features Grave Digger frontman Chris Boltendahl, who's dark growling vocals overpower a slightly symphonic and melodic metal opener.
"No Response" is more of a hard rock song than metal, with steady drumming and controlling guitar riffs, whilst Canatan's rough cut voice hits the spot on a catchy chorus.
Zak Stevens of Savatage contributes his harmonious voice to "Communications Breakdown," which has folk moments that trades with some hard guitar riffs and powerful drumming. There is also an excellent solo from Canatan that takes the track up an extra notch.
"Those We Have Left Behind" slows proceedings down, but at the same time becomes the standout song on Skies Fall. Blind Guardian singer Hamsi Kürsch is phenomenal as his emotive vocal performance captivates the listener, and Canatan's beautiful acoustic guitar work provides the only backdrop this track needs. It is a stunning song stripped down to the bones and it is so well delivered that you forget that this is part of a heavy metal record.
"A Different Fate" picks up the pace again, and it is also the most experimental song on the album. With keyboard and piano cameos, as well as speed drumming and heavy guitar riffs, it is a song with great diversity all packed into four minutes.
"Demise Of Hope" features the great Tim "Ripper" Owens, and his trademark raspy voice and high pitched tones make this track another highlight, with another good melodic chorus made possible by Canatan's superb guitar work.
"In Silence" ends the album with seven minutes of acoustic and heavy guitar variation, a chanting orchestra, and an interlude half way through that builds up to one more splash of good power metal, encapsulating Skies Fall perfectly.
Oganalp Canatan has produced an intelligent and diverse sound with Maegi, and his choice of guests has been proved successful as each of their distinctive vocal styles suit the songs selected for them.
There are also plenty of crunching guitar riffs and good solos, and more melody than you would think possible for an album in the power metal genre, making Skies Fall a surprisingly decent listen.
Genre: Power Metal, Progressive Metal
Band:
Oganalp Canatan- Vocals, Guitars, Drums
Hansi Kürsch – Vocals
Chris Boltendahl – Vocals
Tim "Ripper" Owens – Vocals
Zak Stevens – Vocals
Jerry Outlaw – Lead Guitars
Onur Ozkoc – Rhythm & Acoustic Guitars
Can Dedekarginoglu – Bass
Semih Ornek – Drums
Ozan Alparslan – Keyboards
Bulutay Günes – Choir Company
Damla Ozdemir – Choir Company
Track Listing:
1. Skies Fall
2. No Response
3. Communications Breakdown
4. Take No Prisoners
5. Hide And Seek
6. Those We Have Left Behind
7. A Different Fate
8. Resistance
9. Demise Of Hope
10. In Silence
Label: Kardanadam Medya
Webpage: http://maegi.bandcamp.com/
Hardrock Haven Rating: 7/10