Troy Patrick Farrell of Cheap Thrill
by Deb Rao
– Senior Columnist —
New Supergroup Cheap Thrill featuring Cinderella duo Eric Brittingham and Jeff Labar, drummer Troy Patrick Farrell and singer Brandon Gibbs is gearing up for their Las Vegas Debut July 12 at Vamp'd. Drummer Troy Patrick Farrell unveils exclusive details surrounding the debut of Cheap Thrill in this exclusive interview for Hardrock Haven.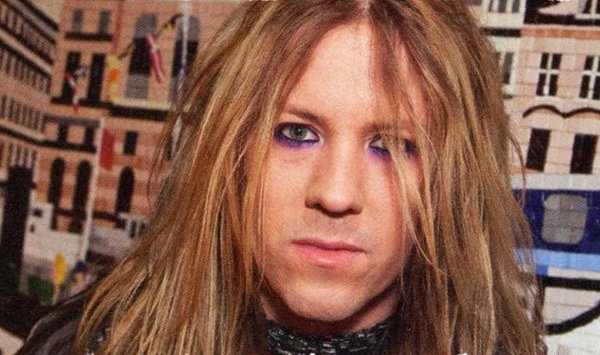 HRH: Troy, tell us about your new band with Cinderella members Jeff Labar, and Eric Brittingham. How did the band come to fruition?
Troy: Hi Deb! Long time no speak..but nice to see a familiar face! Ya know, I think my involvement with CHEAP THRILL happened because I brought Eric (Brittingham) into LOST ANGELS, and when he needed a drummer for a Denver run recently, he called me. They have a drummer (Chaney Brannon-Collective Soul) who was unable to do the dates, so I stepped in. It's a great fun band and Brandon (Gibbs) is an amazing singer and songwriter. The difference between LOST ANGELS and other "All Star" Cover bands is that we do original material… we do some Brandon Gibbs stuff and a song from Jeff's (LaBar) upcoming solo release.
HRH: The band is currently on the road. Tell us what the fans can expect to see at the show in Vegas at Vamp'd on July 12.
Troy: Well, Vamp'd was a last minute booking, it just so happened that Brandon said "hey, do you know anyone in Vegas" and then I called "Vamp'd" and they had the open date … just three weeks ago. Not only will Vamp'd be CHEAP THRILL's debut, I'm bringing a ton of special guests out to the show, Jeff, Eric and Brandon have no clue this is happening..
HRH: Would you say Cheap Thrill has a Cinderella vibe to the sound and old school metal sound?
Troy: Ya know… we do a few Cinderella songs…we do some modern rock hits, stuff from the '90s and then we do Brandon's solo stuff…and his stuff fits into not only the old school and modern stuff… but is a current climate of Modern Rock with a bit of old school influence. The best thing about us doing the classic Cinderella stuff is that Brandon knows his strengths so there is a twist to how we do those songs. He's added a dash of flavor that makes it work so well. Just YouTube "Cheap Thrill" and watch him go… the kid is great and it's a pleasure playing with them.
HRH: Tell us about your singer Brandon Gibbs. Will the band be performing new songs off of his CD?
Troy: Brandon is a guy I didn't know of personally but had always "knew" about him music wise. He had a band with his brother called "THE GIBB's BROTHERS" and they have played L.A., and pretty much everywhere else. When Eric mentioned him, I knew who he was… just didn't know his talent. Now I do. We do a nice mix of his material in the set… and after 3 shows… I know that fans don't hit the toilets during his material. The songs are great… and it's a pleasure to play with him!
HRH: I know you hail from the Chicago area. When you first got started in music who were some of your influences? I can hear a lot of Kiss solos and Cheap Trick influences in your playing.
Troy: Well… who doesn't like KISS?! You are definitely right with Cheap Trick. I love them, Enuff Znuff and Thin Lizzy. I'm a huge Kings X fan however I don't know that my playing shows that… but if you ever end up on a desert island, bring as many Cheap Trick CDs as you can, add in EZN, Thin Lizzy and Kings X!
HRH: Any plans to go into the studio with Cheap Thrill?
Troy: We actually talked about recording a few songs after my inaugural shows in Denver… let's see if that plays out. In this day and age it's super easy to do. I hope it happens … I love playing w/ Brandon, Eric and Jeff … it's an honor. Maybe I'll get to sneak in on a track or two!
HRH: Cheap Thrill be doing a special Memorial Show in Ohio for Jani Lane. Tell us about this show on August 10.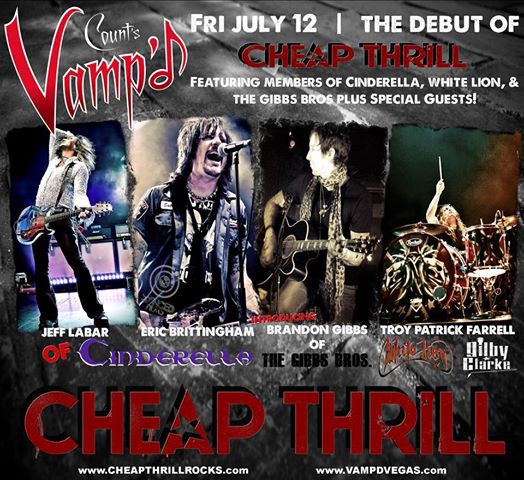 Troy: I won't be there in person, but in spirit…as I have played with Jani some years ago. Chaney is the main guy, but when he can't do, I hope to fill wherever I can. I trust it'll be a great show, Ohio is Jani's home turf and I know there's a lot of love for him there … If I lived there, I'd be attending.
(TPF with JANI Circa 2006: http://www.youtube.com/watch?v=U_8qkqwrEdY)
HRH: Jani was such an amazing singer and song-writer. Do you have any favorite Jani Lane stories that you would like to share with us?
Troy: I did a short stint with Jani and it wasn't the best of times for Jani personally… but the stories I can tell… are one's I'll keep for my own memories. Not because they're bad but because it's more of a "you had to be there" moment. I will share this… when I auditioned, Jani, who's a great drummer, commented on how I would hit the right crash cymbal with my left hand, sort of crossing over… he really dug that and I'll never forget he said that one thing he liked about my drumming.
HRH: You are one of the hardest working musicians in LA. How is everything going with Gilby Clarke?
Troy: Gilby Clarke is alive and well! He's doing KINGS OF CHAOS, a big All Star mix of guys like Glenn Hughes, Duff, Matt Sorum, Sebastian, Joe Elliot. They just did shows with Slash, Ed from Collective Soul, Steve Stevens etc. … He just returned from Australia and his next run with myself and EJ CURSE (SILENT RAGE/WHITE LION) in Sturgis, South Dakota. We are doing five shows as the house band at GlenCoe Campground. Our first show is Aug. 2 and it looks for now (tentative) that we will do, Aug. 2, 3, 5, 8 and 9 supporting acts like Candlebox, Quiet Riot, Skid Row etc. They're still sorting out dates but we are there for a week hitting five of the shows.
We also ride there. We will be a crew of 10, riding motorcycles to Sturgis and back to LA Aug 10. 3000 Miles on bikes… it will be our second trip. This ain't no fashion, it's a way of life … we are the Motorcycle Cowboys.
Check out updates, show dates, vids, blogs, video and twats here:
www.drummertroy.com
www.gilbyclarke.com
Twitter: @GilbyClarke
Twitter: @drummertpf
and of course Facebook-
Just search our names www.CheapThrillRocks.com and
www.LostAngelsLive.com.