We As Human | We As Human
by Mark Allen
– Senior Columnist —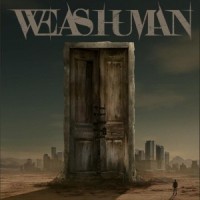 According to some critics, commercial modern hard rock is a dying genre, gasping its last, suffering the same fate as hair-metal did circa. 1991. In other words, too many bands that all sound identical, stifling creativity and fostering an atmosphere of stagnation. And while there may be a kernel of truth in the accusations, reports of modern rock's demise are exaggerated. And thank God for that, because if the genre was dead, we wouldn't have this kick-ass album from We As Human (WAH).
Now, being a Christian rock band, WAH might object to the term "kick-ass," but no offense is intended and besides, the words "kick" and "ass" are both in the Bible, so they can't be bad, right? Okay, digression concluded, moving on …
WAH were discovered by John Cooper of Skillet (who provides guest vocals on "Zombie,") and one listen is all it will take to make you realize why Cooper liked them so much—they bear a strong resemblance to Skillet. Loud guitars, crunchy production, big hooks, anthemic choruses … yeah, it's all here and it's all very Skillet-esque (with some Breaking Benjamin and Papa Roach thrown in). But that should not be seen as a negative; Skillet are one of the best bands in modern rock right now, so if WAH are going to engage in emulation, why not emulate the best?
The album hits hard and yet remains as readily accessible as a nymphomaniac wearing a mini-skirt and no panties swigging wine coolers in the back of a '57 Thunderbird parked on Lover's Lane. It sports plenty of fist-pumping energy, but in that radio-ready way, assisted by an admirable production job from Howard Benson, who knows how to make face-melting rockers sound slick and polished without sacrificing the aggression.
The album explodes out of the gate with "Strike Back," a big, testosterone-drenched modern hard rock anthem begging to be featured on a promo spot for the NFL thanks to chest-thumping heaviness and in-your-face lyrics like, "The bigger you are / The harder you fall / You're gonna suffer / Hit me, I'll hit you harder." The song would make an excellent companion piece to Disciple's "Game On."
"Zombie" features John Cooper's distinctively raspy vocals and results in an album highlight. Not just because of Cooper, but because "Zombie" dares to push against the modern hard rock format. It flirts with some industrial influence, slams out some wicked beats, and dishes out some serious heaviness with a side helping of snarling attitude.
Just as good is "Take the Bullets Away," featuring ex-Flyleaf singer Lacey Sturm, and if you think she sounded good on her final Flyleaf album, wait until you hear her tear up this track. The verse and bridge rumble with menacing heaviness before the chorus explodes into melodic bliss … and then that melody is beautifully destroyed at the chorus' climax by Lacey's powerful screams.
So yeah, with all apologies and respect to the band's faith—which is well represented lyrically, by the way—WAH kick all kinds of ass. And you should have yours kicked if you're a modern hard rock fan who doesn't pick up a copy of this album.
Genre: Modern Hard Rock, Christian rock
Band:
Justin Cordle (vocals)
Adam Osboren (drums)
Jake Jones (guitar)
Justin Forshaw (guitar)
Dave Draggoo (bass)
Track Listing
1. Strike Back
2. Dead Man
3. Bring to Life
4. Let Me Drown
5. Zombie (feat. John Cooper)
6. We Fall Apart
7. Take the Bullets Away (feat. Lacey Sturm)
8. Taking Life
9. Sever
10. I Stand
Label: Atlantic Records
Webpage: www.facebook.com/weashuman
Hardrock Haven rating: 9/10