Jon Oliva of Savatage & Pain
by Deb Rao
– Senior Columnist —
After 30 years in the music business ex-Savatage member Jon Oliva has released his first solo CD entitled, Raise The Curtain. The album reflects another side of Oliva that is very personal and heartfelt. Jon also reveals details surrounding his solo Story Tellers Tour to Hardrock Haven that he will be embarking on Thanksgiving weekend.
In this up close and personal interview, Jon discusses the making of Raise The Curtain, talks candidly about his late brother Criss and the upcoming Gutter Ballet 25th Anniversary tour in 2014. Jon commented to HRH regarding his solo release and Criss's music, "It was strange because it came full circle. It was last stuff of his that I had that I could work with and was actually the very first songs that we ever wrote together when we were kids. That was very special. It is sad that there is no more left but it is very cool that the fans get to hear the last music of his that you were ever hear."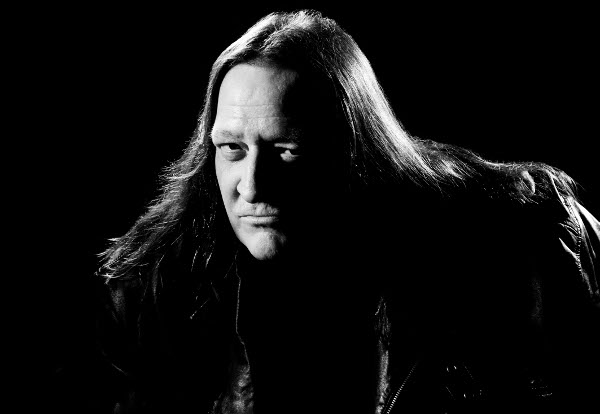 HRH: Jon, welcome to Hardrock Haven. The big news is you will be embarking on a solo Story Tellers Tour end of November. Tell us about this.
Jon: It starts right after Thanksgiving. It is going to be a lot of fun. I am really excited about doing this. I get to do my comedy onstage as well. It is still a fantasy of mine to be a stand-up comedian.
HRH: Are you going to be only doing songs from your new CD, or material from back in the day?
Jon: I am going to do the whole history of my career really. Starting from some of the stuff from this new album. Because some of the stuff where we use Criss Oliva's music is some of the earliest stuff that we ever wrote. I am going to start with that and go through the whole history.
HRH: Tell us about the writing process for the album. What role did your late brother Criss play in the making of the album?
Jon: Criss's music has been a part of all of the Jon Oliva's Pain albums that we have done over the last ten years. This was the last of his stuff that I had. It is ironic because it ended up being the earliest stuff that we ever wrote. It was weird. The song "Father Time" was the second riff that Criss ever wrote. He was 14 years old. It was strange because it came full circle. It was last stuff of his that I had that I could work with was actually the very first songs that we ever wrote together when we were kids. That was very special. It is sad that there is no more left but it is very cool that the fans get to hear the last music of his that you were ever hear.
HRH: Did you write "Big Brother" for him?
Jon: No, actually I was his big brother. The song "Big Brother" came from my son Nicholas who likes to shoot guns. He is like dam they are trying to do this. Big Brother is always watching you. I just went ding in my head. The lyric idea in my head came from me about them trying to outlaw buying bullets. I was like what a great idea for a song.
HRH: Did you feel that you had more control in the studio writing this album? Also do you feel you accomplished your goal in writing the music that was very close to your heart? This is a very heartfelt album.
Jon: It is. Thank you for saying that. I have been doing this for so long. I feel blessed that I am still able to do it. Music is an emotion. It is a feeling. It is a vibe. When you start planning it or trying to do anything like that you just kind of ruin it. My thing is to do what comes from my heart. I think the fans are the people that buy it and like it. I think they understand where I am coming from. That is very special to me. I do these albums because it makes me happy. I think it makes the fans of my music or my brother's music or Trans-Siberian Orchestra happy. That is what it is all about. Isn't it?
HRH: It is totally. How therapeutic or painful was it to look back into your past and write the album? It really is kind of a tribute to your brother.
Jon: It was after losing Matt; I spoke to Matt the day before he past away. I spoke to my brother Criss the day before he past away. It was like the next morning I woke up and they were both gone. It was just a traumatic thing for me. I felt like I was sling shotted into that whole thing again. It was like it sucks man. When you lose people that you love, hopefully you haven't had to go through that. But we all have to go through that. It brings out certain things and certain people are affected in different ways. I guess working is kind of a like a therapy for me to get over it. But you never get over it. But you look through something to get you through it. Is what I am trying to say. Do you understand that?
HRH: I do because I lost my Dad a few years ago. That was very painful. It is ironic because that Thanksgiving I went to see Trans Siberian Orchestra. It was my first time seeing the band. The music made me feel so much better. With the Holidays coming up, it helped me get through it. It was a fantastic experience.
Jon: Thank you. The work that we put into that nightmare that will never die on us. The Trans Siberian stuff, I am very proud of that. That is very much my job. I love doing it. I love the music. When I work with Trans Siberian Orchestra it is kind of getting up, taking a shower, shaving, going to work and I am there for 12 brutal hours. It is great because when I come to do my own stuff whether it is with me or with my band I feel like I just been paroled from jail or something. (Laughter) I have this sense of freedom. It is very exciting because I come up with this strange stuff because of that. It is a weird twisted thing. I hope it never ends.
HRH: Will you be touring with Trans Siberian this year?
Jon: Well that is going out this year. I don't go on tour with them because if I did I would never have time to do the other stuff that I do. My job with Trans Siberian is I am Paul's major writer. I write all the music with Paul O'Neil. I play on all of the albums. I have produced the show. I am at all of the rehearsals. Then when it is time for them to go out on the road for the Christmas tour I watch the first show. Then I am F*** out of there! (Laughter)
HRH: That is cool. How did you come up with the title Raise The Curtain?
Jon: The song was really a song that my friend Dan had. He is like no guitar player has ever been able to play it. Why don't you play something? I was like all right. I wrote a whole different song really. And added it into that song. Then I was like what are we going to call it? There was no place to really sing verses. All is I want is a choir going something. It was like oh it is picture. It is like if you go to an opening of a movie theater. You sit down and you have your popcorn and all of a sudden the lights start to go dim. The intro music starts and the curtain starts to rise. I'll do the album as if you have to go into a theater. The lights go on and you hear the song "Raise The Curtain." The curtains rise and the stage fills with smoke. And then this imaginary band comes out and starts this concert. It goes through its 58 minutes. At the end of the night when it is all over with the song "Can't Get Away", the lights start to come back on and you hear that pretty ballad and that is the end of the performance. It is an album put together like a performance.
HRH: What about you're other band Pain? Are you going to be going into the studio with them soon?
Jon: We already started that record. The goal for the Pain record is to do the heaviest record that I have ever done in my record. That is my next chopping block that I have to chip away. We have already started working on it. Hopefully, we want to have it out by the beginning or middle of May of next year. It is going to be very dark, very heavy. You all better go out and buy it or else.
HRH: Will you be touring with Pain next year?
Jon: Next year is the 25th Anniversary of Gutter Ballet. That is why I want to have the new JOP album out by May because I am doing a lot of festivals next summer in Europe. We will be doing the whole Gutter Ballet album in its entirety. It will be nice to have some of these new songs to fill out the show.
HRH: Do you prefer touring Europe VS. the U.S.?
Jon: As long as I am getting paid. (Laughter) I like Europe because I like doing the festivals there. Over there it really means something to them to go to live shows. Here in America, we are a little spoiled. I love going to shows anywhere. We can just go to Best Buy and say I don't have to go through all that bullshit and parking. I can just watch it. I love going to Europe because it is an experience. It is different.
HRH: You have been in the business for 30 years. Do you have any favorite moments onstage that you would like to share?
Jon: I have lots of great moments. I think my biggest moment in the thirty year that I have been doing this is when I actually got a check. That really meant something. That was like when I got my first platinum album. I was already in the business since 1983. I got my first platinum album in 1999. It wasn't like I was a rookie or anything. That felt really good because it felt like 9 million people bought this album. That is cool. That was the biggest moment for me because what I am doing is finally real now. There you go.
HRH: How do you think over the years the music industry has changed? Do you fell that it is better or worse for bands trying to break into the business?
Jon: It is probably a lot harder now to break into the business just because the business doesn't really know what the business is anymore. There is not a lot of records labels left. Major labels especially here in America I think there is two or three. There used to be like fifty. It is a lot harder. The smaller labels like the label I am with AFM that is based out of Germany. You really got a bigger shot for doing stuff with a label like that. Because the other labels, they are really not around anymore. The bigger labels are just pushing their big name stars anyway. They are really not into the young developing bands anymore. When Savatage signed with Atlantic Records, we signed for 10 years. We were like these guys want to develop us and work with us forever. Boy, we were f*** wrong on that. It is very difficult now.
HRH: Well, it is great you are doing the Story Tellers tour. The tour starts in Florida. I hope you come to Vegas.
Jon: If we come to Vegas, it will be after the New Year. We are doing the East Coast first on this. By the time, we finish the East Coast it will be right around Christmas. If everything goes well, we are going to bring it out to the West Coast. Right after the New Year.
HRH: Awesome. Is there anything else that you want to say about the album?
Jon: No, just please buy it. I need the money. I got car payments, bill payments c'mon guys.
HRH: Thank you so much Jon. Take care.
Online: www.facebook.com/jonolivaspain