by Matt Karpe
– Columnist —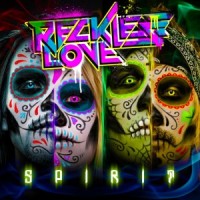 The 80s' was a haven for glam rock and metal, with Mötley Crüe, Kiss and Hanoi Rocks to name just a few, flying the flag of drunken debauchery whilst writing catchy anthemic music.
Fast forward nearly thirty years and Reckless Love are attempting a glam revival with Spirit, the Finnish quartet's third studio album.
Lead by ex-Crashdïet vocalist Olli Herman, Reckless Love know how to make infectious glam tinged rock that's full of sexy swagger while they maintain a big fat smile on their faces.
"Night On Fire" has a Europop feel to it, with squeaky electronic sampling making you wonder if this is an audition for the Eurovision Song Contest. The chorus is huge and sure to be a hit with live crowds.
"Bad Lovin'" is a sleazy number with raunchy guitar riffs from Pepe Salohalme and good hard drumming by Hessu Maxx. Herman's vocals are also strong, with a rough growl in places and then startling high pitch screams that sound just as good as an inspired Vince Neil.
Maybe the most successful part of Spirit comes in the form of the softer ballad-like songs, and there are some crackers here.
"Edge Of Our Dreams" is beautifully played and performed, with such a feel that only Scandinavian artists seem to be able to deliver. It's the chorus that really shines and leaves you singing along in a fine frenzy.
"Dying To Live" is slightly more emotive, and the guitar work is highly profitable. Lyrically it shows the maturity Reckless Love has gained since their last album Animal Attraction as they seem to be in a more serious yet relaxed state.
"Hot Rain" closes the album with a stunning finale. It's soft and slow but again the chorus is excellent. The delicacy in Herman's voice pulls at the heartstrings with every word and the last two minutes of instrumental is simply sensational. The guitars scratch and swirl, the drums rock and roll and the bass from Jelle Verne puts the finishing touches to one of the best songs Reckless Love have ever written.
This is only slightly bettered by the song that came before it. "So Happy I Could Die" steals the show with a rock anthem of extremely high proportions. The guitars and drums are fast and dirty, and the vocals hurried and precise. The chorus is the defining moment, and it has a great similarity to Crüe's "Kickstart My Heart" which, in a way is a brave move by Olli and the boys, but judging by the confidence they have right now, it's a risk that pays off because like the rest of the album, this song is superb.
Reckless Love would be massive if Spirit was released in the 80s', but unfortunately they might just have to settle for limited success now as the call for Glam and Sleaze rock seems to be wavering once again.
It's a real shame that many people may miss out on something that is really special, because Spirit is reckless, relentless and absolutely brilliant.
Genre: Glam Metal, Hard Rock
Band:
Olli Herman- Vocals
Pepe Salohalme- Guitar
Jalle Verne- Bass
Hessu Maxx- Drums
Track Listing:
1. Night On Fire
2. Bad Lovin'
3. I Love Heavy Metal
4. Favorite Color
5. Edge Of Our Dreams
6. Sex, Drugs & Reckless Love
7. Dying To Live
8. Metal Ass
9. Runaway Love
10. So Happy I Could Die
11. Hot Rain
Record Label: Universal Music, Spinefarm UK
Website: www.recklesslove.com
Hardrock Haven Rating: 10/10