by Matt Karpe
– Columnist —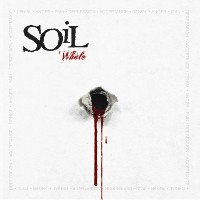 Nine years after Ryan McCombs gave up vocal duties with Soil to later join Drowning Pool, he returns home to pick up where he left off on 2004's Redefine with new release Whole.
Original members Adam Zadel (guitar) and Tim King (bass) are the only other full time contributors, and the drumming is provided by Evanescence/Device sticksman Will Hunt.
"Loaded Gun" has the classic Soil sound; pounding drums and heavy guitar riffs, topped off with McCombs distinctively rough and angry snarl. The chorus is fairly melodic, much in the same vein as tracks off of the immensely popular Scars album that was released in 2001.
"The Hate Song" follows in similar fashion, as Hunt's thrashing drums punish, Zadel's guitar riffs are bruising and another good chorus contains the contradictory yet brilliant line "You are so beautiful, so I wrote you this lovely little hate song…" which McCombs delivers excellently.
"Way Gone" is one of the best tracks on Whole. It's more radio friendly as musically it is softer, but there are still some good guitar rhythms and storming bass and drum work. The chorus is sublime as McCombs clearer singing voice is on full show to make it a highly infectious and addictive listen.
"Shine On" is the show stealer though. After a slow intro, the first verse explodes into life with some brutal riffing and booming drum beats. The vocals are fraught but expertly performed and once again, the chorus is brilliant. If you ever needed confirmation that Soil was back, then this song proves it because "Shine On" is the best song they have written since "Halo".
Mike Mushok from Staind contributes a fine guitar solo on "Wake Up" before "Amalgamation" finds McCombs using titles of Soil and Drowning Pool songs that he was involved in, incorporated into some well put together verses.
"One Love" is a ballad of sorts, as the first half of the song is slowed down before a hard rock chorus beams with passion. The second half is full of thrashing guitars and drums, and McCombs wears his voice out with emphatic and prolonged screaming.
Soil has always been a heavy rock/metal band, and they have always managed to make their songs sound so irresistibly catchy. Whole is true to that statement, and it feels like Ryan McCombs has never been away because this album fits perfectly together with the previously mentioned Scars and Redefine- albums that are twelve and nine years old respectively.
It's a shame because this real version of Soil should now be on their seventh or eighth album, but let's hope that this time around, Soil has enough moisture to go the distance.
Genre: Hard Rock, Metal
Band:
Ryan McCombs- Vocals
Adam Zadel- Guitar
Tim King- Bass
Will Hunt- Drums (Guest)
Track Listing:
1. Loaded Gun
2. The Hate Song
3. Ugly
4. Way Gone
5. Psychopath
6. Shine On
7. Wake Up
8. Amalgamation
9. My Time
10. Little Liar
11. One Love
Record Label: AFM Records, Pavement Entertainment
Website: www.soiltheband.com
Hardrock Haven Rating: 7.5/10