by Deb Rao
– Senior Columnist —
Exclusive Eric Bass of Shinedown Previews Carnival of Madness Tour
One of the hottest tours of the summer, The Carnival Of Madness Tour is currently underway. The tour features Shinedown, Papa Roach, In This Moment, Skillet, and We As Human. Hardrock Haven continues to preview the tour with an exclusive interview with Eric Bass of Shinedown. The Carnival Of Madness Tour stops in Las Vegas on Sept. 15 at The Joint. Be sure to get your tickets now!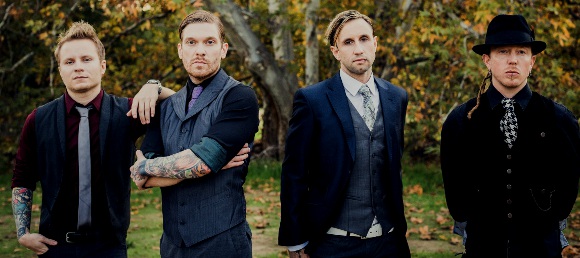 HRH: Eric, welcome to Hardrock Haven. How is the Carnival Of Madness Tour going?
Eric: It is amazing. We are having a great time. All of the venues and crowds have been fantastic. We are out here having a blast. It is kind of hard not to have fun up onstage playing hard rock every night.
HRH: We are all excited. Shinedown is coming to Vegas September 15. Vegas is known for its over the top rock shows. What can the fans expect to see at the show? Tell us about your set list.
Eric: We are playing around an hour and 45 minutes. We are packing in all the hits we can. It is kind of a blessing for us that we get to pick and choose a lot of the songs that the people know from the set list. We are bringing lots of pyro and lots of lights. The sound is immaculate. It is the biggest rock tour of the year. We are really excited to be bringing it to Vegas.
HRH: That is awesome. Are you going to be playing a lot of new songs off of your latest release Amaryllis?
Eric: We are doing a good mixture off of all the records. We are doing all of the current singles off of Amaryllis. Plus one or two that we haven't released yet. We are playing a good amount of stuff off of Sound Of Madness. Everything that everyone wants to hear.
HRH: Is it going to be staged like a carnival show with performers like you see at a carnival?
Eric: That is exactly what we are doing. We have carnival performers that travel with us. They are walking around throughout the day through the crowd while some of the other bands are on. They are performing and breathing fire. Doing some really cool stuff. They actually get up onstage with us for the show. It is the biggest stage show that this band has done of date.
HRH: Your new album Amaryllis sounds amazing. KOMP radio is playing it out here in Vegas. Tell us about the writing process for the album. Did you write any of the songs on the road? Or did you go off the road and do all the writing and recording then?
Eric: We are not the biggest band of writing on tour. We try not to write too much when we are on the road. We like to get done with the record cycle. Basically, we got done for the record cycle with Sound Of Madness. Then we finished with the Anything and Everything acoustic tour. Probably around February or March of 2011, we flew out to California for about a year to write songs collectively. We ended up with a bout 40 songs for the record. We picked the twelve that we felt made the best collection. It is always a labor of love when we work on a record like that. We spent a lot of time making sure that the songs are right and that the record is going to be great. You are making something that the fans are going to have forever. So you want it to be the best representation of what you got.
HRH: Right. I have to commend you on the first single "Bully." With the school year commencing a lot of kids go through that cycle. How did you come up for the song "Bully"? Tell us about the writing process.
Eric: It kind of sort of introspective about things that happened in our past. It was a hot subject of the time. A lot of people were talking about it. It still is. It was just starting to come to the forefront when we wrote the song. It was something that we saw a lot of on TV. We started talking about our own experience. I was a total band nerd when I was a kid. I was a little overweight. The thing is people get bullied in their adult life as well. Not just kids. It happens in the workplace. It is always small people who need to feel better to put people down. It is ridiculous. We kind of delve into our own past and sort of things that we have gone through. We try to bring people hope through music. That is what music is for. It is there to help them through hard times in their lives.
HRH: What was it like working with a full orchestra on this album? I know you had strings on "The Crow And The Butterfly." This album is really over the top.
Eric: Thank you. It is actually a pretty magical thing to hear an orchestra play on something that you worked on for months. That thing sort of came to life. It is very surreal. We wanted to go a little big bigger than we have gone on the previous. The arrangements are amazing. We couldn't be happier with the end results. It is a pretty amazing thing to hear that sort of thing happen with the song that you have written.
HRH: How do you think the band has evolved over the past twelve years? I can remember seeing you perform back in Mass. Every tour gets better and better. Every tour is a new fresh show.
Eric: Musically, we are always looking for new horizons. We try to push forward and do things that we never have done before. We never want to look backward and rest on our laurels. It is always about what is next and coming up over the horizon. It is healthier. There is no drugs or alcohol. We are clear headed. We are always looking for some way to re-invent ourselves and keep everything fresh. We don't want to get stuck in a place and time. We want to continue to evolve and be true to ourselves and stay viable. The Shinedown of 2008 isn't going to be the Shinedown that you see today. The Shinedown of fives years ago won't be what it is now. That is what keeps us happy. That is what keeps us stimulated, healthy, and moving forward.
HRH: Do you have advice for bands breaking into the music business today? How different is it for bands today then when Shinedown got started?
Eric: I think today you got to have something really, really special. There is not much support out there for the business. It is a shrinking business. The chances that people take on artists aren't as big as they used to be. My advice would be to listen to as many styles as you can. Absorb as much as great music as you can. And really concentrate on writing good songs. A good song is what is going to transcend. Actually, when I was a kid learning my craft on an instrument that is great. But it wasn't really what helped me to later in my life to when I started own myself as a songwriter. That is what is going to give you longevity — great songs. And giving people something timeless. That would be my suggestion. Spend a lot of time listening to great songs whether it is in the country genre, pop genre. Rock whatever inspires you. Spend time on learning what makes a great song.
HRH: Do you have a new signature guitar out by Dean?
Eric: I do. I have a signature bass guitar that Dean put out for me. I had it for about three years now. It is not overly expensive. I didn't want to make an instrument that was out of the range of a kid being able to afford. I use it on my record. I use it live. It is a great instrument.
HRH: Awesome. Is there anything else that you want to say about the Carnival of Madness Tour?
Eric: Tell everybody to come out and check out the show. You won't regret it. It will be the biggest rock show they have seen in a lot of years. They will be really disappointed if they don't get to catch it. Be sure to come out to Vegas and check out Carnival Of Madness.
Find more about Shinedown on Facebook.