by Deb Rao
– Senior Columnist —
One of Dallas, Texas' most promising band Serosia is heading out on a West Coast trek with Sevendust slated to kick off in Las Vegas September 18th at the Hard Rock Cafe. This is the perfect concert bill, as both bands are huge on lyrics and writing great melodic hard-edged songs. Serosia is touring in support of their latest release Variables.
Hardrock Haven recently spoke to Serosia singer Lucas D'Agata regarding the upcoming tour and album release.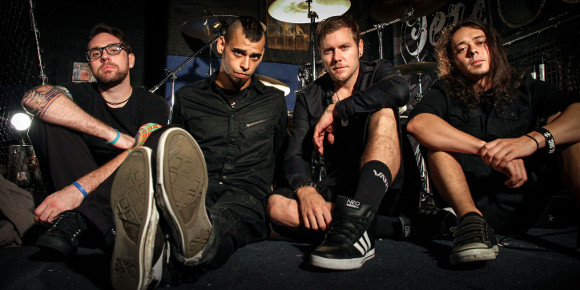 HRH: Lucas, welcome to Hardrock Haven. Serosia is going to be opening for Sevendust Sept. 18 in Las Vegas. Are you looking forward to the tour?
Lucas: We are extremely excited. This is actually me and my brother the drummer of Serosia is actually the first time ever we will be in Vegas. It will be a nice introduction to the city.
HRH: Tell us about the set. Will you be performing a lot of new songs off of Variables?
Lucas: We are going to be playing every song on the album. Plus we are going to be doing four or five from previous albums.
HRH: Actually tour band and Sevendust have a lot in common. You both have that melodic hardcore style. Both band are huge on lyrics.
Lucas: We were thinking out in our heads the dream tour to get on. Sevendust was definitely up there in the one, two, three spot. When it was confirmed, we were stoked because to play with such a like-minded band our family of fans will be able to intermingle. We will definitely get to hang with all the Sevendust fans and be able to be compared for a band like us. That they are expecting that kind of a sound. That is kind of what we bring to the table. Along with an intense live show.
HRH: You do. I was watching your new video "Superposition." It is hardcore and melodic at the same time. Your brother Anthony has that hard edge and you have that melodic vocal style.
Lucas: We have been playing together for as long as I can remember basically since we were single digits of age. We have gotten into a group with Serosia that everything works for us.
HRH: How long has Serosia been together?
Lucas: We have been together just under six years. We started in early April 2007. We have been around. With this tour it is going to be a major help for us.
HRH: How does Variables differ from your previous releases?
Lucas: I would say the main difference is that went through quite a bit of pre-production on this. We had a couple of the songs for quite some time we had been working on prior to pre-production. We are always writing. Every practice we come up with something that is either going to stick or be on the back burner. With this record we did about six months of pre-production with our manager who actually recorded the record Cristian Machado who is the singer for Ill Nino. We were going back and forth digitally online sending him what we had. He would listen to it. Send back some ideas on keyboards for vocal melodies and also arrangements. We used the Internet that way in which we did pre-production with him. Then when we got done in the studio we actually had everything kind of in line. That differed quite a bit from our previous releases. With this one we had a lot more preparedness. It seemed all together that it was an effort that all of us combined worked harder than any of the others. We knew we had special songs with this CD.
HRH: Being from Dallas are you huge Pantera fans?
Lucas: We are all definitely Pantera fans. To say huge and favorite band, they have been up there since I was a kid. My brother and me were raised in Boston; I remember the two bands that we adored growing up were Metallica and Pantera. You really couldn't escape that in the city that we grew up on the outskirts of Boston. Then to move to Dallas and see how huge Pantera was in their hometown was great.
HRH: Did you play any of the clubs in Boston?
Lucas: We were definitely too young at the time. I moved when I was about 13 from North Andover. As soon as I got to Texas we started performing. I think Anthony was like nine at the first club we performed at. My parents had to go and get us in. We played like 20 covers Pantera/Ted Nugent kind of stuff.
HRH: How is the music scene in Dallas?
Lucas: In Texas the local music scene is booming. There are so many local bands out here. You can never get enough. At the same end of that there is a lot of not just dedicated musicians as well. To me it is kind of over saturated to get a lot of bands. But you have to filter through a lot of bands that actually have some substance to them. In Boston it was different as there wasn't as many local bands. The ones that were out there and doing something on a regular basis established themselves that there were kids at every show. In Dallas, you will come to a show where one weekend where a band performs that has a good following and see a couple hundred people. Then go to another band with a show next door and there is five people. The over saturation kind of hurts the younger bands that don't promote like they should.
HRH: It is really great that your band is putting the importance of great lyrics and melody back in music. For so long in the music scene it was lost. Do you agree?
Lucas: I definitely agree. Not to knock on metal in general and real heavy music just screaming in it, we all have our certain bands out there that kind of do all those things. All four of us combined have never really been leaning on that screaming being your main moneymaker. Only so many bands can scream the entire song before you go "what are we listening to here?" There is not a lot of whole lot of substance. You can only listen to a breakdown so many times where you are sick of it. Our main influence as a whole would be The Deftones. I think they kind of encompass that real melodic and aggressive and also poignant in they're music. It is not like we are trying to be the heaviest band out there. We love the heavy elements that we bring to the table. But melody above all is most important. And having a purpose in the lyrics too. We are not just a band that is singing love songs. We have actual purpose to what we talk about.
HRH: Is there anything else that you want to say about the tour?
Lucas: We are excited. We can't wait to meet all the family of fans out there that I know we are going to interact with. Check out our facebook page www.facebook.com/serosiaband. Hope you like the video. We can't wait to see everybody.