Def Leppard | Viva! Hysteria
by Deb Rao
– Senior Columnist —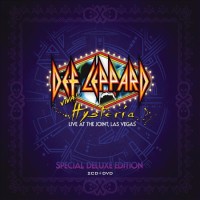 What happens in Vegas stays in Vegas. Well that old cliché' does not ring true in this case. As music fans worldwide can now enjoy the performance of Def Leppard live at The Joint forever. It seems the going trend these days for '80s bands to take up residency at The Joint. Motley Crue were the first in line followed by Guns N' Roses. On March 22, 2013 Def Leppard took up an eleven-night residency at The Joint. Def leppard has just released Viva! Hysteria on Frontiers Records and captured all of the excitement live on CD.
Viva! Hysteria is a two-volume CD that features Hysteria in full from start to finish. It really was a great idea to release a live album from Vegas. What city captures the excitement of a live act as Las Vegas? Many of the new fans of Def Leppard will have a chance to listen to hear Hysteria live. Hysteria first hit the music scene in August of 1987. The album changed metal forever and featured many hits. Thirty years and Def Leppard is still going strong. Opening track "Women" finds the band rocking hard. "Animal" has many hooky grooves. The production is fantastic and very slick. Def Leppard had many ballad hits and "Love Bites" and "Hysteria" surely capture the moment. The first CD ends with "Photograph." There is no shortage of excitement on the album and the magic of artistry of the musicians is captured on the CD.
CD 2 finds Def Leppard opening the show as Ded Flatbird incognito. This way the band got to perform more obscure songs and hits. This CD is more raw but the songs still rock hard. This set had a more vintage Yardbirds vibe. Highlights are from the early Def Leppard days and include the revved up version of "High 'N' Dry," "Action" and "Bringing On The Heartbreak."
The album is a definite must for any metal fan. It was kind of nostalgic to hear Hysteria live and hear how the band has evolved over the years musically.
Genre: Hard Rock
Band:
Joe Elliot – Vocals
Phil Collen – Guitar
Vivian Campbell – Guitar
Rick Savage – Bass
Rick Allen – Drums
Track Listing:
CD 1
l. Women
2. Rocket
3. Animal
4. Love Bites
5. Pour Some Sugar On Me
6. Armageddon It
7. Gods Of War
8. Don't Shoot Shotgun
9. Run Riot
10. Hysteria
11. Excitable
12. Love And Affection
13. Rock Of Ages
14. Photograph
CD 2
l. Good Morning Freedom
2. Wasted
3. Stagefright
4. Mirror Mirror – Look Into My Eyes
5. Action
6. Rock Brigade
7. Undefeated
8. Promises
9. On Through The Night
10. Stars
11. Let It Go
12. Another Hit And Run
13. High 'N'Dry
14. Switch 625
Label: Frontiers Records
Website www.defleppard.com
Hardrock Haven Rating 8/10