by Mark Allen
– Senior Columnist —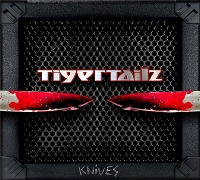 Tigertailz is back—well, sorta; this is hardly an all-original lineup—with a brand new EP that, against all odds, isn't a rock 'n' roll train wreck. In fact, prepare to be shocked by just how good this is. Any fan of big, loud, anthemic, hook-drenched glam-metal will purr like a nympho getting sick sex when they hear this album. And if you enjoy huge backing vocals, you'll think you died and went to harmony heaven.
Original guitarist Jay Pepper is still stroking the six-string, but this time around he has enlisted the aid of bassist Rob Wylde (Teenage Casket Company), brought back fan favorite drummer Matt Blakout, and hired Jules Millis to handle the vocals. Sure, purists can sneer, snap, and snarl that it's not a true Tigertailz album—that's their right, and they might even be right. But the reality is, this is the best album—OK, EP—to bear the Tigertailz brand since their classic Bezerk release.
The songs all sport that heavy, dirty, riff-aggressive glam style upon which Tigertailz have staked their name. This ain't bubblegum, boy-o … this badass bitch got some bite. Never is that more apparent than on the aptly-titled "Bite the Hand." Sure, any long-time Tigertailz fan is going to miss Kim Hooker's distinctive voice, but Millis serves as a suitable replacement and proves it by belting out this full-throttle glam-metal anthem which is hard-hitting, catchy, punchy, fist-pumping, head-banging … pick your adjectives, as long as one of those adjectives is "awesome."
One had a right to wonder if Tigertailz could still keep the noise level critical, but judging by the impressive quality of the five tracks offered here, there is still life in the belly of the beast. "Shoe Collector" may sound like an odd title for a hard rock song, but all doubts will be assuaged when the pounding rhythms and killer hooks come crunching from the speakers. Hell, you may even find yourself doing a little twist and shake.
"Punched in the Gutz" has a "z" instead of an "s" so you damn well know it's a glam-metal tune. The song is a bruising heavy hitter featuring mammoth amounts of power chord abuse and enough hooks to fill the aisles of a Bass Pro Shop. The chorus is gang vocal overload as the band shouts "B-A-S-T-A-R-D" and follows it up with, "I've been punched in the gutz / I've been kicked in the nutz / Yeah, yeah, yeah!" Hot damn, people, that's pop-metal paradise right there and a future Tigertailz classic.
Listen, these gods of glam aren't ready for the grave just yet. Sure, they came close—dirty needles turned to dirty laundry and detestable drama—but they have managed to beat their demons down and reincarnate themselves. Many fans have already picked up their knives and prepared to gut this EP before even giving it a chance, but not only is this EP better than expected, it's one of the best glam-metal releases of 2013. If this is the future of Tigertailz, bring it on like a love bomb, baby.
Genre: Glam Metal
Band:
Jules Millis (lead vocals)
Jay Pepper (guitars)
Rob Wylde (bass)
Matt Blakout (drums)
Track Listing
1. Shoe Collector
2. One Life
3. Bite the Hand
4. Spit It Out
5. Punched In The Gutz
Label: Scarlet Records
Webpage: www.tigertailz.co.uk
Hardrock Haven rating: 8.8/10