Andrew Hunt of Buffalo Summer
by Marija Brettle
– Columnist —
October 26, 2013 at the Bodega Venue, Nottingham —
Influenced by the 70's classic rock 'retro era', South Wales rock outfit BUFFALO SUMMER could well be the next in, to give audiences good old fashioned rock attitude. Thanks to their lethal cocktail of classic up beat rock, along with bits of southern blues and soulful tinged Rock 'n' Roll, they have often been referred to as the 'Little Zeppelin … gutsy steel-string grooves.'
Like The Black Crowes and Lynyrd Skynyrd before them, this young Welsh four piece boasts a brother's vibe in the forms of singer Andrew Hunt and drummer Gareth Hunt, completed by guitarist Jonny William and bassist Darren King.
In February 2012, with an insatiable appetite to create and desire to make their distinctive mark, the band wrote and released their self-titled debut album to critical acclaim from the media and fans alike. The past two years they've toured and have supported some high profile outfits with the likes of Duff McKagan, Skid Row, Heaven's Basement, Ugly Kid Joe and played the prestigious and legendary Download Festival.
This month, the Welsh Buffalo Summer hit the road again, supporting the legendary German band Kadavar, on their UK tour. At the start of the tour, before their Bodega show, Nottingham, HARDROCK HAVEN caught up with singer Andrew Hunt, to talk about their Bordeline show in London, got to the bottom of how they got hooked on southern and all the 60-70's rock, their view on today's money-fixated Music Industry, their new album and much more…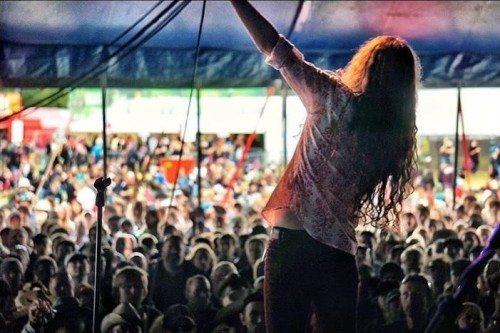 Hardrock Haven: For many bands playing London's Borderline is a real deal, because it's a great opportunity to show what you are made of. What kind of reaction did you get from the crowd and the press?
Andrew Hunt: It was our first show at The Borderline and was really cool to play at that prestigious venue. It was sold out show and packed out and we had a really good response from the crowd, even though it was a different audience to what we are used too. So far the press feedback has been good too! London's been good to us!
HRH: You are quite a new band. Tell us more about the beginning of making this band. How did you guys get together?
Andrew: Myself and Jonny started jamming blues standards about 6 years ago. We've been friends for years. Over time we started coming up with some cool material and realised we were onto something. So three years ago my brother Gareth started jamming with us on the drums and our school friend Darren came aboard on bass.
HRH: In the early days of the band did you have any clear perception or idea of what you want to bring in, musically and lyrically, or did that all come at a later date as part of the creative process, whilst forming the band?
Andrew: The band's formation was a very organic process. We got together and wrote a bunch of songs. We thought they were worth recording so we self funded our debut album and released it ourselves. Eventually it was picked up by Cargo Records and here we are today as a touring band. We all love bluesy classic rock and that has been at the core of our sound.
HRH: Why Buffalo Summer? How did you come up with the name?
Andrew: The name was already knocking about before we were officially a band. We were thinking of names and Jonny came up with Buffalo Summer. There is no direct significance to the name but it's come to represent our sound; positive, grooving, bluesy rock and roll.
HRH: You've been known as a band that have serious skills at penning catchy, southern-tinged, summer rock radio anthems. Tell me more about the creative process of the song writing?
Andrew: Again, it's an organic process. Jonny tends to come in with a riff and we build a song around that with everyone else making a contribution or vice versa. A song may start off as a drum beat, a bass line or vocal melody. We are not tied to any one way as that would be restrictive. It's best to let the music find its own way out of you.
HRH: How did you come up with the songs like 'A Horse Called Freedom'?
Andrew: I think every song tells a story. Sometimes the lyrics can be very direct and personal. Sometimes they can be shrouded in metaphors or can be from a descriptive place. Whatever the song is about it has to be something that I have felt so I can deliver the emotion that each song needs every time we are on stage. Songs have to come from an honest place to be delivered with the relevant levels if conviction. 'A Horse Called Freedom' for instance is about people willing to out their lives on the line for something they believe in.
HRH: Is there any real story behind the songs like, 'Truth from Fable', or 'Down To The River'?
Andrew: 'Truth from Fable' is about betrayal and trying to decipher the truth from stories and rumours. 'Down To The River' is a pro environmental song that has deep rooted seething disregard towards land developers who value money over Mother Nature! Although these are my words I would hope that the listener would draw their own conclusions and take from the songs whatever they wish to do so.
HRH: Love the setting for the 'Down To The River' video. Where exactly did you shoot the video?
Andrew: This was filmed in the beautiful Neath Valley where we are from. There's something truly enchanting about the Welsh landscape. It's very inspirational for me personally from a lyrical point of view. There is this beautiful river, where me and my brother grow up. We were lucky enough to film the performance element on our friend Brian Price's farm. Lovely man!
HRH: What was your relationship with southern rock growing up?
Andrew: I think Jonny is probably the biggest southern rock fan amongst us and probably grew up with more of it than the rest of us. We listen to a lot of British rock too along with a good helping of Motown and that's what gives you the Buffalo Summer sound really.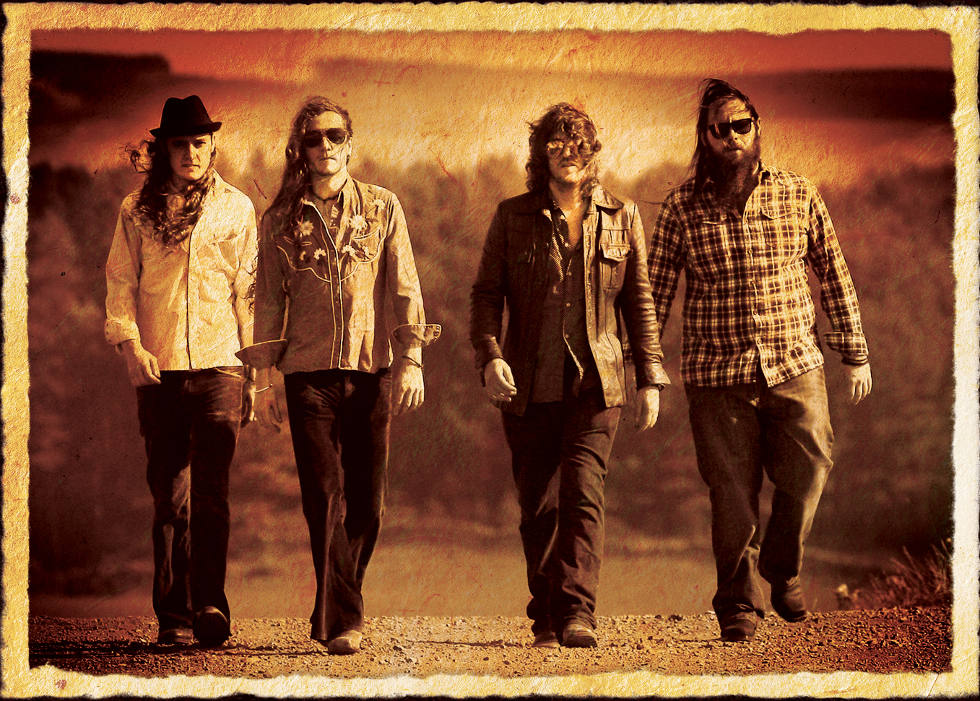 HRH: Would you agree that many of the British bands, like The Stones and Led Zeppelin, in the early days of rock music made a career from that southern traditional sound?
Andrew: Well I think it all stems from the blues. The British bands borrowed an awful lot from the Deep South and other areas in America where blues music had a stronghold. The Brits basically electrified and modified it and followed in the wake of people like Chuck Berry and Little Richard who I guess were the original purveyors of rock and roll.
HRH: You've been often described by the British music media as a breath of fresh air in the rock music, young band with good time classic rock music. How would you describe yourself, your music?
Andrew: That description suits us just fine for now. (Laughs) We are not trying to reinvent the wheel. We just want to write really good rock songs with hooks you can hang your hat on.
HRH: Considering your age, you would think you grow up with the bands like Pearl Jam, Red Hot Chili Peppers or Oasis. So how did you get into the 70's sound?
Andrew: When we were in school Oasis and the Britpop thing was around and the tail end if grunge when we were very young. 70s rock never went away; it just becomes more prevalent at different times. Those 70s were being discovered when we were at that impressionable age when Britpop was king. Just like kids nowadays are still discovering Led Zeppelin and Black Sabbath. These will always be the Gods of Rock. It will never change.
HRH: What was the first song that hit your imagination?
Andrew: The first band I ever listened to was Dire Straits when I was a very young kid. I heard 'Should I Stay Or Should I Go' by The Clash on my Sony Walkman radio when I was about 10 and I can remember thinking what the hell was that. (Laughs) Had a real edge and attitude to it. The sound of a guitar was very appealing. However it wasn't until I was a bit older that Nirvana made me save up and buy my first guitar.
HRH: You have been supporting big bands like Skid Row, Duff McKagan, Ugly Kid Joe. Have you got any amusing or bizarre stories you would like to share with us and all Buffalo Summer fans?
Andrew: It's been a privilege to share the stage and get to know bands that you grew up listening too and loving. We don't have much on that really apart from Duff buying us sandwiches in Paris.
HRH: There are many bands out there that openly talk about how these days, most record labels are very much money-fixated and don't really care about the integrity of the artists and bands. Would you agree?
Andrew: The music industry is on its knees. There is very little money to promote or develop artists. Illegal downloading has caused all this. People want music for free. What they don't realise us the artist is putting their heart and soul into making a record and then getting very little in return. It's a cut-throat business! The days of five album deals are long gone. Where are the next Metallica or Nirvana going to come from? World changing bands!? There simply won't be.
HRH: Being part of the world of the rock music industry, inevitably will bring up the question of how much you are part of all those legendary after-show parties, drug abuse, and fist fights. Well I know you are inviting your fans tonight to join you for an after-show 'magic mushrooms' party. So, tell me more… (Laughs)
Andrew: (Laughs) That was just a joke really from Darren and he is good at it! I can't speak for the rest of the guys in the band, but for me personally I have no interest in that side of things. The music always comes first. I find those sorts of things hideously clichéd in this day and age. If a paying fan comes to see you they deserve to get a good show. If you are in a band to primarily participate in those sorts of things then the music is coming second.
HRH: You often been compared with the bands like Zeppelin, Free, The Answer and Black Crowes, well the Robinson brothers. Do you take all this as a complement?
Andrew: It's a huge compliment, but it's important to keep your feet in the ground. We have an awful lot of work to do before we can be 'roomed' in the same breath as those people.
HRH: Did any of these bands influence you musically or in any other way during your formative years as a musician?
Andrew: Yes definitely. If you are going to learn about rock and roll, then do so from the best. The best riffs, vocals, everything. Led Zep had it all. Free were probably one of the sexiest and grooviest bands of all time. The Black Crowes are the full package. Arse kicking rock and roll. We are all influenced by all kind of music, but we got a core appreciation of blues and classic rock. So when we bring all those influences on the table you get Buffalo Summer sound! (Laughs)
HRH: Tell me all about the making of your debut album, "BUFFALO SUMMER"? How long did you work on the album, the writing and the whole production process?
Andrew: It took us just five days and we recorded it at Mwnci Studios in the forests of West Wales. The songs were probably written and finalised over a 6 month period in the run up to recording.
HRH: Let's talk Donington. Not many up and coming bands have the opportunity to play the legendary Download Festival! Tell me how it was for you on the day…what was your experience?
Andrew: We went from being fans in the crowd to being onstage. Very very surreal and a dream come true! (Laughs)
HRH: How did you end up supporting the German and legendary band Kadavar?
Andrew: That was the work of our very fine booking agent. There was a suggestion of a tour with Kafavar and we were only too happy to make the whole thing a 70s bonanza! They are a great band and a great bunch of guys and crew too.
HRH: In November you are heading to Germany, playing alongside the Quireboys. In the last few years, you have been often praised as 'A band with no holds barred performances'. So, what can we expect from your shows?
Andrew: Just expect a show with good honest rock and roll! If you come, you will dance and groove the night away with us! We've shared the stage before with The Quireboys, a great classic rock and roll band! So they invited us again to play shows in Germany and just hung around for a drink, party and a night of pure rock'n'roll! (Laughs) Germany has been awesome so far on previous trips. The Germans love their rock and roll so bring it on! We are also very happy and very proud to been asked to play PLANET ROCKSTOCK at Great Yarmouth at the beginning of December.
HRH: I hear that you are already working on your new BS record…?
Andrew: We are in the midst of finalizing the songs for our second album which should be out in the spring next year… like for the festival season. So as soon as we finish with Germany tour; we will have some time off to work on the new album!
HRH: Thank you Andrew for taking the time to speak with HARDROCK HAVEN… good luck with your upcoming shows in Germany!
Andrew: No problem. The pleasures all ours, thank you!