Damn Dice | Wild 'N' Ready
by Matt Karpe
– Columnist —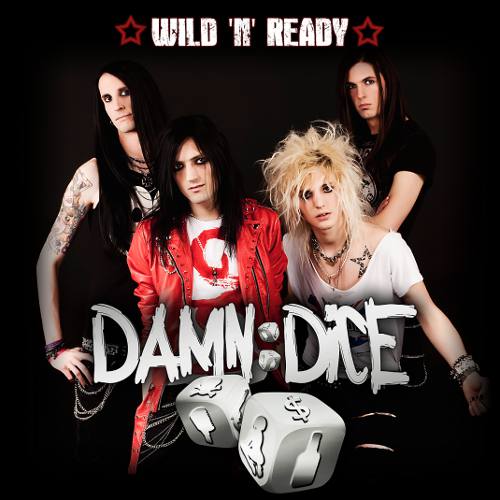 There are becoming more and more 80s' influenced hard rock bands entering the scene as of late; a resurgence of one of the best decades that there has ever been. However a lot of these bands fail to bring something new to the table, but that cannot be said for London's own Damn Dice.
Their debut EP Wild 'N' Ready breaks those stagnant labels and it's something commendable and worth your time to take a listen.
"Bang Your Head" encapsulates everything that is good about Damn Dice. The gloriously thunderous drumming from Fransoa is good, and the sleazy guitar riffs from Wallis flow like an all-nighter of Jack Daniels. Alex's vocals vary in style that bring to mind Kiss and ACDC, such is his soaring presence, and Marco's bass puts the finishing touches to an impressive quartet.
"Caught In The Ride" is another energetic thrill ride, with another catchy chorus. Something prominent that works well throughout are the well placed gang vocals. Alex's vocals are top notch, but when he is supported by the rest of the band, you get the feeling that this is more than just a band, this is a rock 'n' roll brothers in arms.
"Take The Fight" has some more frantic drumming and "Down" has an extensive guitar solo that Slash would be proud of. "Heart On The Run" is hugely anthemic, and "Wild Into The Night" is an enjoyable party song that is often produced by this debauched genre, but not always played as good as this.
The six tracks are consistently brilliant, and they are made even better by the exceptional production that gives Wild 'N' Ready the chance to sound as huge as it really is.
Damn Dice are loud and exciting, and this is one of the best debuts of the year. It will no doubt send their fans wild until they are ready to hear a full length release in (hopefully) the not too distant future.
Genre: Hard Rock
Band:
Alex – Lead Vocals
Wallis – Guitars / Backing Vocals
Marco – Bass / Backing Vocals
Fransoa – Drums / Backing Vocals
Track Listing:
1. Bang Your Head
2. Caught In The Ride
3. Take The Fight
4. Down
5. Heart On The Run
6. Wild Into The Night
Record Label: Self-Released
Website: http://www.facebook.com/damndice
Hardrock Haven Rating: 9/10