by Justin Gaines
– Senior Columnist/News Editor —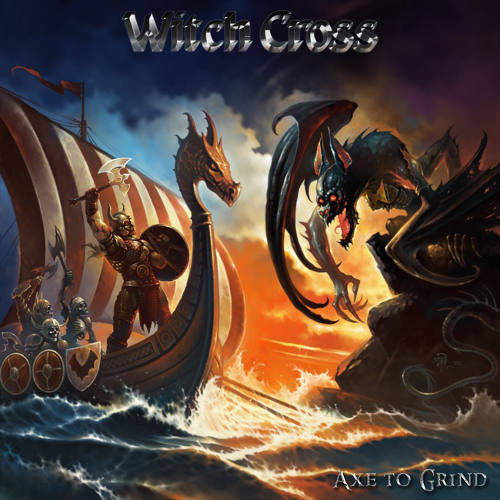 It's been nearly 30 years since the debut album from Danish cult heavy metal act Witch Cross was released, but the newly reformed band is finally back with a follow-up, titled Axe To Grind. Only bassist Jan Normark and guitarist Mike Kock remain from the Fit For Fight lineup, but the Witch Cross sound and spirit is still present and accounted for on Axe To Grind.
Back in the 1980s, Witch Cross seemed like the Danish answer to the New Wave of British Heavy Metal bands, and three decades later they still compare – favorably at that – to those NWOBHM bands that are still alive and well. Axe To Grind is very much at home alongside recent offerings by Saxon, Tokyo Blade and to some degree Angel Witch.
It's not often that a band can resurface after so long and deliver an album that's true to their original sound but still resonates today, but Witch Cross definitely pulls it off here. Axe To Grind features plenty of heavy riffing and headbanging rhythms, but it's very melodic throughout. New vocalist Kevin Moore has a strong, forceful delivery that's somewhere between Saxon's Biff Byford and Angel Witch's Kevin Heybourne, and it matches perfectly with the razor sharp riffs here. Highlights of Axe To Grind include "Demon in the Mirror," "Part of the Machine" and "Awakening/Pandora's Box," but it's the anthem "Metal Nation (Raise Your Hands)" that really gets the blood pumping.
If you're one of the initiated that knew of Witch Cross back in the day, or even if you've only recently discovered them via the Fit For Fight reissue, Axe To Grind will not disappoint. It's also an album that should appeal to fans of the classic heavy metal sound, the NWOBHM, the New Wave of Traditional Metal and all points in between. Raise your hands, metal nation!
Genre: Heavy Metal
Band:
Lars Bjornstad (d)
Jan Normark (b)
Kevin Moore (v)
Mike Kock (g) (v)
Paul Martini (g)
Track Listing:
March of the Vikings
Demon in the Mirror
Ride With the Wind
Metal Nation
Awakening-Pandora's Box
Axe To Grind
Bird of Prey
Lost Without Warning
Part of the Machine
Chelsea 100
Beyond the Veil
Label: Hell's Headbangers
Website: www.witchcross.dk
Hardrock Haven rating: 9/10