Nästy Crüe | Rock'N'Roll Nation EP
by Alexandra Mrozowska
– Columnist —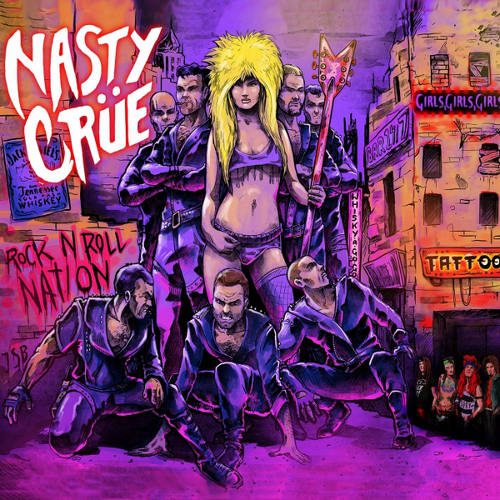 Nasty Crüe – spelled with the obligatory infamous "metal umlaut" (or röck döt, if you prefer) – was founded in Poland in 2007. The quartet (earlier, a quintet) is, unsurprisingly, the bastard child of '80s hard rock aesthetics – with all the hedonistic, larger-than-life attitude and the soft spot for stage outfits best described as "cheesy" or "totally '80s" today. The intentionally campy cover artwork for their Rock 'N' Roll Nation EP speaks volumes and so do the titles of the songs – "Ukrainian Prostitute" is, for instance, suggestive enough… isn't it? Yet, Nasty Crüe support their colorful glam-infused image with music which is both well-crafted and fun to listen to – a reason why Rock 'N' Roll Nation is definitely worth being checked out.
Rock 'N' Roll Nation starts off with what is clearly a result of strict adherence to the recipe of "how-to-achieve-totally-'80s-sound," assuming such a thing exists at all. "Last Piece of My Heart," the first single off the record, is a wink and a nod given to the Nasty Crüe's obvious influences – a bit of Danger Danger, a bit of Britny Fox and even, some Winter Rose here and there. And although the feeling of having heard it "somewhere" before is hard to be escaped from – instead of exploring the new musical spheres, Nasty Crüe offer an escape to the long-forgotten world of catchy hooks, keyboard-infused melodies and shred guitar solos. And that's an offer one being in love with the '80s glam metal scene can't simply refuse… Yet, "Dope" is a different story altogether – while its predecessor strictly follows the melodic rock tradition, the second track off Rock 'N' Roll Nation sounds much more current and up-to-date, with its galloping riff, raw melody and aggressive, intense, soaring vocals. It is definitely closer to what modern sleaze rock bands offer and has a distinctively Crashdiet-esque vibe to it (while undoubtedly reveals some "old school" Shotgun Messiah influences as well).
"Ukrainian Prostitute" is a raw sleaze track, with crunchy riff and an outstanding guitar solo – and choruses aggressive enough to mix the echoes of Mötley Crüe, Faster Pussycat and early Guns N'Roses. Its lyrics – no surprise here – follow the glam metal cliché of praising the object of lyrical ego's sexual fantasy, complete with the fact of the "heroine" of the narrative being underaged and, infamously, "only" seventeen. "Stay Tonight" can be best described as soft rock at its most saccharine. It's nothing innovative – just a well-crafted, keyboard-driven song, with '80s cliché at its very best. Searching for a track with the live crowd sound effect or maybe, with powerful group chanting? There you go!
The weak link is, on the other hand, "Spell On Me" – powerful enough to catch the attention initially, but there is also a risk of it getting slightly monotonous over time. An anthemic "Rock 'n' Roll Nation" features guest singers Peter Sonnenberg (Vincent) and Blackie Blackheart (ex-Silver Samurai) – the first enjoying a legendary status in the Polish hard rock underground with his band Vincent (now reformed and soon to release a new record Aura), the latter – a very talented singer of the band Silver Samurai until it disbanded in 2013 (the band's 2009 album Back to the '80s is, however, highly recommended). It's also worth mentioning that the "genuine vocal mix" of the very same track with the regular Nasty Crüe singer JJ only exists and is delivered as one of the bonus tracks on the record. The other is "Jingle Balls," having a lot to do with the popular Christmas song – but with a Steel Panther-esque lyrical twist (as the title suggests), a tongue-in-cheek ending of Rock 'N' Roll Nation.
Being equipped with the tools to make a bunch of '80s-sounding, catchy rock anthems, and inspired by the best bands of the hard rock genre – Nasty Crüe emerge the victors. Their Rock 'N' Roll Nation EP is a clear proof this young Polish band is worth giving it a try even if one is not really into glam metal visual aesthetics and flamboyant outfits; what they deliver is a solid dose of '80s-style melodic rock and fans of such a genre should not be disappointed.
Genre: Hard Rock, Sleaze, Glam
Band:
JJ (lead vocals & keyboards)
Boogie (lead guitars & background vocals)
Paulie (bass & background vocals)
Mintay69 (drums & background vocals)
Additional:
Anna Zebrowska (background vocals)
Peter Sonnenberg, Blackie Blackheart (vocals on "Rock'n'Roll Nation")
Track Listing:
1. The Last Piece of My Heart
2. Dope
3. Ukrainian Prostitute
4. Stay Tonight
5. Rock'N'Roll Nation feat. Peter Sonnenberg & Blackie Blackheart
6. Spell on Me
7. Rock'N'Roll Nation (Alternative Mix)
8. Jingle Balls (Christmas Special)
Online: https://www.facebook.com/NastyCrue
Hardrock Haven rating: 8/10