Battle Beast | Battle Beast
by Jenn Carbaugh
– Columnist —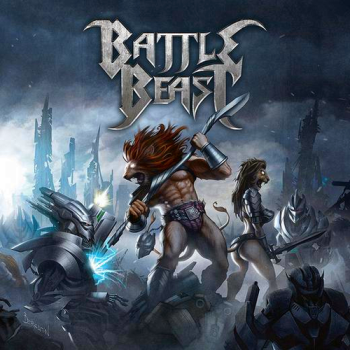 Founded on the southern edge of Finland in 2008, Battle Beast represents everything that makes metal amazing – swift solos, immense choruses, and shrill screams. Nitte Valo, who was the band's initial beloved front woman, is no more. This album is now fueled by Noora Louhimo, who is surprisingly able to fill the expectations.
This band of six still has the ever present combinations of the pure elements of classical metal with a modern sound. Rob Halford comes to mind when she belts out her powerful vocals. This band somewhat encompasses glam, speed, and heavy metal all in a ball of raging sound.
The songs on this album can have the ability to bleed together at times, but the composition and skill really needs to be recognized. Despite "Raven" and "Rain Man" having really similar choruses, this band seems to have creativity even after their adored and hyped up album Steel. Battle Beast is an album that starts with a stirring anthem and then, takes a more melodic advance. The prevailing vocals and speed are work well within the shift of the tracks.
There is also a symphonic sound to this album, and it works. As much controversy that seems to cover this debut, it is impossible to not like Battle Beast. "Let It Roar" is a sturdy metal opener to the album, and really leads into so some of the great songs that don't sound too similar. "Machine Revolution," for example, has a wonderfully optimistic pop spirit to it with a rigid drive at the same time. "Kingdom" feels like the ultimate anthem for Battle Beast.
Some may refer to this album as campy, but songs like "Black Ninja" stand out as universal. It starts a somewhat softer '80s sound, reminiscent of Lita Ford, that quickly changes pace to metal squeals that really leave an impression.
With all of the curious metal fans wondering how this album would hold up to the previous that Battle Beast put out, it is safe to say that the band did a good job maintaining their sounds and overall essence. This is definitely a recommended listen.
Genre: Heavy Metal
Band:
Noora Louhimo – lead vocals
Anton Kabanen – guitar, lead and backing vocals
Eero Sipilä – bass, backing vocals, narrator voice
Janne Björkroth – keyboard, backing vocals
Juuso Soinio – guitar
Pyry Vikki – drums
Track Listing:
01. Let It Roar
02. Out of Control
03. Out on the Streets
04. Neuromancer
05. Raven
06. Into the Heart of Danger
07. Machine Revolution
08. Golden Age
09. Kingdom
10. Over the Top
11. Fight, Kill, Die
12. Black Ninja
13. Rain Man
Label: Warner Music Finland, Nuclear Blast Europe
Website: http://www.battlebeast.fi/
Hardrock Haven Rating: 8/10