Marta Gabriel of Crystal Viper
by Deb Rao
– Senior Columnist —
Poland based band Crystal Viper is gearing up for the release of Possession Jan. 21 via AFM Records. Singer Marta Gabriel has checked in with Hardrock Haven to discuss the release.
HRH: Marta, welcome to Hardrock Haven. Let's discuss your upcoming release Possession. It sounds amazing. Is it a concept album revolving Julia?
Marta: Both yes and no. It's a story about young girl named Julia, or rather what is happening to her one night, of Friday 13th. But if I would tell you what "Possession" is all about, then it would be like telling people how the movie they are going to watch will end, (laughter). But I can tell you another thing: if you will carefully analyze the front cover artwork of our new album, and you will listen to the album and read the lyrics, you will find out that almost every single song is represented on this picture.
HRH: The album has shades of Dio And Black Sabbath. Were you influenced by Dio?
Marta: That's an amazing comparison, thank you! Yes, Dio had huge influence on me, he is an absolute legend, I love everything Dio related. I'm so happy I managed to catch Heaven And Hell when they were on tour! But talking about Black Sabbath, to be honest I like the Tony Martin era most. I actually wonder why we never recorded any Black Sabbath covers from the Tony Martin era, it would be amazing to record "Jerusalem" or "Headless Cross!"
HRH: Tell us about the writing process for the album. You wrote all the lyrics and music correct?
Marta: Yes, correct. I write all the songs and lyrics in Crystal Viper. I asked guys from the band if they wish to contribute many times, but looks like they prefer to keep it as it's now. I basically compose and write all the time, I always have some recording device with me, so I can record my ideas. For the previous album I wrote something like 70 songs, for this one around 50.
HRH: What was it like working with producer Bart Gabriel?
Marta: Bart did his fifth album with us, and each time he says it's the last time, but each time when we start to work on the new one he is with us, with new ideas and loaded batteries. I can't imagine someone else to produce our music, it wouldn't be the same I think. We worked together on "Possession" from the very first rough ideas, up to what you can hear on the album, so I guess we can say he is integral part of how Crystal Viper sounds. Even if every single Crystal Viper album sounds a bit different, you will always recognize it's us – of course it's because all members of the band have own, recognizable style of playing, but also because Bart is making sure it's still Crystal Viper. Of course it's not like that, that he says "you can do this and this, and you can't do this and this" – he gives us total freedom, and when he thinks something is wrong, we discuss it, and we try to find best possible solution.
HRH: Possession has a med-evil vibe of witches of dragons.
Marta: Really? Where? I mean there are indeed some references to witches as "Possession" continue few themes started on our previous album "Crimen Excepta," which was a concept album about witch named Sarah, but I didn't notice any dragons in Crystal Viper's music since our first album, which we did 7 years ago, (laughs) …
HRH: Possession also has special guest stars. Tell us about this.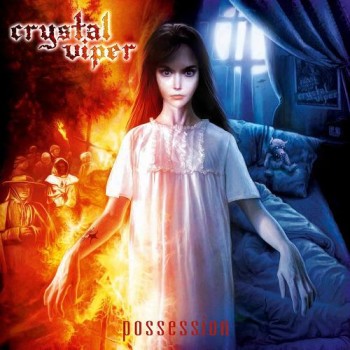 Marta: Yes, we have Harry Conklin from JAG PANZER and SATAN'S HOST on our album, as well as Sataniac from DESASTER. We always try to invite members of other bands to be special guests on our albums, it's already kind of tradition for us, like recording cover songs. We invite people we respect and like, this time it was Harry and Sataniac. They are great guys, talented musicians, and it was great pleasure and honor to work with them. So everyone, if you don't know DESASTER or Harry's bands – JAG PANZER, SATAN'S HOST and TITAN FORCE, then check them out, they are fuckin' awesome and Metal to the bone!
HRH: You also are a session singer. Who have you worked with?
Marta: I'm basically session singer and musician, I was already recording piano, keyboards, vocals and guitar tracks for several bands, I also compose for other bands. Sometimes I can't reveal with whom am I working or for whom I write the songs, as being anonymous is part of the deal, but I can tell you I already worked with acts such as MIDNIGHT PRIEST, JACK STARR'S BURNING STARR or SABATON.
HRH: Tell us about your clothing line. Does it have a metal look?
Marta: Metal and Rock look I would say. I do custom and stage clothes, and it takes most of my time. I'm addicted to creativity, and doing stage clothes or custom clothes for people who want something unique, is something I really like and enjoy, so far I was doing clothes for guys from Sabaton, Vader, Wizard and several other bands. If anyone is interested then please look for Thunderball Clothing on Facebook!
HRH: Crystal Viper hails from Poland. You have performed at many festivals including Bang Your Head. Tell us about the European metal scene.
Marta: What can I say? A lot of great bands, lot of great festivals, lot of Metal fans! All members of Crystal Viper are die hard fans of Metal, we love lot of bands, we keep on buying albums t-shirts, we travel to live shows and festivals as fans. We are one big happy Metal Nation!
HRH: What are your touring plans this year?
Marta: We hope to play as many live shows as possible! We are live band, stage is like home for us! We already booked few shows for 2014 but I hope there will be more, I also hope we will finally land in the US; it's weird but we never played in your country!
HRH: Is there anything else you want to say about Possession? It sounds amazing. We wish you the best of luck!
Marta: Well, Possession is our fifth album, and we did it because we know that you – our fans – wanted us to do it. So thank you for your amazing support, we are here for you! Stay Metal!
Visit Crystal Viper Online: www.facebook.com/crystalviperofficial