Ring Of Fire | Battle Of Leningrad
by Deb Rao
– Senior Columnist —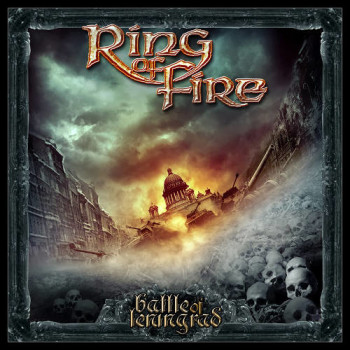 After a nine-year hiatus, Ring Of Fire featuring former Yngwie Malsteem singer Mark Boals is gearing up for their fourth release entitled, Battle Of Leningrad via Frontiers Records on in North America on Jan. 28. Battle Of Leningrad is a true story of the siege of Leningrad during World War ll. The album is an epic adventure of true heroism and music penned to the horrific tales of war in Leningrad spanning the era that goes from eerie to chilling engulfing the perils of war orchestrating music that is passionate, thrilling, and captivating.
Opening track "Mother Russia" sets the tone of the sadness of war with the military drums rolls and heroic vocals of Mark Boals. The album is filled with the soaring keyboards of Vitalij Kuprij that play a major role in the tapestry of the way the album flows with much electricity.
The song "They're Calling Your Name" echoes the cries of the soldiers going off to war. Followed by the eerie "Empire." The album is engulfed by power speed metal but also includes a few poignant acoustic moments. "Land Of Frozen Tears" is a beautiful passionate ballad sung by the angelic vocals of Mark Boals and acoustic finger picking of Tony MacAlpine. This song captures the tears of the people that are involved at war.
Next up "Where Angels Play" is a Spartan thrash metal song. Other stand out highlights include the title track "Battle Of Leningrad" and the speed metal "No Way Out." The album flows very well. Guitarist Tony MacAlpine is brilliant with his electrifying guitar riffs. Perhaps the most haunting song on the album is the piano ballad of "Our World." A song that chronicles the demise of a city torn by war where nothing remains but heartache and in the shadows stands a glimmer of hope.
Battle Of Leningrad is a true story scored to the perils of war. A lesson learned where no good comes from the horrors of war. The music captures the pain, journey, and survival of a city torn in war. At times the music is majestic. Singer Mark Boals has a powerful, melodic voice filled with much passion. Battle Of Leningrad is destined to be one of the most compelling albums of 2014.
Genre: Heavy Metal
Band:
Mark Boals – Vocals
Tony MacAlpine – Guitar
Vitalij Kuprij – Keyboard
Timo Tolkki – Bass
Jami Huovinen – Drums
Track Listing:
Mother Russia
They're Calling Your Name
Empire
Land Of Frozen Tears
Firewind
Where Angels Play
Battle Of Leningrad
No Way Out
Our World
Rain
Label: Frontiers Records
Website: www.markboalsmusic.com
Hardrock Haven Rating: 9/10