Weapons | Reflections of a Troubled Mind
by Justin Gaines
– News Editor/Senior Columnist —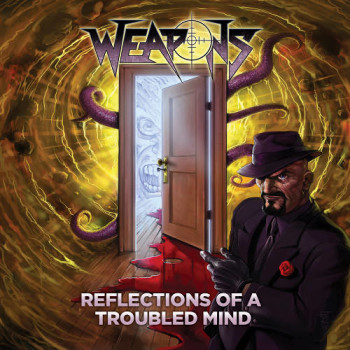 The fourth vintage band to be spotlighted by Divebomb Records' new Bootcamp series (which focuses on overlooked and forgotten demos, both new and old), is Weapons, a thrash metal unit out of Maine (of all places) that was active in the late '80s to mid 1990s. The band made an impact on the local scene and was almost signed to the Mechanic label, but by that time thrash's popularity was already declining.
There were a lot of second and third wave thrash bands that never made it, largely because their sound was nothing more than a carbon copy of the Bay Area originators. Weapons though, had a quite a bit more going on in their sound. That's not to say they'd have become a household name – by the early '90s that was pretty much impossible – but their music holds up a lot better than most later thrash bands. It's not just "riff riff riff, bark bark bark." Guitarist Stefan Blacart delivered melodies to balance the thrashing riffs, and vocalist Edwin Ecker III displayed both power and a strong range. The band also incorporated more traditional heavy metal elements and even a hard rock approach later on.
Divebomb's Bootcamp Weapons collection Reflections of a Troubled Mind includes the band's 2-song 1988 State of Oblivion demo, their 5-song 1992 The Art of Impact demo and their 5-song 1994 demo Reflections of a Troubled Time. It is limited to 500 units and features new cover artwork, vintage photos, lyrics and a new band interview. The audio has been remastered to the best extent possible given the source material.
It's interesting to see how the band progressed between 1988 and 1994. The State of Oblivion tracks are classic thrash, but by the time The Art of Impact was released they had a more melodic side that recalls Flotsam and Jetsam and even Armored Saint. The later material on Reflections of a Troubled Time, while still unquestionably metal, was more hard rock oriented, almost like Wicked Maraya meets Slave to the Grind–era Skid Row.
Score one more great underground metal discovery for the Divebomb Bootcamp series. Reflections of a Troubled Mind is a fantastic collection of vintage heavy metal. If you're already on top of the label's other reissues, particularly in the thrash arena, you'll definitely want to check out this Weapons collection. Thrash fans in general, especially those who don't mind when the genre lines get a bit blurred, should also find a lot to like here.
Genre: Thrash Metal, Heavy Metal
Band:
Stefan Blacart (g)
Edwin Ecker III (v)
Matt Lewis (b)
Gerald "Sonny" True (b)
Sonny Robinson (d)
Kevin Risch (d)
Track Listing:
Walls of Defense
In Dark Places
The Invisible War
Your Shadow Knows
Season's End
A Lesson Well Learned
All I Need
Behind the Door
Death of Common Sense
Reflections of a Troubled Mind
State of Oblivion
The Ultimate Escape
Label: Divebomb Records
Website: http://www.facebook.com/weaponsmetal
Hardrock Haven rating: 8.75/10