by Justin Gainesx
– Senior Columnist/News Editor —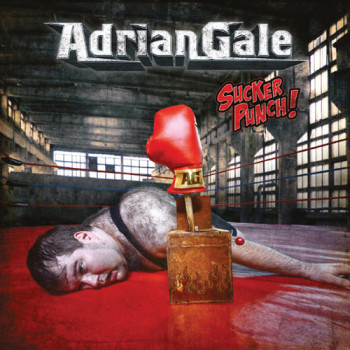 It's been a long time coming – nine years to be exact – but melodic hard rockers Adriangale are finally back with a new studio album, their fifth overall, titled Suckerpunch. Adriangale is probably best known for featuring Guardian frontman Jamie Rowe, but over the course of four previous albums the band has built an impressive reputation in their own right.
Comparisons to Guardian are, of course, inevitable. It's impossible to hear Rowe's unique voice – half Eric Martin, half Ronnie Atkins – and not think Guardian. Adriangale has more punch though (no pun intended), particularly on this album. Guitarist and chief songwriter Vic Rivera can take the lion's share of credit for that. Once again he's found the perfect balance of heavy rhythms and razor sharp solos and the catchy hooks and melodies that keep things accessible. It's not easy to make a modern melodic rock album that captures all of the best elements of the '80s rock sound while at the same time avoiding the cheese and clichés that era is known for, but Adriangale really knocked it out here (OK, pun intended).
Everything comes together perfectly on Suckerpunch. The guitar work is fantastic, the songs are well written, the production is first rate, and of course the vocals are a major part of what makes this album work. Rowe really is one of the scene's most underrated talents, and he turns in another memorable performance. Beyond that the backing vocals make you want to sing along to each song. The lyrics are interesting too. Adriangale has been tagged with the "Christian rock" label in the past, but that may just be due to Rowe's presence. The lyrics on Suckerpunch are not overtly religious, but they are somewhat inspirational and at least open to interpretation. You're going to think "melodic rock" or "hard rock," and damned good melodic hard rock at that, before you apply any other labels.
As for standout tracks, the super-catchy "The Black and the Blue" jumps way out front, but heavier, more rocking "All About the Money" and "What Would You Do" have a great Pretty Maids vibe. "When I Said You'd Be the One" and closing song "You" are the ones that will probably satisfy Guardian fans the most. The whole album is rock solid though, and is arguably the best Adriangale release to date.
Suckerpunch is another fantastic melodic hard rock album from a band that deserves a lot more attention. If you're already an Adriangale fan you need to own this album like now. Same deal if you're a Guardian fan. This isn't exactly the same style, but there are enough similarities to make this a natural fit. Beyond that, if you have an appetite for high quality melodic rock, especially bands like Pretty Maids, Mr. Big, Dokken, Gotthard and labelmates LaValle, you'd do well to give Suckerpunch a try. And if you get the chance to catch Adriangale live (as those of us at last year's MelodicRockFest 3 event did), do not pass it by. They completely own the stage.
Genre: Melodic Hard Rock
Band:
Jamie Rowe (v)
Vic Rivera (g) (v) (d)
Eddie Campbell (g) (v)
Matt Mahoney (b) (v)
Track Listing:
Suckerpunch!
The Black and Blue
When I Said You'd Be the One
All About the Money
Believe
Give Me a Sign
What Would You Do
Temporis Intermission
The World We Knew
Could Have Been Me
You
Label: Kivel Records
Website: https://www.facebook.com/pages/Adriangale
Hardrock Haven Rating: 9/10