Royal Bliss | Chasing the Sun
by John Kindred
– Publisher —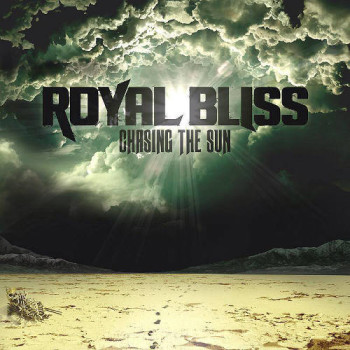 Royal Bliss has spent the last 16 years writing, recording and touring. Over the course of those years, the band has released eight studio albums, faced adversity and has continued to do what they love to do. The band's latest release titled Chasing the Sun was released on its own label Air Castle Records, with distribution through Universal Music. The album was supported by fans who contributed to the band's Kickstarter campaign, which generated $12,000 more than the band was asking for to complete the project.
Chasing the Sun features 11 songs. The debut single "Cry Sister" already has landed on the Active Rock Chart, and subsequently, the band released a video for the song. The band's music features a mixture of genres, but the core of the band certainly is hard rock.The band is not afraid to dabble with various musical textures to create classy, if not melodic, emotional rockers for fans to enjoy.
The musicianship of the band has been honed to perfection. Many miles on the road and in the studio have perfected the magic that the band displays. Neal Middleton's vocals easily are listenable; he has an emotional delivery that is endearing, and fans clamor to listen to. But buyer beware: This isn't a one-man show. All members provide equal support to all the music that is encapsulated on the CD. The varied textures and styles make Chasing the Sun an album worth listening to over and over again.
While "Cry Sister" is the first featured song on the CD, there are plenty of other nuggets. "Rock You All Night Long" has super-catchy, head-bobbing groove. "Dreamer" is an acoustic guitar-driven number the plays to Middleton's emotional approach. "It Haunts Me" has a progression that pulls you along and builds to the chorus. "Drink My Stupid Away" opens with a piano and vocal melody, with touch of harmony vocals blending in – the song, again, is geared to touch you emotionally, as this one will make the hairs rise on your arm. "Alive to See" gets the energy turned around and pushes off with a driving guitar riff, with plenty of melody here. "Impossible" is another good song. "Turn Me On" has a familiar feel and leans into a bluesy groove that, again, features a piano and vocal intro and quickly picks up when the song brings the rest of the band in to the foray. "Home" is an acoustic guitar ballad, which features harmony vocals. The song is lean on instrumentation, as the lead vocal and harmony vocals carry the tune. Royal Bliss closes the album on a positive note.
Royal Bliss offer fans brilliant song-writing and musicianship. The band never wastes its efforts on long-winded opuses; Royal Bliss makes its point, delivers the hooks and melody and moves on to the next with effortless ease.
Genre: Hard Rock
Band:
Neal Middleton—lead vocals, guitar
Taylor Richards—guitar
Jake Smith—drums
Dwayne Crawford—bass guitar
Track Listing:
1. Track Listing:
2. Welcome
3. Cry Sister
4. Rock You All Night Long
5. Dreamer
6. It Haunts Me
7. Drink My Stupid Away
8. Alive To See
9. Impossible
10. Turn Me On
11. Home
Label: Air Castle Records
Website: http://www.royalbliss.com
Hardrock Haven rating: 8/10