Walter Monsanto | The Master Key
by John Kindred
– Publisher —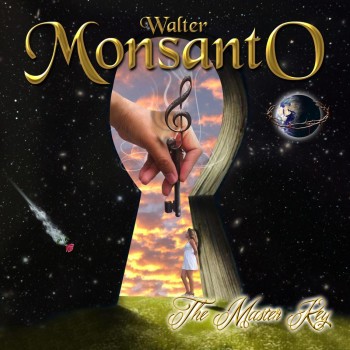 Multi-instrumentalist and composer Walter Monsanto has released his full-length solo album titled The Master Key. Hailing from Guatemala, Monsanto has been making a name for himself throughout the region, opening for international live acts, such as Michael Angelo Batio, Carmine Appice and Therion. His music incorporates progressive, thrash, hard rock, Neo-classical, jazz fusion and new-age genres. His first solo release was the 2004 EP titled When the Power Begins, which was released on Gimor Records.
The Master Key is a concept album that, in Monsanto's words, "It's about conquering dreams … getting perspective and persist, (which is) based on a book theory that has the same name. Musically, (the album) represents the treble clef being as the main key to human emotions that rule us all."
Produced by Monsanto, the album features musical guests, including Matt Guillory (Dream Theater's James Labrie), Andrea De Paoli (Labyrinth/Vision Divine) both on keyboards, and Zak Stevens (Savatage/Circle II Circle). Mixed and mastered by Timo Tolkki (Stratovarius), The Master Key contains nine instrumental songs and one vocal song, with Zak Stevens manning the microphone.
The Master Key represents a 48-minute journey that carries the listener into a world of guitar-driven shred and melodic passages that emphasize Monsanto's ability to perform and excel within the context of several genres of rock and metal. While the music showcases his keen guitar wizardry, the glaring weakness to the album is the production. Throughout the CD there are noticeable sonic anomalies that standout audibly on a majority of the songs on the album. It's most glaringly apparent on "The Wicked Waltz (Great Shuffle)," in which pop and cracks rear their ugly heads as the arrangement switches from one chord progression to another. Listening through headphones, as well as stereo speakers, doesn't mask the audible flaws. Whatever the issue is, it is hard to believe that Monsanto signed off with his product being released like this.
Can Monsanto play; yep, and he has tremendous chops and assails the listener with plenty of dynamic musical interplay to keep you intrigued. The 10-track CD has plenty of nuances and atmosphere to make the overall listening experiences quite enjoyable. The lone vocal song featuring Zak Stevens (Savatage, Circle II Circle) is a pleasant nugget that helps showcase Monsanto's ability to work alongside a singer and embellish the vocals without stomping all over them. Exclusively distributed by Shredguy Records in the U.S., Monsanto is set to bring his art and craft to the rest of the world. While there are some production flaws, The Master Key is great introduction to the Central American guitarist.
Genre: Instrumental Rock, Hard Rock, Metal
Band:
Walter Monsanto – Guitars and background vocals
Pepe Mejia – Keyboards
Edgar Bran – Bass
Fernando Martin – Drums
Special Guests: Matt Guillory (James Labrie Band), Andrea De Paoli (Labyrinth/ex-Vision Divine/Chaos Venture), Zak Stevens (ex-Savatage/Circle II Circle)
Track Listing:
1. Vortex Index
2. The Wicked Waltz (Great Shuffle)
3. Envision
4. Keymaster
5. The Star and the Rose
6. Rise of the Immortal
7. Reality Empire
8. Macrospeed Dementia
9. The Ending World
10. Within Attraction (bonus track)
Label: Independent
Website: www.waltermonsanto.com
Hardrock Have rating: 7/10