by Alexandra Mrozowska
– Columnist —
Almost forty years after having been formed in Solothurn, Switzerland, Krokus' career came full circle as the Swiss rock heroes returned to their hometown in August 2013 to play a memorable gig at the House Of Rust. This last sold-out show was what they decided on to release in an album format – the third live album in their career, Long Stick Goes Boom Live: From Da House Of Rust will see the light of day very soon. This fact alone was a good enough excuse to ask Krokus' lead singer Marc Storace about a few details on the new release. What he also shared with Hardrock Haven, is a story behind his recent Rock Meets Classic performance and his personal thoughts on Krokus' classic albums.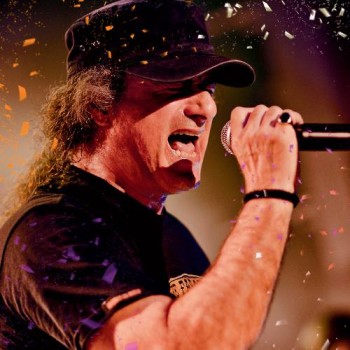 Hardrock Haven: Long Stick Goes Boom Live: From Da House Of Rust, due for release on April 22nd in North America (and a month earlier in Europe), it is Krokus' third live album. What was the reason for its release?
Marc Storace: We simply wanted to capture the incredible way Krokus is sounding today, with our "first-time" six musician formation!
Hardrock Haven: Are there any differences between Long Stick Goes Boom Live… and the previous two live albums? Any differences in your approach to playing live now and then?
Marc Storace: Each time a band changes one member, it inevitably changes the sound. Every individual has his own approach and character. The three "live" albums were recorded in different eras with slightly different attitudes and grooves.
Hardrock Haven: You're said to have recorded 20 shows for release consideration. Why have you decided on this particular show – is the fact of it being held in your hometown of Solothurn the only reason?
Marc Storace: That, together with the facts that the Kofmehl Theatre creates a unique concert atmosphere and has the perfect acoustics for the Krokus sound of today.
Hardrock Haven: The track listing for Long Stick Goes Boom Live: From Da House Of Rust being already officially announced, are there any particular reasons for such a choice of songs?
Marc Storace: Picking songs for a set-list is never easy; some fans feel disappointed when you leave out their favorite song. This time we wanted to honor our newer numbers as well as satisfy the need for nostalgia. We enjoyed playing this set very much and will continue to play it, almost as it is, for the coming 2014 Tour.
Hardrock Haven: The European version of your previous live album, 2004's Fire & Gasoline: Live, included a live DVD (filmed and recorded at the Montreux Jazz Festival). Why don't you release a similar video material this time?
Marc Storace: One step at a time. It is important for us to be judged and remembered for our musical capabilities first, because, in spite of what some critics say, we believe that we have created our own Krokus brand over all these years. So that is why the focus is on listening … so open that beer, light up your barbeques and turn it up loud! (laughs)
Hardrock Haven: There are some assets to being an American/Canadian Krokus fans this time – the per-order-related merchandise one can get with Long Stick Goes Boom Live: From Da House Of Rust …
Marc Storace: True! We still feel indebted to these particular countries for the loyalty bestowed upon Krokus during the '80's, when we played there year in year out and enjoyed very high chart-positions in each, but this is also an attractive and fair way to go about preventing the import-factor from ruining our chances of charting there again.
Hardrock Haven: Also, a vinyl edition of Long Stick Goes Boom Live: From Da House Of Rust is due to be released. When can we expect it? What do you think in general of the unexpected return of the vinyl format?
Marc Storace: I think vinyl is still the best tool for transporting the ultimate warm and ballsy sound that hard rock deserves. I have so far not heard when our new vinyl will be released … but I am eagerly waiting for my copy too! (manager Peter Waelti note: In the USA the vinyl version will not be released as decided by the label. However, hardcore vinyl fans will be able in time to order it via amazon.com as an "import").
Hardrock Haven: Recently, you also participated as a special guest at the Rock Meets Classic show in Zürich, Switzerland (and it wasn't the first time you did). Any particular memories from this gig?
Marc Storace: The first time was back in 2011. It was shortly after my good friend Steve Lee of Gotthard passed away so tragically. So I insisted to sing his ballad "Heaven" in his memory. It wasn`t easy for me, but I never before felt so closely united to my audience whilst all were expressing real tears of sorrow… unique! My recent performance with Rock Meets Classic was of a higher musical caliber I feel. Both the band and orchestra plus the overall set-up, sound and vision, together with that hearty loud choir have improved. I don`t mean to say it was worse before…but it was slightly different, and I left with very good vibes and the impression that all is somehow more perfect and crystal clear today! It was great to be on stage with my old friend Alice Cooper and the amazing female guitar-player Orianthi for the first time ever. After all, with Krokus we had covered Alice's hit "School's Out" (off our Change of Address album) and our version hit the USA Top-Forty once again!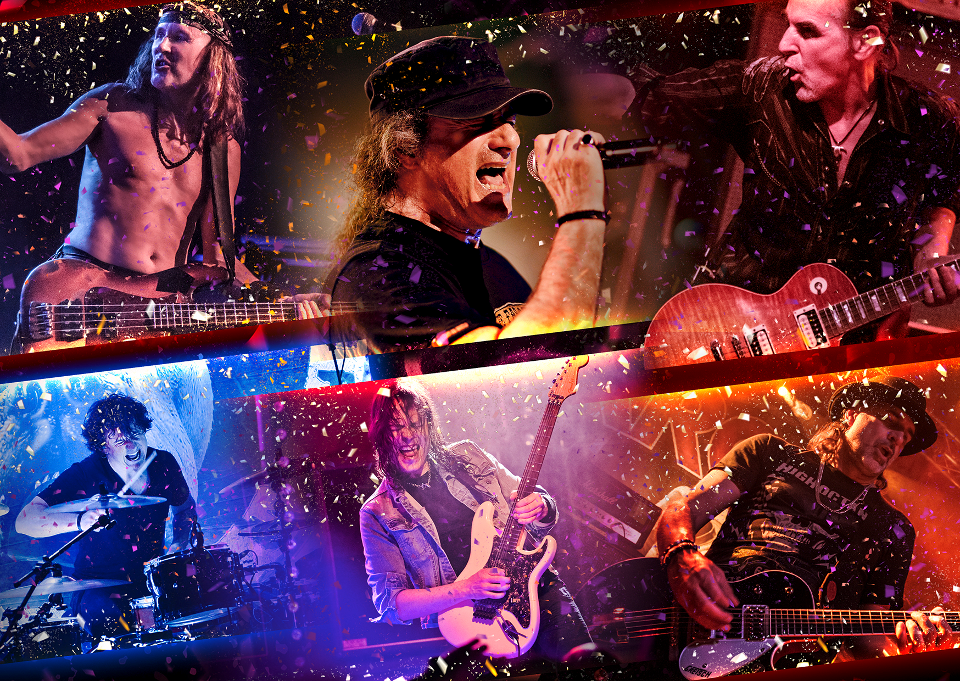 Hardrock Haven: Having to choose from all the other performances you've seen at this particular Rock Meets Classic show, which one did you like best?
Marc Storace: I've always been a fan of Uriah Heep and Mick and Bernie gave a helluva hot performance playing the old hits… amazing stuff! (laughs)
Hardrock Haven: The most recent studio album in Krokus' discography is, so far, Dirty Dynamite (2013). Do you plan any follow-up to this soon?
Marc Storace: Whether another studio album will ever come into fruition, or not, depends on a few factors… mainly, everyone's will to undergo yet another round of energetic songwriting, pre-production, production, mixing, artwork, interviews, tour etc… … and last but not least our good health and the power to deliver!
Hardrock Haven: Of all the Krokus' albums, which are your personal favorites and why?
Marc Storace: First of all, my debut album with the band – Metal-Rendez-vous – which showcases the best guitar-solos from Thomas Kiefer (R.I.P.); the band at the time wrote the best pop influenced hard rock songs. Apart from this, I'm particularly fond of One Vice At A Time (it's the album AC/DC never wrote), Headhunter (the best metal album of its time, and it contains my favorite Krokus ballad). Another important ones are Hellraiser (at the time I was the sole-original member left in the band and contributed four songs to this album; it was also the most toured Krokus album in Europe to date… sweet memories!) and the first masterpiece by the originals after our reunion of 2008 that is Hoodoo.
Hardrock Haven: What are Krokus' future plans?
Marc Storace: To do things step by step and see what each step brings! (laughs)
Hardrock Haven: Thank you! Is there anything you'd like to add?
Marc Storace: Thanks to all you fans for your many years of loyalty. The band is still in top form, and we would like to see you at our concerts when we hit the road very soon! Long Stick Goes Boom Live… will be more than likely the last "live" album from Krokus… so run out and get it, or order it, or download it…whatever… but just don`t miss it! (laughs) And whatever happens, look forward and rock on!