Jill Hughes Kirtland | Not Just Tits in a Corset: Celebrating Women in Metal
by Alexandra Mrozowska
– Columnist —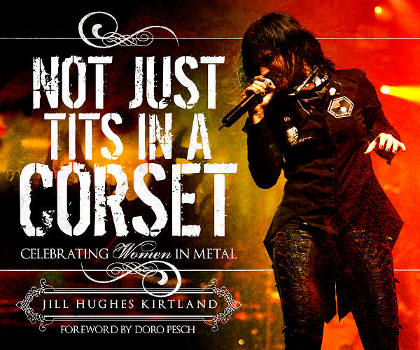 The music industry always has been dominated by men and always has sexualized (more often objectified) women. These facts are clear to avid feminists crusading for women's rights and for girls who opted for a plastic drum kit or a toy guitar for Christmas instead of yet another Barbie doll or who used to rummage through their parents' rock LP collection rather than their mothers' vanity cases. The rock and metal genres have been constructed and represented by men from the male point of view, and, apart from becoming a "video vixen" or a groupie, women have had very few perspectives of operating within rock 'n' roll world. And yet, there are female rock musicians who female rock fans look up to, from The Runaways and Girlschool to Amy Lee and Sharon den Adel, whose successes have disproved all the gender-related stereotypes circulating in metal communities. But for every success, there has been a struggle, as every of these women had to prove there was more to their stage persona than "just tits in a corset."
It's no wonder a tale of female struggle and success in metal – compiled and self-published by the music journalist and band manager Jill Hughes Kirtland – is titled "Not Just Tits in a Corset: Celebrating Women in Metal." Although gender issues in popular music have been written about a lot, this book is entirely different from its academic (or pseudo-academic) counterparts. Instead of pseudo-scholarly language and stiff feminist theories, "Not Just Tits in a Corset: Celebrating Women in Metal." is about the actual experience. Vivid and honest, it takes the form of an extended interview with dozens of prominent singers, musicians and music industry insiders and illustrated with colorful, tasteful current and vintage photographs. This book is all about metal, which makes it stand out from all others. In the preface, an author, who is as candid and open as are interlocutors, talks about her own experiences that led her to write this book. The foreword was penned by none other than the icon of female-fronted heavy metal, Doro Pesch.
The book begins with women in rock/metal in the '70s, when it all got started. The first names that come to mind are Joan Jett and Lita Ford. "Not Just Tits in a Corset: Celebrating Women in Metal" opens with The Runaways historical journey. The book unveils a fascinating and, to a huge extent, unknown story, about female contributions to rock and metal music. Some big names are dropped, including Girlschool, Warlock, Phantom Blue or Vixen and contemporary female-fronted bands, such as Evanescence, Lacuna Coil and Within Temptation. Equally captivating are the stories of relatively unknown acts. From Doro Pesch and Roxy Petrucci to Leather Leone and Betsy Weiss, the 1980s veterans tell their tales of struggle in the male-dominated music industry. What their younger counterparts – represented mostly by symphonic metal frontwomen, such as Tarja Turunen (ex-Nightwish) or Lacuna Coil's Cristina Scabbia – deliver is a different story of how things finally are starting to change for a better. Brutally honest, eloquent and critical, women in metal speak up about their early influences and their further empowerment. They also comment on more general issues, for example, how gender-specific upbringing influences sexist attitudes within contemporary societies or where the line is drawn between sex appeal and sexual objectification of women in the music business. Riveting and potentially empowering, especially to the present-day or future "working moms," is the section about how female artists reconcile their creative work, recording and touring with family life. Interestingly, one of the last chapters also sheds light on "women behind the scenes" in the music industry, including female promoters, managers, rock photographers, music journalists. The chapter follows their beginnings into their careers and how they prevent the gender stereotypes from affecting their current professional life. Near the end of the book, some of the interviewed heroines were motivated by their own experiences in the patriarchal entertainment industry to share some words of wisdom and support. The book ends with a series of photographs that focus on getting out of the "boys club" and concentrate on contemporary female rock fans, who are confident enough to form their own music- and camaraderie-based communities.
Aside from the content, a huge asset of the book is its diversity, as it offers a fair and balanced cross-section between decades and genres. Hair/glam, death, thrash, symphonic and all shades of metal are represented here. The stories shared by non-artist music industry insiders – from female promoters and music journalists to sound engineers – introduce some new perspectives and contribute to the general idea of the book. With little to no adjustments in linguistic terms, in the case of non-native English speakers interviewed in the book, the reader is left with an impression that Kirtland's "Not Just Tits in a Corset: Celebrating Women in Metal" is all about authenticity, both, in the content and its delivery.
"Not Just Tits in a Corset: Celebrating Women in Metal" can best be described as authentic, honest, mind-opening and very close to one's personal experiences and/or observations within all metal communities worldwide. Initially addressed to its fans, this book also can be an interesting and fruitful read for anyone interested in gender relations within popular music or in popular culture, in general. It's a must-read book for any rock fan.
ISBN: 978-0-9915015-0-2
Publisher: Self-published
Website: http://www.jillkirtland.com/
You can purchase it here: http://www.jillkirtland.com/?page_id=631