Pretty Maids | Louder Than Ever
by Justin Gaines
– Senior Columnist/News Editor —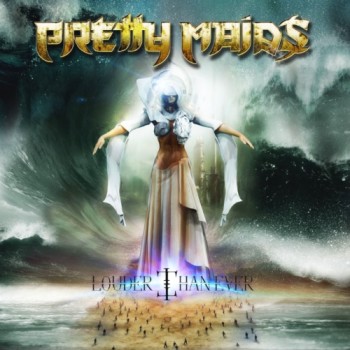 Long running Danish melodic metal band Pretty Maids has been on a hot streak lately. Since 2010 they've released two amazing new studio albums (2010's Pandemonium and 2013's Motherland), a killer live CD/DVD set (2012's It Comes Alive) and now they're back with a new collection of songs titled Louder Than Ever.
Louder Than Ever is an interesting release. There are 12 songs total (assuming you don't shell out the big bucks for the Japanese import). Eight of them are re-recorded versions of older Pretty Maids songs, and not the songs you'd expect like "Future World" or "Red, Hot and Heavy." They've reworked songs from their '90s Masacre releases (which are all in desperate need of a good reissue campaign, by the way). I don' think fans were exactly clamoring for new versions of "Psycho Time Bomb Planet Earth" and "Virtual Brutality," but it is interesting enough to hear them in the hands of the new lineup and new producer.
The remaining four songs on Louder Than Ever are what fans are really going to be interested. They are brand new recordings that, unsurprisingly, carry forward the powerful and melodic aspects that made Pandemonium and Motherland such amazing albums. There are two songs – "Nuclear Boomerang" and "Deranged" that are straight-up headbanging heavy metal numbers, and two very soulful ballads in "My Soul To Take" and "A Heart Without a Home." They're all great songs, and definitely whet the appetite for a new Pretty Maids studio album.
With any other band you'd be justified in writing a collection like this off as a quick way to fulfill contract obligations with the label, and that may be the case here. But this is Pretty Maids we're talking about, so even a collection of reworked '90s songs is still going to sound awesome, especially when accompanied by four strong new recordings. At minimum you need to download (legally, please) the four new songs, but the true Pretty Maids fans are going to want to pick this set up. There's enough here, especially when you factor in the extras on the physical release, to make it a worthwhile, if perhaps not essential, purchase.
Edition Notes: The physical release of Louder Than Ever comes in a digipack with a bonus DVD featuring a Motherland tour retrospective as well as vintage footage and interviews plus additional material. We were given an MP3 version of the album, so this review doesn't address the DVD content.
Genre: Melodic Metal, Melodic Rock, Heavy Metal
Band:
Ronnie Atkins (v)
Ken Hammer (g)
Morten Sandager (k)
Rene Shades (b)
Allan Tschicaja (d)
Track Listing:
1. Deranged*
2. Playing God
3. Psycho-Time-Bomb-Planet-Earth
4. My Soul To Take*
5. He Who Never Lived
6. Virtual Brutality
7. Tortured Spirit
8. With These Eyes
9. Nuclear Boomerang*
10. Snakes in Eden
11. Wake Up to the Real World
12. A Heart Without a Home*
Label: Frontiers Records
Website: www.prettymaids.dk
Hardrock Haven rating: 8.5/10