Scotty Austin of Saving Abel
by Deb Rao
– Senior Columnist —
Saving Abel have returned to the music scene with new singer Scotty Austin. The band is currently on tour promoting their new single "Love Like Suicide." Hardrock Haven would like to introduce to you new singer Scotty Austin, a southern gentleman, with huge vocals he brings new energy to the band. In this exclusive interview Scotty discusses the current tour and future recording plans.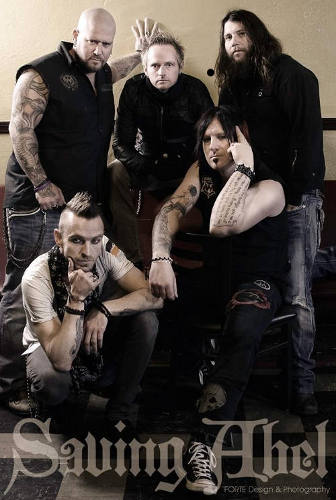 HRH: Scotty, welcome to Hardrock Haven. Tell us how you got the gig with Saving Abel.
Scotty: It was such a whirlwind; I really didn't have time to think about it. I just like to make music. I am a southern boy. We all live in the same area. I am about 20 miles away from the other guys. Jared and me had a similar sound. We have the same long vowels. So I am fairly able to sing the songs fairly close to him. I am a little heavier than he is.
HRH: Tell us the meaning behind new song "Love Like Suicide." It sounds amazing by the way.
Scotty: I can explain that to you. It comes across like a love song. Which it is. But it is not about a woman. It is about music. I have a 3 and ½ year autistic son at home. I have to be a way from him to do this. It is such a blessing to be able to play with such a hugely successful band but I have to be away from my son at the same time. I have worked my entire life on music. So it is a love hate relationship with music. I love the music, but it does kill me on the inside a little bit.
HRH: I can understand that. One of friends back east has an Autistic son. Will he come to one of your shows when you play in your hometown?
Scotty: He will. He is very musical. He is non-verbal now. Having Autism, they get overwhelmed a little bit with crowds and a lot of noise.
HRH: How is the tour going so far?
Scotty: We are setting up in Lubbock, Texas right now. Saving Abel has die-hard fans. I wasn't expecting them to be as welcoming to me as they are. They have embraced me. I am more than grateful to it. Because I am a fan of Saving Abel first and foremost.
HRH: Is there a video for the new song "Love Like Suicide?"
Scotty: There isn't yet. Now that you mentioned it. I think we should take some pictures of live shots of our tour of us cutting up and fooling around.
HRH: Are you going to go back in to the studio to record more when the tour is over?
Scotty: We want to do an album. We are still debating to do an EP or a full album. This tour was booked before Jared wanted to do something else. It is working out so well. So finding the time to come in and record is hard. We are going back in April and record some more. We are coming off the road in June. So we will be recording more music.
HRH: Awesome. What was it like working with Justin Rimer?
Scotty: Yes he is from Twelve Stone. He is a real good friend of mine.
HRH: What kind of music do you like listening to when you are not performing?
Scotty: I like anything that is good. I do love southern rock. My last band was like rockabilly. I love Paul Rogers. He is my favorite rock and roll singer.
HRH: One of my favorite Saving Abel songs is "Addicted."
Scotty: Mine too. Getting to sing it is pretty surreal. I have sung that song a thousand times in my car. Now I'm not in a cover band. This is weird (laughter).
HRH: Now you are going to tour till June. Are you going to add some more dates and come to Vegas hopefully?
Scotty: We are booked to September. We are taking June off because we want to record more music. When we went into the studio right before we hit the road and they called me. They said we got gigs in two weeks. When we got into the studio, we realized how well we clicked. We realized we had more ideas than we knew what to do with. We got a lot there sitting already started.
HRH: What was it like doing the first show?
Scotty: Exciting and scary at the same time. I have been playing music my entire life. I have spent my life onstage more than I have off. I am pretty sure of it. When I drove up, people said you got a lot riding on you. You better show us something. I was like OK. I didn't want to let the fans down. I am sure there is going to be people that just like Jared. I do too! Overall, people have been very receptive. I am very honored to be onstage. But it was extremely scary.
HRH: I think you are doing well. I love the new song. Is there any thing else you want to say about the tour?
Scotty: Everyone should come out to show and meet these guys. When you meet these guys, they are the most down to earth cool guys that I have had the pleasure of being in a band with.
HRH: Awesome. Thanks Scotty hope you come to Vegas soon.
Scotty: We will. I have never been to Vegas and I want to go. You can guarantee that is going to happen.
To listen to "Love Like Suicide" go to www.savingabel.com.