Chris Green of Rubicon Cross
by Deb Rao
– Senior Columnist —
There is a new band on the horizon getting ready to invade the music industry. Rubicon Cross, comprised of Firehouse singer C.J. Snare, guitarist Chris Green (Pride/Furyon) bassist Simon Farmery, drummer Robert Behnke and guitarist Jeff Lerman is gearing up for the self-titled debut May 19 on IN Grooves Records.
Rubicon Cross is a very modern sounding band with the heavy melodic riffs of Chris Green and the soaring vocals of C.J. Snare. The band has an infectious sound that is compelling. The first single and video "Bleed With Me" is now released.
Guitarist Chris Green gives Hardrock Haven readers an exclusive in-depth look at the making of Rubicon Cross. Chris also does an exclusive track by track.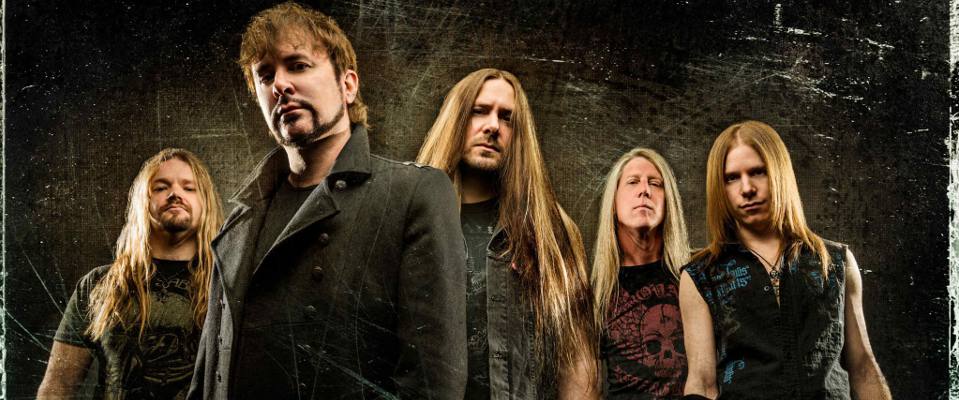 HRH: Chris, welcome to Hardrock Haven. How did Rubicon Cross come together? Where did you meet C.J.?
Chris: Back in 2003 Firehouse was doing a tour in Europe. I was touring in an English rock band called Pride. We bagged the support slot for the Firehouse tour. I think it was in Madrid and the first night of the tour Pride was playing. A friend of ours had said to C.J. check out this guitar player. You will be into his kind of style of playing. We used to do this track that had an epic solo in the middle of it. C.J. was watching me play this solo. He really liked my playing. He called me a side when we finished the show. He said, "Hey man I like your style. Do you want to play on my solo record?" That is really where it started. He was planning on doing a solo record. It became this monster Rubicon Cross.
HRH: Now C.J. has a very distinctive vocal style. When I listened to the video last night. He seems to be singing a lot heavier. When the band went into the studio, did you have this concept of the band and wanted it to be heavier than Firehouse?
Chris: I think it naturally evolved into that kind of style. I don't think it was a conscience effort. The way that he sung in Firehouse wouldn't have suited to throw that voice on top of some heavier music. C.J. was really striving to get something new out of his voice. I don't know if you have heard the whole album. There are probably three tracks on the album where his voice is distinctive to the old Firehouse material. There are a couple ballads and slower tracks. But definitely for the single "Bleed With Me" yes there is a much harder sound to his voice.
HRH: I love your guitar playing. You remind me of Zakk Wylde in a way.
Chris: Thank you very much.
HRH: As a guitarist what were you striving for in the studio?
Chris: Going into this project we wanted to create a modern heavy sound. We chose to use Rick Beato who had produced Shinedown's first album. I worked with him before in my British band Furyon. We knew that he had the good to get that modern sound. He had the great method of multi-amping and mixing the sound to get this huge massive heavy sound. A lot of that was attributed to Rick really having the understanding of getting the album sounding really modern and up there with the production.
HRH: Also I noticed on "Bleed With Me", C.J. is using some special effects of his voice?
Chris: Yes. The effect you are talking is the low rise where he is using a mega phone. A lot of bands are doing this these days. The verses in the song sound very subdued. Then his voice just blasts out.
HRH: How was the writing process for the album? Did you collaborate on the writing?
Chris: We did a real mix and match of style writing. Some of the other bands I played in were straightforward. I would come up with riffs and CJ would come up with lyrics and melodies. And once we had a verse for each chorus, we would think about the solo section. It was very formulated to start with. Then as we grew as a writing team, C.J. started writing solos with me. I started writing lyrics and melody to the tracks. It was a really good writing partnership. C.J. was extremely gracious on taking my opinions on board.
HRH: Tell us about the making of the video "Bleed With Me."
Chris: It was a nightmare. Three different times we had locations narrowed down for the video. They fell through at the last minute. By the time we finally found the place where we shot it, it was less than 48 hours before we were shooting it. You would think like a place like Chicago finding an abandoned warehouse would be an easy process. We had to adhere to fire regulations. In the end, I just put out a help message to a bunch of my friends. A friend of ours Bret came through. He said my Dad has an abandoned factory warehouse in Wisconsin just north of us in Chicago. Come down and see it. We said we would take your word for it. We don't have any other choices. So we all turned up at this place and it was great. It was an abandoned warehouse. There was dust everywhere. There was a freight elevator that we sent up in. There were loads of cob webbed rooms that I made the bass player go in because he was a scared of spiders. He hates me for that. The band started drinking at eleven in the morning. When you do a video you only have to mime. I think that is why we got in the spirit of things.
HRH: That is a great story. Any touring plans in the works?
Chris: Absolutely. We got a radio campaign going on. The album is out May 19. We are tracking the progress of the single. Where are seeing where a lot of the listeners are enjoying what we are doing. We will start in those areas to start getting out to playing. It is a very difficult thing out there playing in a new band. Rubicon Cross is a very new project. We don't want to lead people on by thinking it is just going to be another Firehouse. As you mentioned it is much heavier. We are simply going out as a new band. We are kind of in the same boat as a lot of people. We will be out there as soon as we can.
HRH: The new material blew me away. It is new and fresh. I don't think it will take long to catch on to the masses. It is quality music. How would you describe the sound of Rubicon Cross? As a new band, what do you want to get across to the fans?
Chris: It is a very active modern sounding band. It is very heavy sounding. But it also has great melodies and lyrical content. We don't write things that we haven't been through. I guess if I had to sum it up it would be, modern hard melodic rock. That is really where it is at. There is a song for everyone on the album. If you listen to Black Sabbath or Metallica or Avenged Sevenfold. There is something on this album for you.
HRH: How did you come up with the name Rubicon Cross?
Chris: My dad was big on analogies quotes. One of the quotes that he always used to say was "Crossing The Rubicon." The phrase originates from I think it is 490 B.C. When Caesar took his army across the Rubicon River. It was a commitment to battle. If you crossed the river he would be committed to invade Rome basically. The phrase became an analogy for the point of no return. So crossing the Rubicon met a point of no return. And that is when me and C.J. looked at one another and said Rubicon Cross. The point of no return that is how we felt with the band. When we really started committing to things. We are going to put everything we have in this band. Money and energy. Just everything we got. We are really excited. Thanks very much for helping us along the way. It is people like you who get the message out there and spread the word about the music. That is the only way we can do it.
HRH: It is our pleasure. Thank you for giving Hardrock Haven the exclusive track by track. We will see you on the road.
Rubicon Cross guitarist Chris Green gives Hardrock Haven exclusive track by track of Rubicon Cross …
1. Locked And Loaded – "Is a track forward hard hitting track. It is the reason we put it as the first track on the album. It just absolutely blasts in with as an immense straightforward fast song. Particularly with the guitar solos. It is an anthem for us as a band while we are onstage. "
2. "Next Worst Enemy" – "This is the first song that we experimented with tuned down tuning. The lyrics of the track came about when C.J. and I were having a few beers. And one of us, I think it was me was going through another break-up. Me and C.J. have been through so many break-ups we could probably write ten albums of materials worth. He said to along the longs, I guess you are just waiting for your next worst enemy to come along. We wrote this song about in a half hour."
3. "Bleed With Me" – "CJ was in that mindset when he was writing the lyrics. I wanted a heavy sound going on. I think it ended up sounding a bit like Rage Against The Machine. Lyrically is it about a band of brothers. It is really a comrade song."
4. "Save Me Within" – "That was a difficult one. My father died about two and a half years ago. I was very close to him. CJ was very close to him too. After the funeral I just poured this song out. It just basically flowed out. If anyone out there has lost anyone, they can relate to it. It was a really difficult track I hope it hopes you the same way it has helped me."
5. You Will Remember Me" – "When I came up with the idea for the title, C.J. thought oh man I don't want to write a ballad. It isn't like some sobby ballad. It is about someone who has been really down in a relationship. You actually will remember them saying, 'You will remember me.' It is like taking a pair of scissors to every pair of clothes that they got. (Laughter) The kind of real vengeance side that can come out when you are angry and comes out after a horrible stint with someone. That is where that one was based. There is a lot of harmony guitar track going on. It is a real hard-hitting modern sounding track with lots of shredding guitars."
6. "Movin On" – "This is the first track that me and CJ ever wrote together. Even down to the first riff. That song is about being on the road. Being a band being on the tour bus and just going from town to town. Being on the road, you feel like there is no roots what so ever. We do sound check; maybe eat something if you got a chance. Take a shower and get back on the bus. It is the same thing every day. It is really how we feel when we are on the road."
7. "R U Angry" – "That one is a really pain in the ass for me to play that song. I don't know why I wrote that. Although it is a great song to play. Lyrically if you got something who is ignoring you just trying to get some sort of response out of someone. It is about trying to bate someone just trying to get an answer out of them. You really have to listen to the track. It is difficult to explain. It is a hard-hitting track."
8. "Shine" – "Shine" is a ballad. If I remember right it was first called 'Haunting.' We were just chilling out. I had an acoustic guitar. He had a grand piano in his house at the time. I came up with the acoustic piece. He heard me playing it and we pretty much wrote that track. Message wise it is about hope."
9. "Kill Or Be Killed" –"It is straight up balls to the walls rock track. Really energetic track. Lyrically is very military based lyric. It is about the mind of a soldier on the battlefield just with that basic instinct going out there to be killed. Kill Or Be Killed. It is self explanatory really."
10. "All The Little Things" – "It is a colorful track. It is tongue in cheek track. Initially the sound of it is going to sound like an old school pop, punk, rock and roll track. It was especially written for CJ's marriage break-up. If you read the lyrics it is pretty bang on the money. It is a really cynical track. But it is a really fun track as well. It is kind of like a curveball at the end of the album. It has become quite a popular track. Some people will get it. And some people won't get it. We enjoy playing it.
Visit the band online: www.facebook.com/rubiconcrossband