by Deb Rao
– Senior Columnist —
Sevendust is kicking off their acoustic tour "An Evening With Sevendust" on April 1 in Athens, Georgia. The band will make a special stop in Las Vegas at Vinyl on April 12. Sevendust will also release acoustic album Time Travelers & Bonfires on April 15 via 7 Bros. Records. Sevendust is known for their great melodic undertones and "An Evening With Sevendust" will give fans and up close and personal performance.
Drummer Morgan Rose has checked in with Hardrock Haven to unveil specific details surrounding the release of Time Travelers & Bonfires and "An Evening With Sevendust."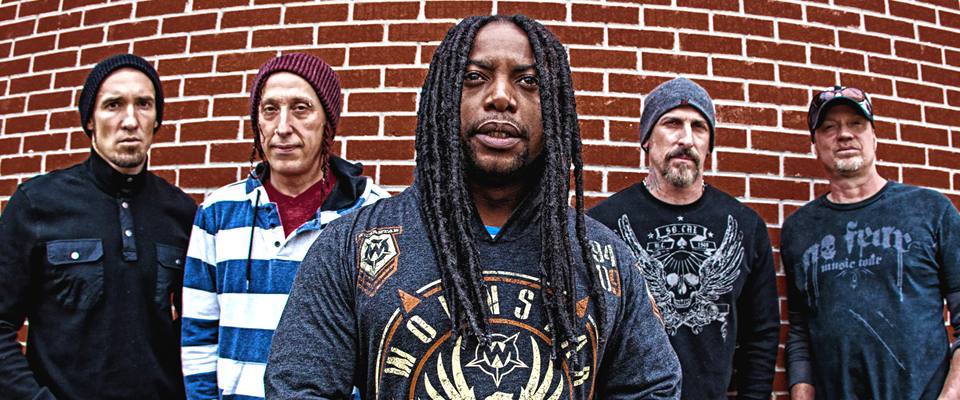 HRH: Morgan, thank you for checking in with Hardrock Haven. The band took a different approach when recording Time Travelers & Bonfires. This time you went with Pledge Music.com and donations from fans when recording the album. How did this all come about?
Morgan: We have been asked a long time about doing another acoustic tour. We didn't just want to go out and do another acoustic tour with the old songs. We wanted to do new songs. Basically what happened was brought to us by our manager. Because we have our own label. We didn't want to do a full album of acoustic songs. We wanted to have half old and new songs. Our manager said the people that support your band want this Pledge Music Campaign. Sometimes that really brings them close and gets them involved. If you are interested in doing something really cool for the people, we got a great way to do it. We started inquiring about it. After we started talking to Rich from Pledge and some of the other people that have done it, it looked like a really fun thing to do. And a real close way to get close to the people.
HRH: And you are also giving back to the fans too. A portion of the proceeds are going to be donated to the St. Jude's Research Hospital. How did you get involved with St. Jude?
Morgan: We have done a lot of charity work over the years. We all have kids. So we thought it was the right time to get involved with them.
HRH: It has been since 2004 since you last released an acoustic album. How has the songwriting process changed since that time period?
Morgan: A lot of times the guys will sit down with an acoustic and start writing the riffs and stuff. So it is really not that different. We have always come from the theory that the songs should song good acoustically before we put the electric to it. Really the thing that sets the heavier stuff apart from the acoustic is vocals and the screaming like that. We have done some of the heavier songs that we have in our catalog acoustically. We have done a lot of songs that have been acoustic based in the past. So it was real easy.
HRH: That is one great aspect of the band. You always have this melodic undertone amidst the heavy stuff. Which is very cool. Do you think the industry is coming back to more acoustic music where the lyrics speak for themselves versus the heavy vibe? What is your view on the industry today?
Morgan: I don't know? I work for a record label. We are pushing a number of bands for the radio now. It is a completely different landscape than it was five years ago. It started six or seven years ago that Active rock started to go haywire. Nobody really knew what trend to follow. So there wasn't one. I don't think anybody knows exactly what to do. Which never affected us very much because we just did what we wanted to do anyway. As far as looking at Active rock and the format, there was time when these acoustic songs could have been put on three or four different formats. Now, I don't really know if they are going to fit any. We have a long history with a number of radio stations that support us. We just wanted to do just something a little bit different. It is not a traditional acoustic record with an acoustic and some bongos. We have programming and we put real drums on everything. I have been trying to describe it. It is something like Alice In Chains and Trent Reznor got together to do an acoustic record.
HRH: What is the first single going to be?
Morgan: We went to radio soft with "Black" just because it is a familiar track. It is the oldest track but it was received real well at radio and a number of stations still play that song. Our support base and the Sevendust people, we gained a lot of those people mid-way through our career. So they missed "Black." It is kind of like an oldie but goodie. We are bringing something back that our old core people recognize. And some of the newer people from the last six or seven years are introducing them to that track.
HRH: What is your favorite track on the album?
Morgan: Probably "The Wait." It is the deepest song on the record lyrically and emotionally. It tears your heart out. We have been known to do songs like that. It is extremely universal for anybody who has lost anybody dear to them. We have all went through important people in our life. It was something that kind of hit all of us.
HRH: Tell us about the tour. It kicks of April 1 in Athens, Ga.
Morgan: It is usually a pretty mellow vibe. The staging we are putting together. We like to make it kind of classy looking. Lajon likes the artsy look. We are trying to come up with something that lets people feel like there are on the stage with us.
HRH: What is the drum set up going to be like?
Morgan: It is massive. The actual kit is a little smaller than what I am usually using. We added percussion all around it. We are running programs, planning extra acoustics and piano.
HRH: Are you just playing songs from the new album?
Morgan: Yes, we are going to do most of the new stuff. We'll probably do three or four of them. We are going to throw an intermission. We are going to play an hour and come back and play a half hour. It will be a whole lot of Sevendust songs.
HRH: How did you come up with the title Time Travelers & Bonfires? It reminds me of sitting around a campfire and singing songs?
Morgan: Yes, that was kind of the idea. There was one track called "Time Traveler's" and another one called "Bonfires." I think one day someone put the two together talking about them. And thought it would be a really cool title for the album. I can't be really held responsible for that answer. But I am believing that is how it went down. (Laughter)
HRH: Sevendust will be coming up on their 20th Anniversary soon.
Morgan: Yes, we have been together for 20 years. Which is crazy. We have been signed and on the road since 1996. So we are coming up on twenty years of touring. In two years, it will be 20 years of touring. Which is insane.
HRH: What is your most proudest accomplishment?
Morgan: Proudest accomplishment would be going to the Middle East and playing for The Troops.
HRH: Morgan, we wish you the Best of Luck and we will see you Las Vegas on April 12th at Vinyl.
Morgan: Thank you.
Visit the band online: www.facebook.com/sevendustofficial