Hatriot | Dawn of the New Centurion
by Justin Gaines
– Senior Columnist/News Editor —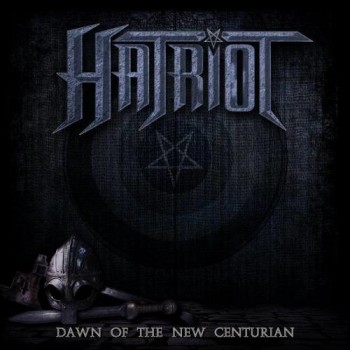 Well, the Souza clan certainly didn't waste any time. Just one year after releasing their debut album Heroes of Origin, Hatriot is back with another devastating serving of thrash metal, titled Dawn of the New Centurion. Hatriot, of course, was formed by former Exodus frontman Steve "Zetro" Souza, who enlisted none other than his two sons – Cody on bass and Nick on drums – as well as guitarists Kosta Varvatakis and Justin Cole.
To absolutely no one's surprise, Dawn of the New Centurion sounds an awful lot like an Exodus album…a snarling, vicious, completely intense Exodus album. Hatriot has the best of both worlds covered here – the old school thrash mentality and pedigree that Souza brings to the table, and the youth and sheer energy of the young "thrash revival" band backing him up. The result is an album that's as intense and aggressive as any thrash metal album in recent years, and one that stands with the best of what bands like Testament, Onslaught, Overkill and yes, Exodus have delivered in recent years. Zetro's vocals are a huge part of that, screaming his defiance over blistering riffs and neck-breaking rhythms.
Lyrically, you can tell Souza is pretty worked up about politics and current events. "From My Cold Dead Hands" takes on the idea of gun control, "Silence In the House of the Lord" excoriates the Catholic church over its child sex abuse scandal, and the rest of the songs are a litany of violence and hatred. This, paired with the sheer intensity of the music, makes for an extremely punishing album, though the lyrics may push some fans away.
If the lyrics don't put you off, it's hard to imagine any fan of high-speed, high-intensity thrash metal not loving the Hatriot sound. Fans of Exodus in particular should get a great deal of enjoyment out of Dawn of the New Centurion.
Edition Notes: The limited edition version of Dawn of the New Centurion comes in a digipack and features a surprisingly wicked cover of Krokus's "Midnight Maniac" as a bonus track.
Genre: Thrash Metal
Lineup:
Steve "Zetro" Souza (v)
Kosta "V" Varvatakis (g)
Cody Souza (b)
Nick Souza (d)
Justin "J.C." Cole (g)
Track Listing:
1. From My Cold Dead Hands
2. Your Worst Enemy
3. The Fear Within
4. Honor the Rise and Fall
5. Superkillafragsadisticactsaresoatrocious
6. Silence In the House of the Lord
7. World Funeral
8. Dawn of the New Centurion
9. Consolation For the Insane
Label: Massacre Records
Website: www.hatriotmetal.com
Hardrock Haven Rating: 8.5/10