by Alexandra Mrozowska
– Columnist —
In recent years, we could observe the huge development of the 'female fronted' rock subgenre – from the alternative rock and such acts as Halestorm to the symphonic metal represented by Nightwish or Within Temptation, to name just the few. One of the particularly interesting female fronted bands is the Belfast-based quartet Ajenda, who's released their Unrecognizable debut album just a while ago.
The band's guitarist Gavin caught up with Hardrock Haven to talk Ajenda's early years, the band's first album and the their expectations regarding the next one – but there were plenty of other things to chat about too, from the richness of the Irish musical heritage to gender prejudice in rock.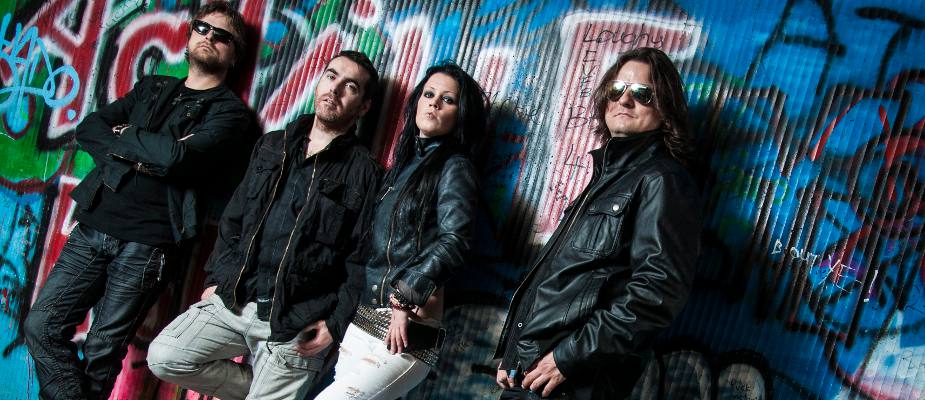 Hardrock Haven: Hello! Please introduce Ajenda to Hardrock Haven's readers and tell us about the circumstances of the band's foundation.
Gavin: Hi Alexandra! First up, thanks very much for taking the time to chat with us. Ajenda are a female fronted rock band from Belfast, Northern Ireland. The members are Jen on vocals, Pete on drums, Jan on bass and myself (Gav) on guitar. We have been together with the current lineup for approximately three years. The band was founded by Jen and me approximately three years prior. Both of us were playing on the covers circuit, but the lack of musical creativity quickly became a drag; I had been writing songs from since I started playing guitar so it was a natural progression for us both to focus on original material
Hardrock Haven: You're labeled anything from 'hard rock' to 'pop rock.' How would you describe the music you play?
Gavin: That's right … and everything in between. We personally just refer to ourselves as a 'rock' band. We tend to cross the various boundaries within the rock genre; that comes from the various musical and cultural backgrounds within the band, but our music is essentially guitar, bass, drums and vocals played with honesty and conviction. If the tracks are strong and people like them, then we're not overly worried about the whole pigeonholing cliché.
Hardrock Haven: What is the band's musical background and what are your main inspirations music-wise? How do you think these influence Ajenda's sound and style?
Gavin: We are all rock fans first and foremost, Pete and Jan are originally from Slovakia and have a distinct European rock feel to their styles, both are big Dream Theater fans so we tend to play about with dynamics and time signatures in our songwriting. Jen has a varied taste in music, but she would be inspired by the likes of Pink, Lzzy Hale, Beth Hart, while as for me, I would listen to a lot of acoustic musicians like Andy McKee, Jon Gomm etc. So collectively, there's a lot of different influences in our musical pot. The final output is a varied collection of songs that create a sonic listening experience but tied together with our own personal Ajenda stamp.
Hardrock Haven: Coming from Belfast, Northern Ireland, do you think the rich tradition of Irish music had any influence upon your artistic path?
Gavin: For sure. One of the first guitarists whom I ever tried to copy was Gary Moore. We have a great tradition of producing great rock/blues artists, from Thin Lizzy to Rory Gallagher and, more recently, to current bands and artists like The Answer, Pat McManus and Simon McBride. The current Northern Irish rock scene is also very strong at present with many bands receiving attention from the music industry and media. So yeah, these guys set the bar by which all other Irish bands are measured.
Hardrock Haven: "Otherside" – that's the title of Ajenda's new promotional single from Unrecognizable album, set to be released in May. Can we expect a follow-up to Unrecognizable any time soon?
Gavin: We are currently working on new material and hope to have a release out by the end of 2014.
Hardrock Haven: "Otherside" is a reason of collaboration between you and L.A. producer and singer/songwriter Russell Steedle. How did you hook up with Russell? Do you plan any collaboration with him in the future?
Gavin: I was invited to join a Facebook group – "The International Songwriters Collaboration Group." It was hosted by '80s rock songwriter Jack Ponti, who wrote hits for Bon Jovi, Bonfire and was responsible for finding top R&B singer India Arie. I hooked up with Russell while in the group and "Otherside" was the outcome of the collaboration. We are still in contact and have touched base a couple of times since. He's a good guy.
Hardrock Haven: The previous full length album released by Ajenda was the above Unrecognizable (2013). What are your personal highlights of this album? Any songs that stand out in particular?
Gavin: This was our first full CD release and we are all really happy with how it turned out. The work involved in the lead up the release and the subsequent feedback were testament to the work put in and how it's been received by the people and the media. Each song is special to us. For me, "Tattoo" is a great modern rock song with some nice hooks and riffs to keep it interesting for its duration.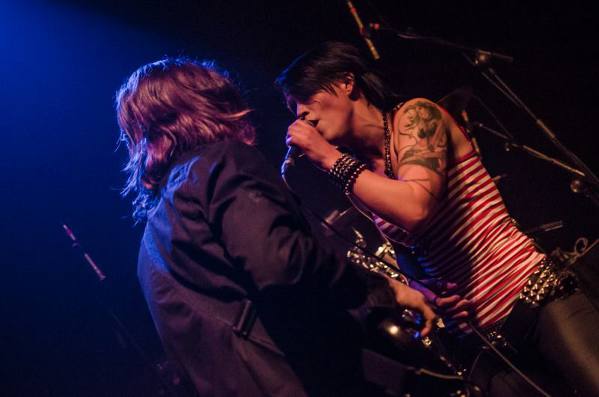 Hardrock Haven: Both "Tattoo" and "Hatred And Greed" were both illustrated with videos. What was the reason for choosing them for the promotional singles?
Gavin: Both songs were sounding the strongest for us and we wanted to showcase the edgier side of the band. "Tattoo" has a nice singalong chorus and "Hatred And Greed" is a very dynamic track. We think they're a good representation of who we are as a band now and also where we are heading.
Hardrock Haven: What the songwriting process for this record was like? Are there any stories behind the particular songs you'd like to share?
Gavin: I tend to bring a song idea to the guys. We get a feel for it in the practice room and we chip away at it for a number of weeks until we have a structure that feels right for us all. We work on the dynamics of each track and focus on keeping it interesting for the listener. For the recordings, we also had extra input from our friend Ladislav Szilagyi, who traveled over from Slovakia to lay down the keys on the CD. The cool atmospheric intro on "Tattoo" was Ladislavs' idea. For us, the songs all have a story to tell about the journey up to the recording. Some are older than others, "Dirty Rock n Roll" still being written the night before recording it. "Fragile" was originally recorded in Finland while we were on tour. "Olympus Monz" came about by way of us jamming in the practice room. "Heaven's Tears" nearly didn't make it onto the CD. It's one of our earlier tracks and had a last minute re-vamp when we decided that it wasn't strong enough in its previous structure. Pete brought some cool drum rhythms to the track which helped accent the track and give it a fresh, smooth rhythmic structure.
Hardrock Haven: Do you think your next album will be different from Unrecognizable – if so, in what respects? What direction are you going to take musically this time?
Gavin: You always think and hope that your next collection of songs will be better than the last. Usually time is the real test as to how good or bad a song turns out to be. I would imagine that our next set of recordings will be in a similar vein to the heavier tracks on Unrecognizable. We have started demoing some new tracks in rehearsals and they have a strong individual Ajenda influence which is cool for us. We are happy with the music we are producing and aren't trying to fit into any specific genre , so it's all good in that respect.
Hardrock Haven: As a female-fronted band, you're certainly aware of how in the 1970s and 1980s women were excluded from rock music, with the few exceptions of Suzi Quatro or The Runaways. Why do you think it was so? Have you ever experienced any unjust opinions or gender-based prejudice within the music-industry or is the situation getting better indeed now?
Gavin: I think we'd probably agree that rock is a male-dominated genre. Whether the lack of female artists back then was a result of prejudice or simply there weren't that many bands around, I don't know… I would say that the current scene is well-represented with some really good female artists out there, rockin' out … Amy Lee and Lzzy Hale spring to mind. For us, I have to say, we have always been respected within our local rock circuit being one of a few female fronted rock acts around. I'd hope most right-thinking folks would judge us purely on the music we play.
Hardrock Haven: Two years ago you played on the renowned Hard Rock Hell festival in North Wales. What are your memories from this gig?
Gavin: It was a great period for the band, we came runners up in the Highway To Hell competition held by the Hard Rock Hell team. That resulted in the slot at Hard Rock Hell. We started recording Unrecognizable shortly after and then we played the Ibiza Road Trip straight after, so it was a productive time for us. The outstanding memory would have to be the reception we got from the crowd. They definitely got us!
Hardrock Haven: On Hard Rock Hell festival, you performed alongside many rock and metal legends – Sebastian Bach, Ugly Kid Joe, Molly Hatchet, Ten, Primal Fear, TNT, Testament etc. Have you seen all the performances? What were the highlights of the festival in your opinion?
Gavin: We managed to see a few of the bands on the day we performed. For us the stand out bands were Buffalo Summer, a cool Welsh rock 'n' roll band who are out touring Europe at present. And Dan Baird's Homemade Sin put on a great show also.
Hardrock Haven: This year, in February, you supported The Quireboys 'Unplugged and Upfront' gig at the Diamond Rock Club, Ahoghill, playing an acoustic set. Which do you prefer: the dynamism of the 'plugged' sets or the intimate atmosphere of the unplugged gigs?
Gavin: To be honest, we're comfortable doing either. When we play, we regularly intersperse some pure acoustic tracks alongside our 'rock set'. Both bring a different vibe to a gig. The acoustic show can be a lot more engaging with the audience and there's less places to hide as a musician. We had good fun playing with the arrangements of some of our tracks when rearranging them for the acoustic set. Many Ajenda tracks start out as a riff on an acoustic so there's always the chance to strip them back . Obviously the full live show is a bit more of a rockin' affair. You can't beat a sweaty venue with a bunch of like minded people digging your music. That's special.
Hardrock Haven: Speaking about supports – your performances preceded the gigs of FM, Mike Tramp or Ricky Warwick. Let's daydream for a while – whom you'd like to share the stage with in the future and why?
Gavin: Pete and Jan are big Dream Theater fans and that would be their dream show. Jen would like to do a duet with either Pink, Lizzy Hale, Beth Hart or Skin from Skunk Anansie. I'd like to co-write a composition with Dave Matthews.
Hardrock Haven: What are Ajenda's current plans for the future?
Gavin: It's all about continuing to raise our profile as much as possible. We are currently looking into some dates on the UK mainland later in the year. We will continue to play in Ireland. We have started working on some new songs and hope to have a release before the end of the year.
Hardrock Haven: Thank you for the interview! Is there anything you'd like to add in the end?
Gavin: Thank you again for taking the time to speak with us. We'd just like to thank everyone who has supported the band on our journey to date. The belief shown in us and the love given toward us by you guys is a major driving force and keeps us positive when things don't always go as planned. Respect!
Visit the band online: http://www.ajendamusic.com/